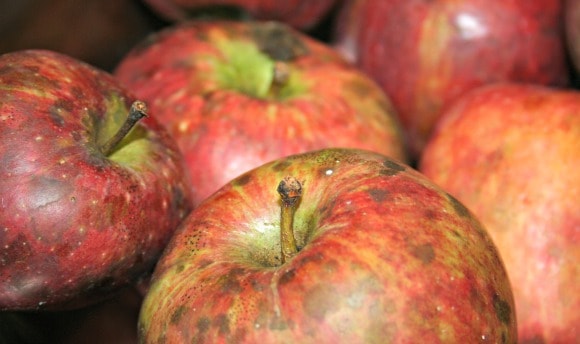 Yes, that picture is real, and was taken on August 15th!  These are the first organic apples EVER produced here at Seven Oaks. I am so excited, I feel like a proud mama. I should be, I guess, since my husband and I nursed those trees along ever since the first little sticks arrived in the mail in 2008.
We have eight apple trees, and of the eight, two have produced fruit this year.  The apples in the first picture are Red Delicious. Hubby was mowing the lawn last night while I was inside cooking dinner. I heard the tractor pull up in front of the house and then the engine settle into idle, so I figured he needed me for something. I went to the front door, and I could see that he'd loaded down the front of his t-shirt with something, making a sort of hammock with it. He was trying to unload his burden on the front porch, so I stepped outside to help him. The "burden" he was carrying was actually the apples.  He'd noticed a windfall group when he mowed the orchard, and then as he turned the tractor around underneath the trees, a few more hit him in the head and tumbled off, so he'd scooped them all up and brought them to the door.
He asked for stewed apples, so tonight for dessert, I will prepare our first organic apple harvest for consumption, but not until I sample a few bites to see how they taste.
Some apples, I have learned, must be chilled for a while to develop the sweetness we love in apples. Many of the older varieties, for examples, were intended for storage for long periods of time, and as such this characteristic was prized.  Others were grown specifically to make cider.
We do not have any heirloom varieties or special varieties in our orchard. We planted the varieties we'd researched for the area, including pollinating trees.  The pollinating trees are the Lodi in the corners of the orchard. Certain varieties require pollinators of specific types, and so when we planted the orchard, we had to make sure we had specific apple trees in certain spots to ensure adequate pollination.
I have no idea how they will taste…I have no idea what the brown spots are on the apples….and I can already spot a few worm holes. Still and all, what a feeling of accomplishment to go from this —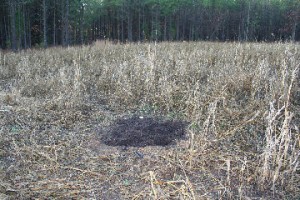 Apple tree, December 2007
To this….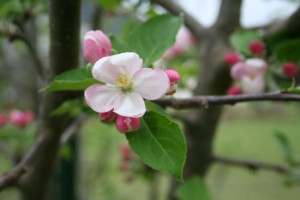 Apple blossom, April 2013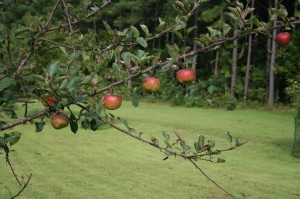 Apples, August 2013
To this: Apples on the branch, August 2013.
It's amazing to me how we went from the 12″ tall twig, shown in the first photo, to the robust 10 foot tree we have now in August 2013 with the apples nicely spaced out on the branches, ripening and falling to the ground….how from bud to blossom, April to August, we have apples. It's like a little miracle. I can hardly believe that I have apples growing right in my backyard.  When I was living in New York, I used to dream about having a farm and growing my own food, and there are days like today when I look up and it's like a dream. I think to myself, "Am I really here? Am I really doing this?" And the answer is yes. Yes in the labor, yes in the time, and yes in the deep-down feeling of pleasure and satisfaction I have from looking out my office window at the trees nodding in the cool breeze, the boughs heavy with apples, and thinking, "Yes, it's real!"
Now, not every tree has apples.  Actually, only one tree has a lot of apples.  Another has a few apples, but not many, and of those it does have, many have rotten spots where the wasps are congregating.  One tree has tiny pips the size of cherries, little faux-apples as if the tree is testing out its apple-making skills. I picked off most of them so that the tree can concentrate its energy on growing, but it is at least trying to make apples. Of the others, they still aren't producing yet, but considering that all the books said that it would take 7 to 10 years for the standard size apple trees to produce fruit, I think we did quite well at five years growing what we did.
It's August and the very first apples are in. I can't wait to taste them!
Jeanne Grunert is a certified Virginia Master Gardener and the author of several gardening books. Her garden articles, photographs, and interviews have been featured in The Herb Companion, Virginia Gardener, and Cultivate, the magazine of the National Farm Bureau. She is the founder of The Christian Herbalists group and a popular local lecturer on culinary herbs and herbs for health, raised bed gardening, and horticulture therapy.