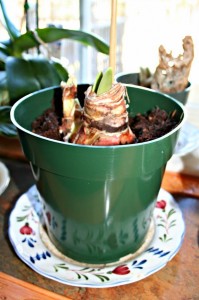 Here's the Amaryllis bulb, week 2, and not much of a change. There are a few more folds of green appearing, but the side shoot appears to be dying off. Other than that, I think it's a tad bit bigger, but not by much. It's taking its time to grow and I image it's spending a lot of energy just pushing forth roots.
I don't know if you can tell from the picture, but this photo was taken in my plant room. I had the amaryllis on the bookcase in my office but the cats found it. Leave it to my cats to find the one plant they shouldn't touch. Most of the time, I can leave them around all of the house plants quite safely. Genghis has a penchant for digging up the cacti, but after he did this a few times he decided to leave them alone. He was actually using them as a little scratching post, scratching his chin on the spines. I think he finally realize it wasn't a great idea. He's moved on to use the braided edge along my couch to scratch his chin.
The amaryllis, alas, proved too much of a temptation for Whitey.  Even though the three kittens (no longer kittens, but like all the babies in the family everyone, they will be always and forever known as "the kittens") are outdoor cats, they come indoors on cold days and snooze on the soft couch cushions. Whitey was inside that day and decided to hang out with me in the office, which is fine as far as it goes. But the next thing I knew, I heard a scuffling sound on the top of the book case. He'd grabbed the small amaryllis stem in his teeth, not to eat it, mind you (which is good, because amaryllis can be poisonous to cats) but simply to yank it out of the pot. Apparently, amaryllis offends him. He'd gotten the whole bulb uprooted and shoot it like a dog with a bone before I could grab it away from him. I shooed him out of the office, replanted the bulb, and moved it to the plant room. That room, at least, has a door that closes against curious kitties, and I can keep them out during the day when I am not around.
So this is week two. Let's see how much it grows week 3!
If you're interested, I wrote an article a while back on Growing Amaryllis from Kits. 
Jeanne Grunert is a certified Virginia Master Gardener and the author of several gardening books. Her garden articles, photographs, and interviews have been featured in The Herb Companion, Virginia Gardener, and Cultivate, the magazine of the National Farm Bureau. She is the founder of The Christian Herbalists group and a popular local lecturer on culinary herbs and herbs for health, raised bed gardening, and horticulture therapy.