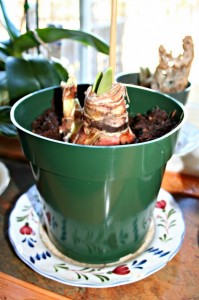 Amaryllis Bulb, Week 2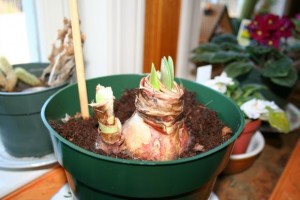 Amaryllis Bulb, Week 3 (Today)
Here we are — December 1, the first day of December.  It's the first Sunday of Advent and there are only 24 days until Christmas, or 25 if you count today.  My amaryllis bulb recovered from its "cat attack" (when Whitey cat grabbed the small tip of the side shoot and decided to help Mommy transplant the amaryllis by completely ripping it up a few days after I planted it), although the side shoot that Whitey bit is now turning brown and appears to be dying off. The bottom of it is green, however. I don't know if the plant has decided to let the damaged tip die off and regenerate another or if the whole thing is dying off.
The main stem is darkened, showing me that it is indeed growing. I keep looking at it in the plant room and thinking that it hasn't grown much, but when I compare the two pictures above, I can clearly discern growth in the central stems.  There are three shoots, each growing just a teeny-tiny bit, but enough to let me know it's alive and kicking. The color is also changing, too; it's not just the flash photography, but the stems are turning darker green.
I think moving the amaryllis bulb to the plant room, which has a northeastern exposure, was the right idea. My office is too sunny for it with its bright south – southwestern light.  My office also features assorted felines lounging about at various times during the day, felines prone to "kill the plant" syndrome or suddenly attacking my house plants.  This explains why plants never do well in the office. Most of the cats learned long ago that Mommy's plant room is off limits, and aside from Genghis Khan kitty's weird fetish for cacti, they're all pretty well mannered around the plants.
Hubby says I should talk to the amaryllis bulb more. I usually play classical music in the plant room while I read in the evenings, but lately I've been reading in the living room. I think I'll return to the plant room and serenade them with some Faure later today. Or maybe Handel's Messiah to get them into the Christmas spirit. That's the most uplifting piece of music I know, so it's bound to "uplift" my amaryllis!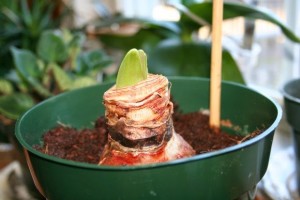 Grow, baby, grow! Amaryllis "Apple Blossom" Week 3
Jeanne Grunert is a certified Virginia Master Gardener and the author of several gardening books. Her garden articles, photographs, and interviews have been featured in The Herb Companion, Virginia Gardener, and Cultivate, the magazine of the National Farm Bureau. She is the founder of The Christian Herbalists group and a popular local lecturer on culinary herbs and herbs for health, raised bed gardening, and horticulture therapy.