African violet problems include over or under watering, insects and other diseases. Here, I share African violet problems I've encountered…and give advice on how not to kill your violets!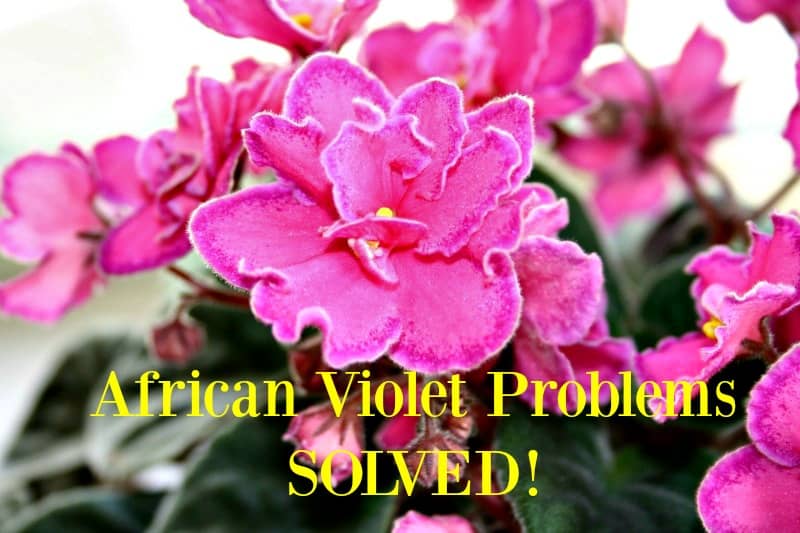 African Violet Problems
For the first time in many, many years, I had to throw away an African violet plant. I couldn't rescue it. Now I know what my readers feel like when they write to me and say they feel like "plant murderers" when they kill their plants. Yes, folks – I've managed to kill a violet. And thanks to the Auburn Cooperative Extension site's African violet diagnostic page, I think I know the culprit.
The History of this Particular African Violet
Most of my violets were either purchased from Lowe's or B & M Greenhouses in Farmville, Virginia, except for a small collection that came from my sister, Mary. Mary also sent me a plant collection for my birthday last year. This particular African violet was among those in the plant collection.
First of all, it was dry as a bone when it arrived in the mail. Among the three plants in the collection, it seemed to fare the worst through shipping. I dutifully watered it, but I neglected to read the instructions that came with the kid. Hey, why read instructions, right? Wrong. Turns out the plants were shipped in a special mixture and they all needed repotting. Bah, humbug. The miniature rose was transplanted into my outdoor rose bed, the kalanchoe is thriving, but the violet never took off after I repotted it.
African Violet Symptoms
At first, I thought the violet was reaching for the light. But I had it on the windowsill next to two other violets that I've owned for seven years, and neither of those plants grew into the twisted, elongated crown that this one did. The crown grew up straight on a thick, heavy stem, then split into two crowns. I meant to separate the crown, but suddenly, the leaves began dying. They seemed to wilt and grow mushy at the same time, curling under. The only leaves that were healthy were the new leaves near the crown. The soil was very dry, so I tried more water. Nothing. I tried more humidity. Nothing. More leaves died until I finally gave up, blew an imaginary "Taps" on my imaginary trumpet, and relegated the now completely mushy, wilted plant to the compost pile.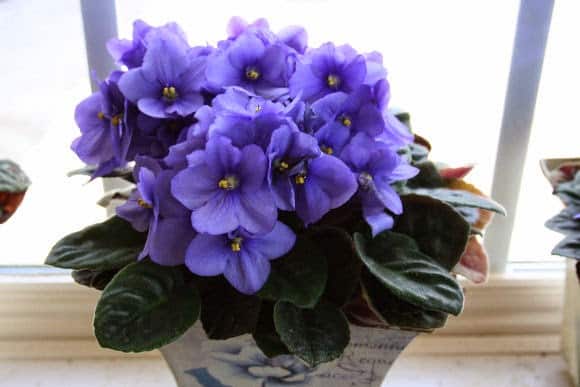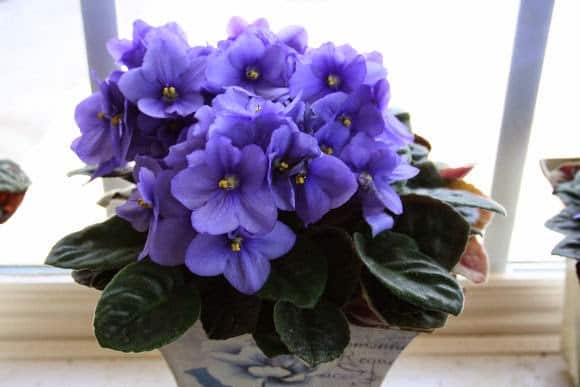 The Optimara site lists cold as one possibility, and while that's plausible, it's in a room with other violets, none of which are exhibiting similar symptoms. However, the Auburn University Cooperative Extension website lists a closer description to my plant's symptoms as crown and root rot. It's caused by a fungus, and transmitted by poorly sterilized pots. The growth habit could just have been the plant, but the mushy brown leaves? It does sound like the fungal disease described on the extension site.
Preventing Fungal Problems in African Violets
Here's why I think it is the latter issue rather than cold: I'm lazy as can be about sterilizing my plant pots. My dad taught me to use a 10% bleach solution in cold water to wash and clean pots between plants, and that's a good rule of thumb. My father in law at least rinsed the pots out, but me? I am so lazy I just chuck them into the shed, then grab a dirty pot when I need one. (Ugh; this feels like confession time!)
So I probably transmitted a fungal disease to my poor violet by reusing a dirty pot. I do use sterile potting soil, but what good is it if the pot itself harbors the disease?
It's time for me to revisit the simple solution of using bleach to clean pots. I lost a plant, and I don't like throwing away good plants, especially when I'm at fault for killing them.