There are many benefits of succession planting seeds. A continual bloom or harvest is just one of the benefits of succession planting, or planting seeds at intervals.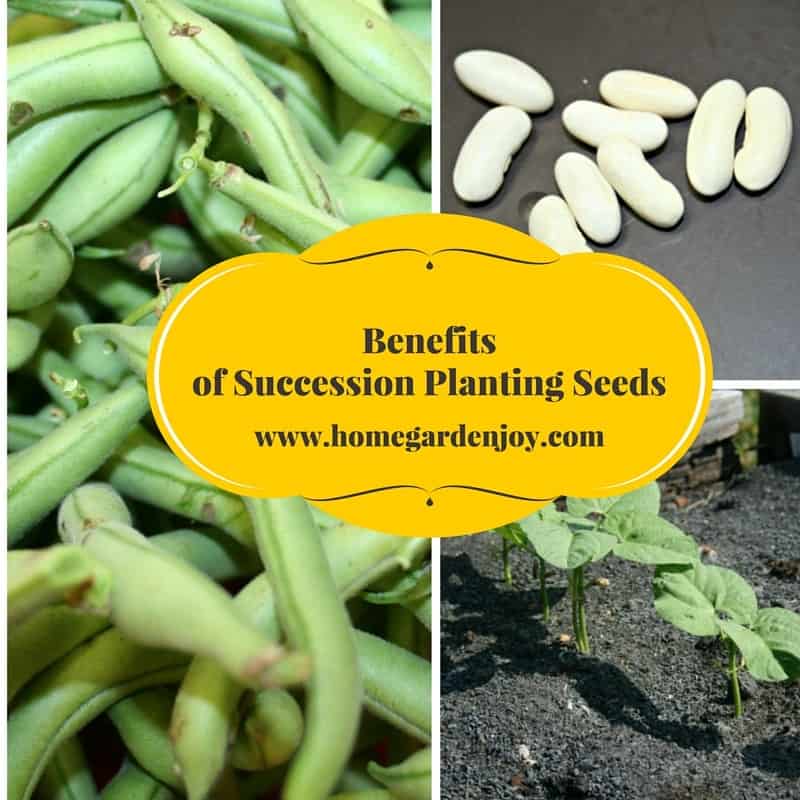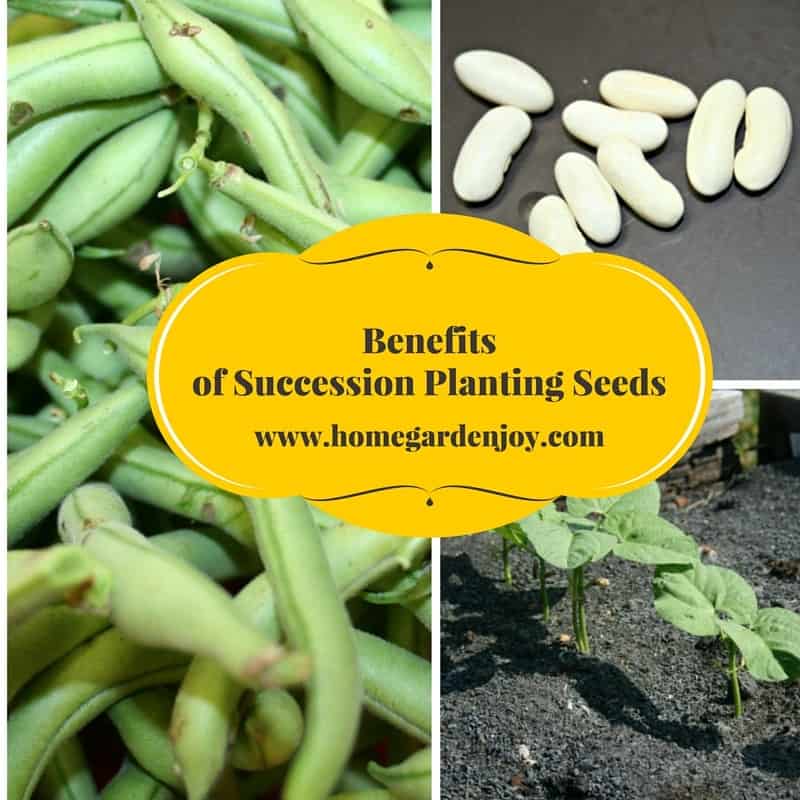 Do you use succession planting in your garden? Succession planting means to plant a group of seeds, wait a week or two, then plant more seeds. It's useful when planting lettuce and radishes, for example, so that you aren't stuck with an onslaught of both vegetables at once. Succession planting means that there's always a continuous crop of lettuce or radishes to harvest and you aren't stuck with so much you can't enjoy it.
But I'm a very forgetful gardener. I never remember to plant seeds in succession! This year, I vowed, would be different. So okay, I forgot to do succession planting for my lettuce and radishes. I did, however, remember it for the sunflowers.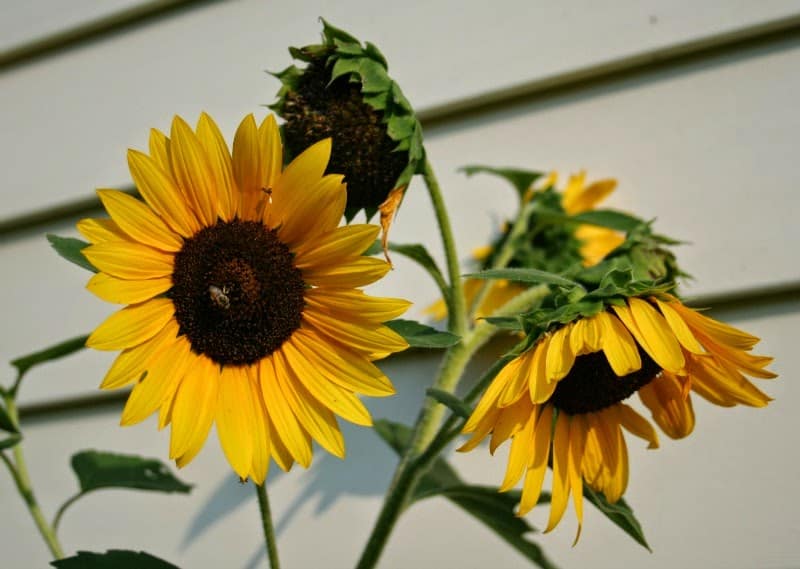 My sunflower garden grows among the foundation plantings on the south side of the house, facing the fruit orchard. Some of the sunflowers self-seed from the year before; the heavy heads flop forward, spilling seeds on the mulch. We always get a few early sunflowers this way.
I start planting sunflowers as early as I can. They're my passion, now that my father-in-law has passed away. He used to be the sunflower gardener. In his 80s, he could still plant sunflowers close to the house, even if the best of his gardening days were over. Since his death two years ago, cultivating the sunflowers has become my little hobby.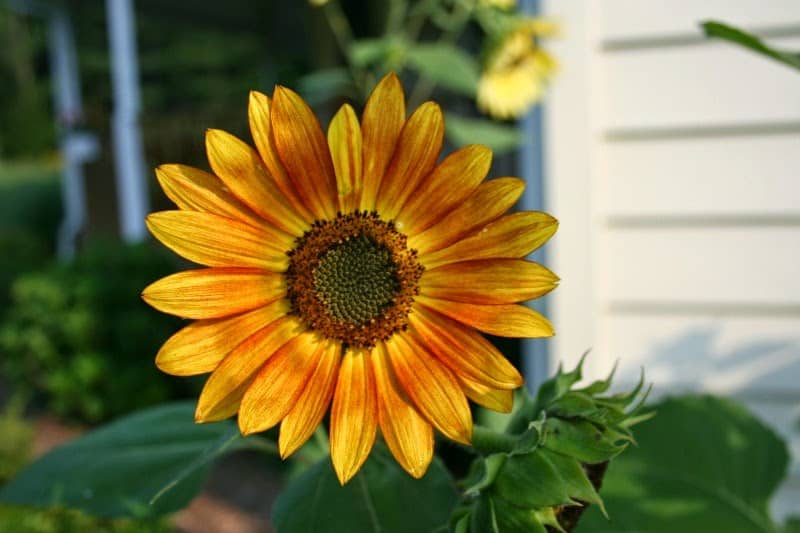 I buy some seeds from Burpee, usually the large bronze and Russian Giant sunflowers. Some are seeds we've saved from last year; we also cut a few sunflower heads and let the seeds dry in the garage over the winter. The cats take care of any mouse bold enough to wander inside in search of seeds.
I don't do much to grow sunflowers. I usually just did a shallow hole in the mulch, drop in a seed, and move on. That's it. Sunflowers are some of the toughest plants. Nature provides the water, and as long as they get plenty of sun, they're fine. (For more about growing sunflowers, see About Sunflowers-Growing Sunflowers).

I plant the first row of sunflowers in late April, then another in May. I forgot to plant more in June, but this week, I'll add more seeds to the garden for a late fall bloom. I love sunflowers in the autumn, and a bouquet of them on the table when the weather turns crisp and cool sounds lovely.
The best part of growing sunflowers, however, is the birds. The goldfinches and other small birds adore the seeds, and will fly right up to the house where the sunflowers grow, perch on the stalks, and eat seeds just inches away from the windows. Genghis Khan, our house cat, could spend hours gazing adoringly up at the birds, licking his chops, and batting at the window glass…but of course, the birds are quite safe. We love getting that close to the birds, too, and watching their antics from the windows.
Succession planting of sunflowers, like lettuce and radishes, ensures beautiful flowers for many weeks instead of just one big blast of color. If you haven't tried growing sunflowers, try this idea. Your garden, the birds, and if you have one, your cat, will thank you!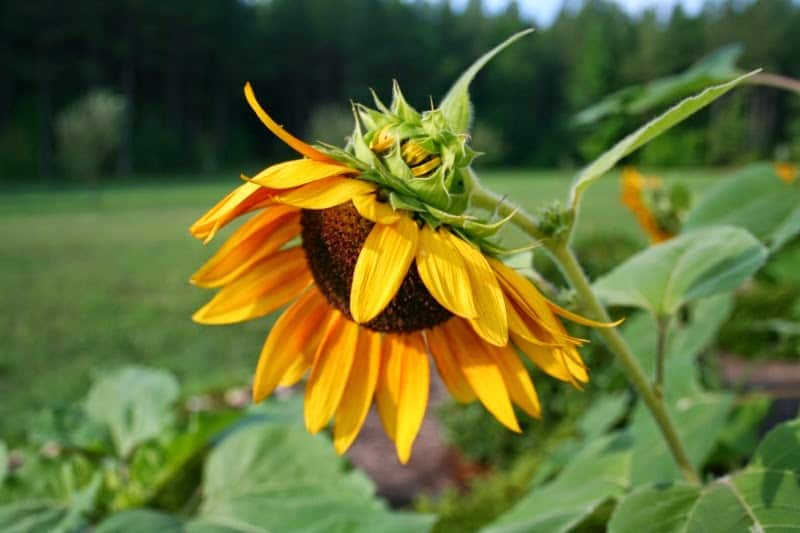 My sunflower garden this week
More Gardening Articles
If you enjoyed this article, you may also enjoy:
Jeanne Grunert is a certified Virginia Master Gardener and the author of several gardening books. Her garden articles, photographs, and interviews have been featured in The Herb Companion, Virginia Gardener, and Cultivate, the magazine of the National Farm Bureau. She is the founder of The Christian Herbalists group and a popular local lecturer on culinary herbs and herbs for health, raised bed gardening, and horticulture therapy.