This year one of our large raised beds is collapsing, and we just didn't have enough time to replace it. I decided to experiment with Three Sisters Gardening in this large square, with a few modification.
What is Three Sisters Gardening? The Iroquois Indians of North America had a sophisticated companion planting system that not only replenished the soil, it provided a nourishing group of vegetables for the people, too. Dubbed "the Three Sisters", corn, squash and beans became staple foods for the Indians. Each hill or mound in the garden was planted with all three seeds. The three offer benefits to one another: beans fix nitrogen from the soil, which corn needs, and corn provides support for the squash vines. Ingenious.
My modified Three Sister garden includes a few potatoes that struggled back up from last year's Colorado potato beetle massacre. I'm leaving them in the bed as 'trap plants' to keep the potato beetles away from the other nightshade family plants such as tomatoes. I've already found eggs on the tomato plants, and I'm hoping that the beetles, who prefer potato foliage, will just kill off the potatoes and be content with ruining yet another crop.
In the meantime, we had some sunflower seeds growing in the lawn, and Hubby didn't want them there, so I dug them up and added them to the bed. I love eating sunflower seeds, and I know the birds do, too. I figure we can dry the sunflower seeds for our own consumption or to use as wintertime bird seed. I added Russian Mammoth sunflowers to the corners of the raised bed.
In the center of the bed, however, is the prize winner – pumpkin seeds! For years, Hubby has wanted to grow pumpkins, but we never had the right area. I love to eat pumpkin seeds, too, and he loved pumpkin pie, so why not? I know that we lose a lot of squash plants to both verticillium wilt (a soil-borne fungi) and squash beetles, but perhaps pumpkins will fare better. They might not, because they are in the same plant family, but we shall see. I had the package of seeds so I had nothing to lose.
I also had corn seeds leftover from a promotion by a company who sent me samples many years ago, and Dutch Brown bean seeds from Vermont Bean Seed company that I'd bought and never finished planting. Beans tend to retain viability, especially heirloom beans like Dutch Browns, so I thought again, "Why not? What have I got to lose?"
The resulting garden plan looks like this: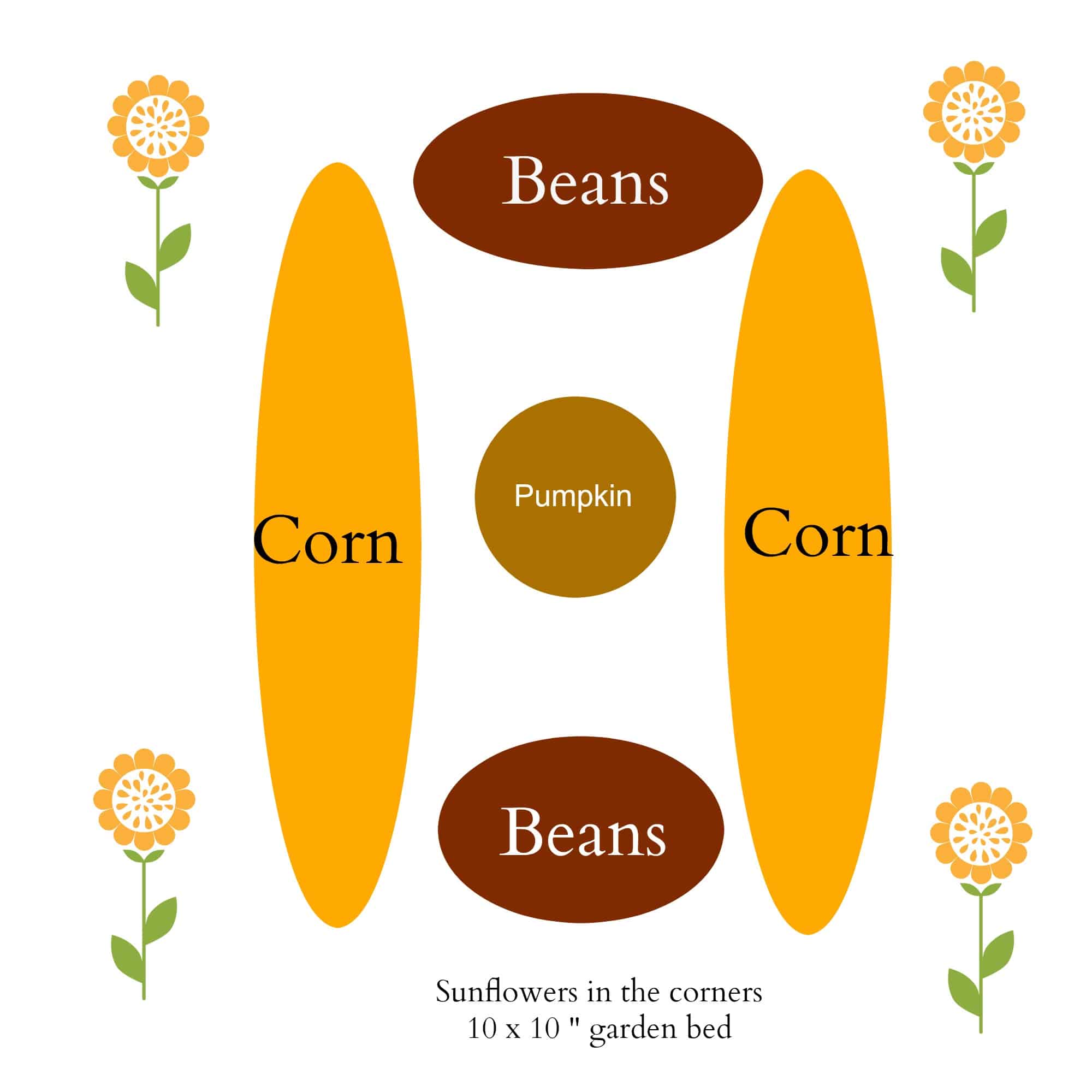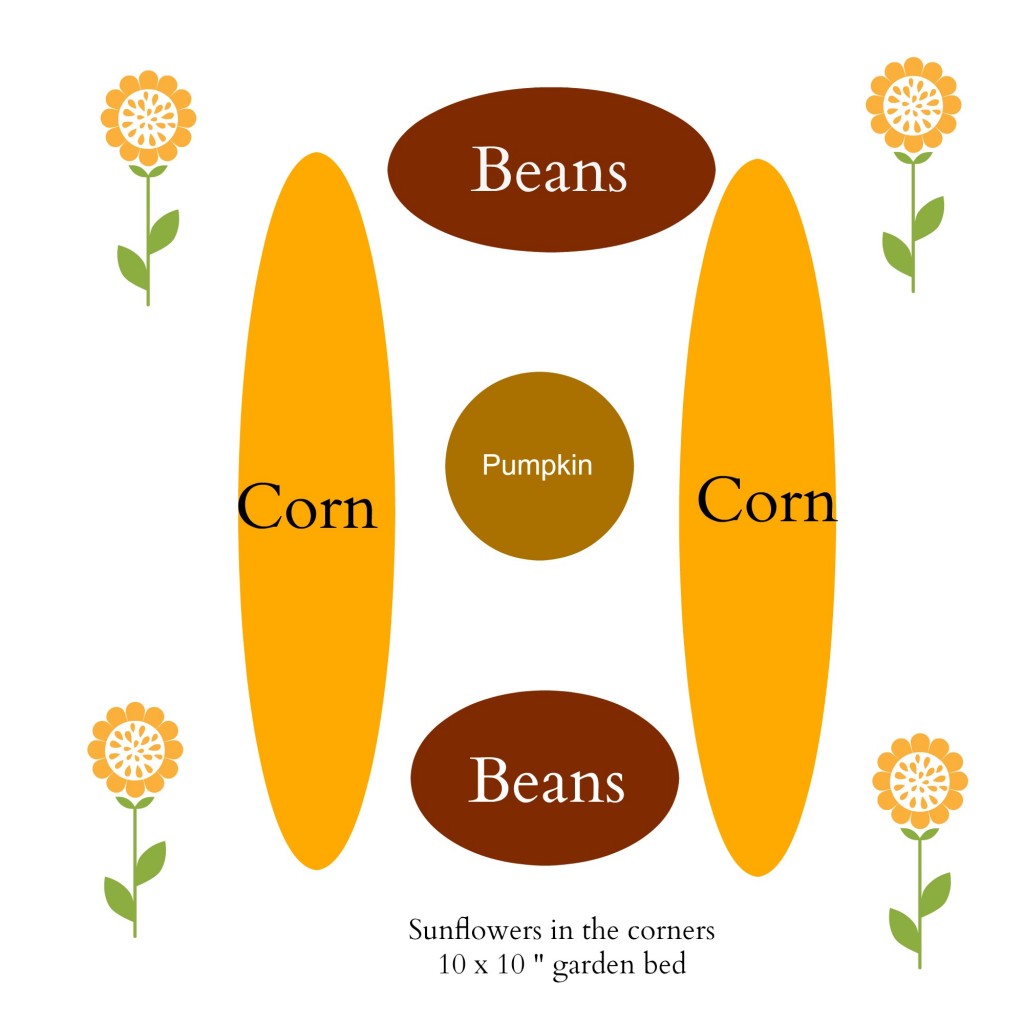 In a traditional Three Sisters garden plan, the corn, squash and beans would be planted in the SAME mound…not separate like this…but I think that they will end up growing together anyway, given that they are planted very closely together.
This entire garden bed is my 'fun' project for the summer. I just want to see what I can grow that looks appealing, provides food and sustenance for myself and the wild critters in my garden, and gives me joy.
For more about Three Sisters gardens, see:
Jeanne Grunert is a certified Virginia Master Gardener and the author of several gardening books. Her garden articles, photographs, and interviews have been featured in The Herb Companion, Virginia Gardener, and Cultivate, the magazine of the National Farm Bureau. She is the founder of The Christian Herbalists group and a popular local lecturer on culinary herbs and herbs for health, raised bed gardening, and horticulture therapy.