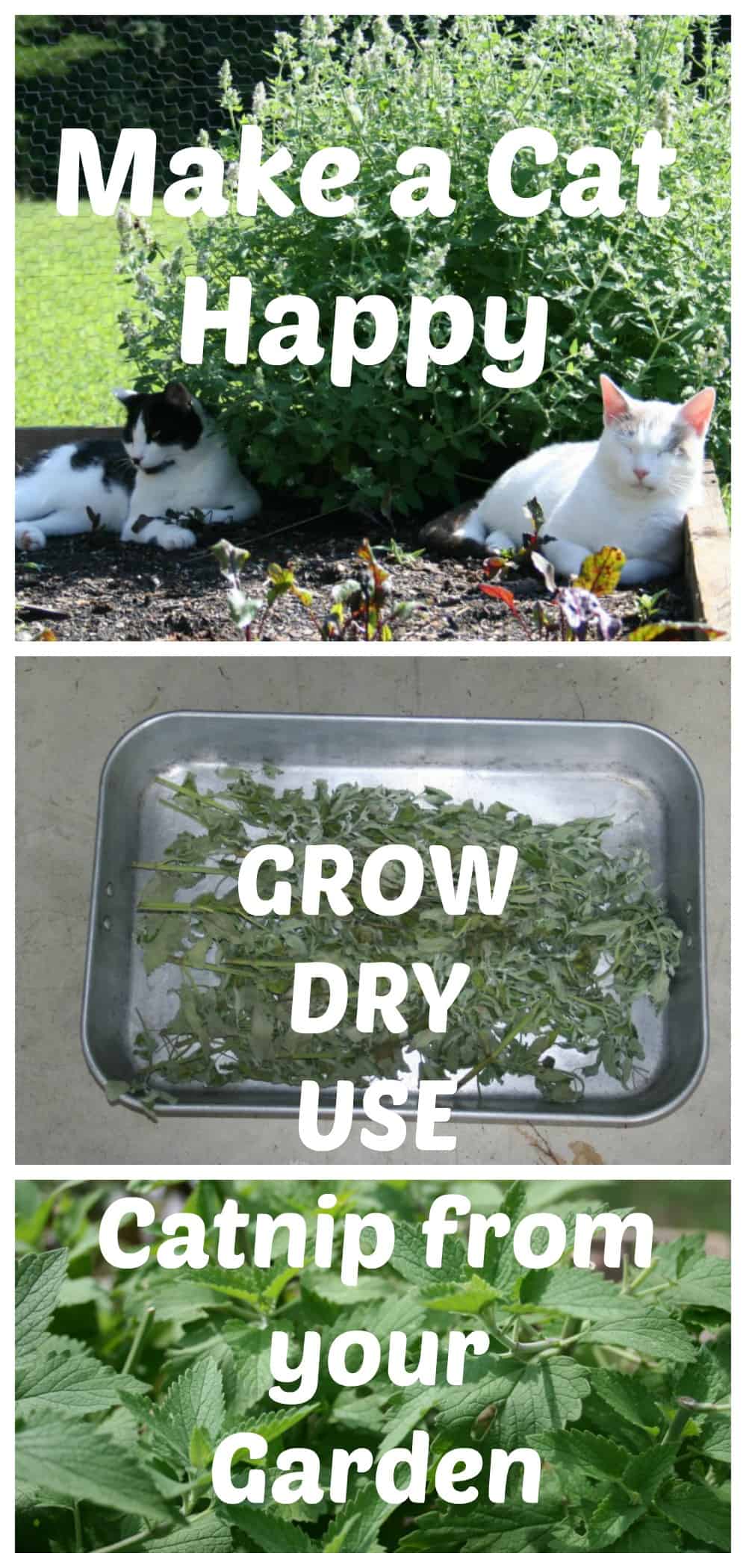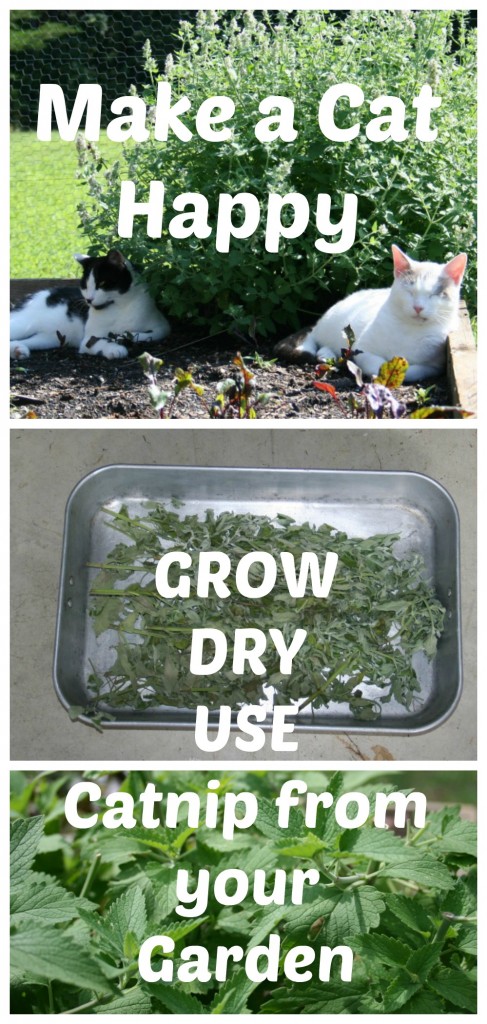 Some of my longtime readers will recall that I'm a bit of a cat-aholic. While I started with just one cat, Monsieur Pierre, he was joined a few years later by the sweet Raz, who we nursed back to health only to lose a year ago to feline leukemia. Then of course came Genghis Khan kitty and his littermates, who all had the good fortune of being adopted, and the Marvin Brothers – Groucho, Whitey and Shy Boy – all dumped in the same spot in the woods as Raz, Genghis and his siblings. And this year, because we seem to have an invisible sign hanging on our gate that says "All Stray Cats Welcome Here" we now have Rocky, who started off with us as a wild thing and is now happily napping on our front porch as I type this.
All of these cats can only mean one thing: growing catnip. With catnip going for $2.50 a bag in the Doctors Foster and Smith catalog and at the local store, I give thanks that I have plentiful catnip growing in the garden. Growing catnip isn't difficult, and if you have bright sunlight, a bit of soil and a pot or some garden space, you can grow catnip. Here's how.
Growing Catnip
Catnip is a low-growing, shrubby perennial. You can start it easily from seeds. Place a seed in a pot of sterile garden soil under grow lights or on a sunny windowsill. If your cats are catnip fiends, keep them out of the area where you're growing your stash of catnip or else they'll be all over it and the plants won't grow to maturity. Transfer the plants to your garden in full sun after all danger of frost has passed. You can also purchase catnip plants in the herbs section of your favorite home and garden center as a small plant.
Because catnip is a perennial, make sure it's planted in your garden in a place that won't be disturbed. Here in zone 6B, it needs no special winter protection. Last year was one of the coldest winters on record in our part of the world and my catnip survive -1 F temperatures overnight. I'm convinced that catnip can withstand anything.
It may seed itself around the parent plant, and you can transfer the seedlings to other parts of your garden if you like or give them away.
If your cats constantly chomp on the growing plant, place bamboo stakes around the plant to keep them away.
Harvesting Catnip
Harvest catnip when the plant is full of leaves and about 8 to 12 inches tall.  It's best to harvest the leaves before the plant flowers; it's easier to dry it.  Gather bunches of stems in your hand and using sharp kitchen scissors, snip off springs with 6 to 8 inches of twig left on them. Snip off as much as you like from mature plants. From younger plants, I suggest pinching off a few leaves only so as to leave enough on the plant so that it can make its food and set down deep roots.
Drying Catnip
It can be tricky to dry catnip without your felines raiding the stash prematurely. There are several quick ways to dry nip, but be warned; your house is going to smell like catnip. If you hate the smell, skip ahead to the solar drying information.
Oven drying: Use your kitchen oven to dry catnip. Set the oven to 150 degrees F. If you have a convection oven, it will dry the catnip even faster. Place catnip stems and leaves in a single layer on the bottom of metal roasting pans. Slide them into the oven, and leave the oven door open a crack to vent steam. Dry for 10 minutes or more, checking and stirring the leaves and stems frequently to make sure they don't stick to the pan. When it's completely dried out and crunchy, remove from the oven, shut the oven off, let it cool, and smush it up in your hands into flakes. Place in a clean glass bottle with lid and dole out to your kitties as you see fit.
Solar drying: I prefer to solar dry my catnip. I have an old iron skillet that dries catnip in the summer sunshine quickly and easily. I also place it in single layers in roasting pans and set these out on a slate walkway by my house; the sun beats down on it and dries it quickly I take it into the garage at night to keep it dry, and set it out again by day. Depending on the humidity level and air temperature, it can take 1-3 days to dry it thoroughly. I don't mind if my fur kids roll around in it while it's drying. I let them steal a bit. I do struggle with the wind; a good breeze will scatter drying catnip everywhere. To prevent that, I place an old window screen weighted by stones over the pan of nip. This also keeps the cats out.
Air Drying: You can also air dry catnip by trying the stalks together at the cut end of the stem with a rubber band or twine. Make sure that you don't bundle together too many stalks at once, or you'll prevent air from flowing through the branches. Good airflow hastens the drying process. Hand these in a dry, dark, warm place. I hang mine up in the garage. When dried out completely, remove the dried leaves from the stems with your hands, discard the stems, and crush up the leaves for your cats.
Questions About Catnip? Watch this Video
Using Catnip
You can use up your fresh catnip supply in several ways:
Sprinkle a bit of the dried nip onto your kitty's favorite place, or make a catnip mouse.
To make a catnip mouse, use a bit of old, heavy cloth. I cut up an old pair of blue jeans to make several catnip mice. Cut the jeans until the fabric lays flat, then cut out a large heart shape about the size of a saucer. Stitch the heart together wrong sides together leave about an inch opening. Turn it inside out and stuff it with catnip, then stitch it closed. Stitch on felt ears to the narrow tip and a felt tail if you like. I drew eyes and whiskers on with a magic marker. My cats love the homemade catnip mice, especially Genghis. He likes to chew on it and carry his denim catnip mouse around the house.
You can also make a catnip sock. It's easiest to use old ankle socks or if you have knee socks, cut off the foot portion. Fill the foot with catnip, then stitch closed. Cats will grab it and roll around with their sockie.
Re-scent your cat's toys with freshly dried catnip. Place old toys that have lost their appeal into a plastic bag with a half cup of freshly dried catnip. Seal the bag and let it sit in a dark place for about a week. Then open the bag and give kitty her toys back. She'll be over the moon at the newly scented toys!
Why Do Cats Love Catnip
Catnip is fascinating. Not every cat enjoys it, and those that do have a preferred method of enjoyment. According to the Humane Society, about 50 percent of all cats don't respond to nip at all. I've seen that figure at about 30 percent so I think it is safe to say that 30 to 50 percent of cats just don't like nip at all. But those that do? Watch out.
Researchers aren't exactly sure why cats respond the way that they do to catnip. They believe that the scent reacts with hormones and receptors in the feline brain that make them feel happy. This is similar to the pleasure response found in humans when they seek substances that make them happy, like a chocolate bar.
Cats like to enjoy catnip in different ways. Some roll in it. Some rub their cheeks in it. Others eat it. I have some that do a little of each. Some cats just go bonkers over catnip, and will even sniff the growing catnip plant and enjoy it. Others only want the dried weed.
For a special treat for your kitties, grow catnip. It's really easy to grow and your cats will thank you for it.
Happy gardening!
Jeanne Grunert is a certified Virginia Master Gardener and the author of several gardening books. Her garden articles, photographs, and interviews have been featured in The Herb Companion, Virginia Gardener, and Cultivate, the magazine of the National Farm Bureau. She is the founder of The Christian Herbalists group and a popular local lecturer on culinary herbs and herbs for health, raised bed gardening, and horticulture therapy.