In the depths of winter, what's a gardener to do? I pull out all the old craft projects I started and actually finish them. While I enjoy doing counted cross stitch year round, it's only in the middle of January, when it's too darned cold to do much of anything outside, that I actually pull out fabric, paints, and everything under the sun to make all those Pinterest crafts that have beckoned me throughout the year. And hey, this one wasn't a Pinterest fail! It's amazing!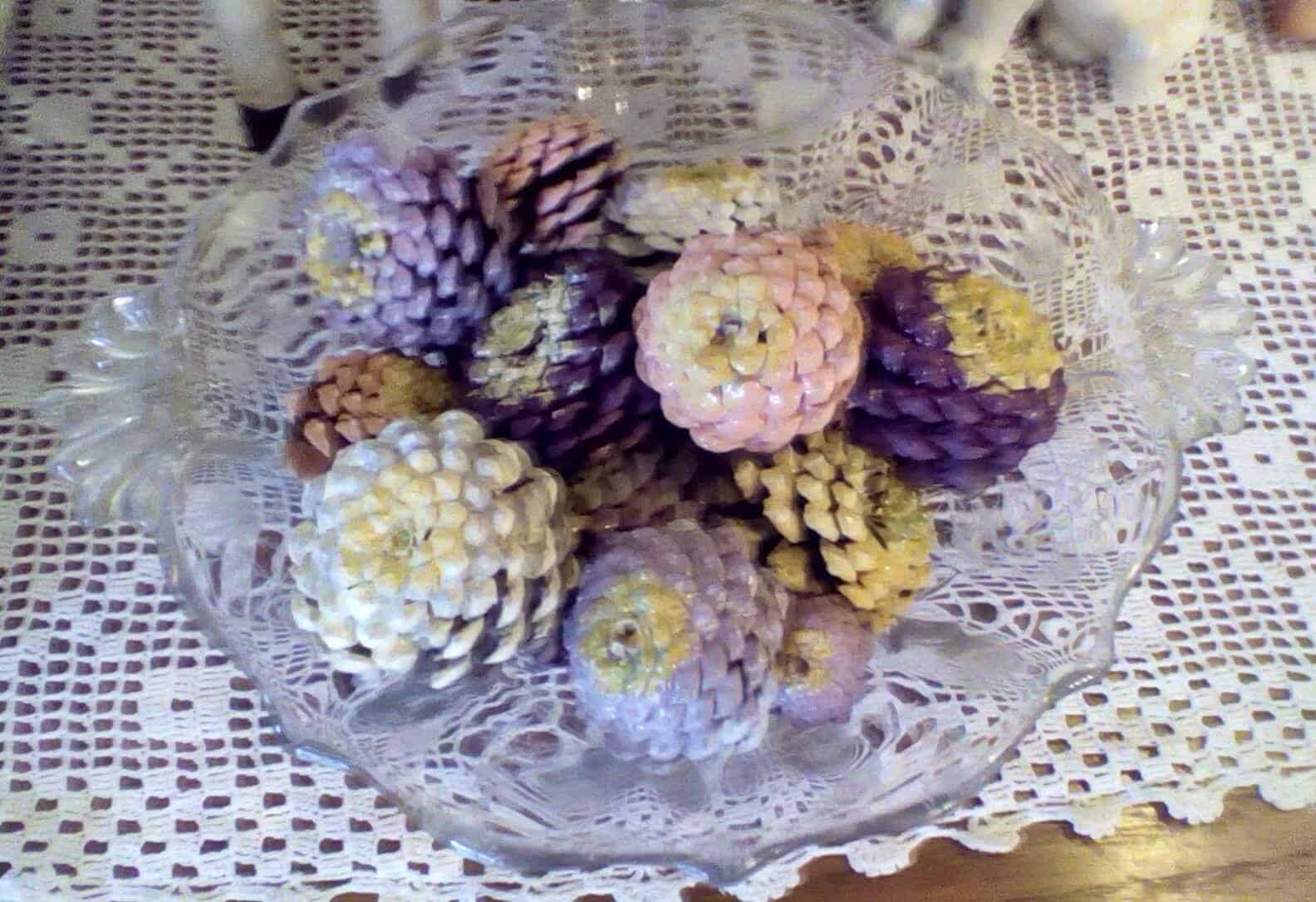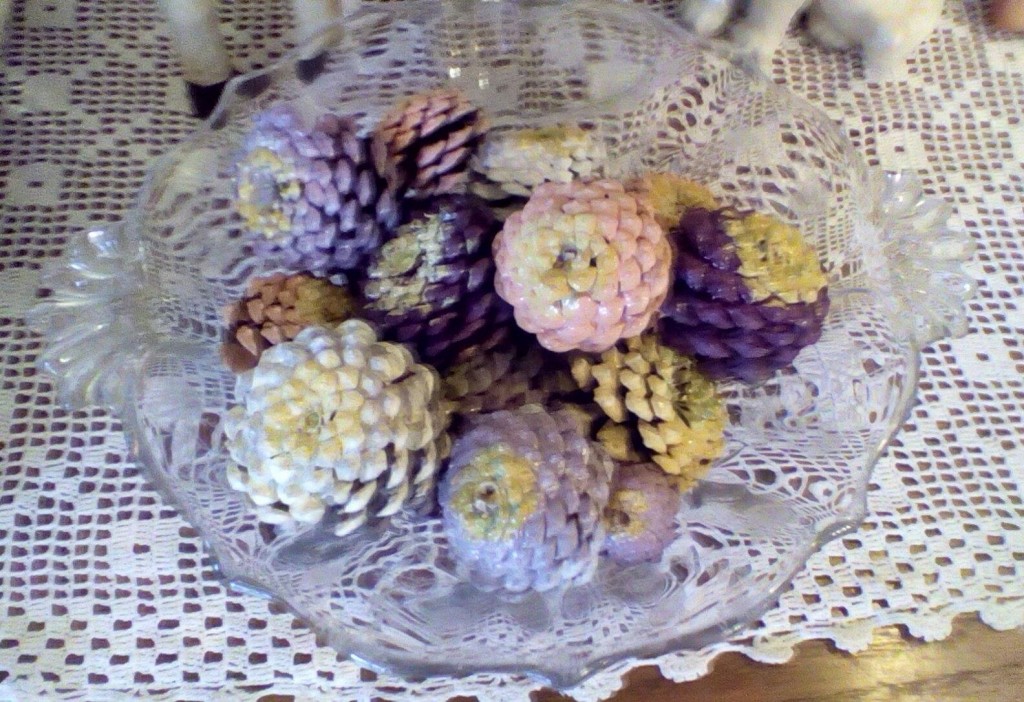 The blogger over on A Fanciful Twist posted these a while ago and I fell in love. They're zinnia flowers painted from the bottoms of pine cones. I live and work on a 17 acre pine tree farm in Virginia. Do I have pine cones? Do fish swim?
So I walked outside, gathered up a bucket full of pine cones, hacked off the bottoms with a small hacksaw, and painted them up. I painted my centers wider and brighter than the original blogger's project. I wanted my zinnias to look more like the giant zinnias I grow. I also had weird colors of paint in my craft box from my days stenciling everything under the sun. Some of those bottles of acrylic paint are over 20 years old and still going strong! How's that for thrifty fun?
I painted the base coat of color, let it dry, then used a combination of cream, golden yellow and light green for the centers. I followed it up with a clear coat of acrylic spray to protect it. I put all of my new treasures into a 1930s glass bowl from my grandmother, and added it to a table in the family room. The results? Pretty! I always say I can't make anything, but this came out okay. Hurray!
The original craft instructions may be found on A Fanciful Twist.
Garden crafts…for gardeners in the depths of winter!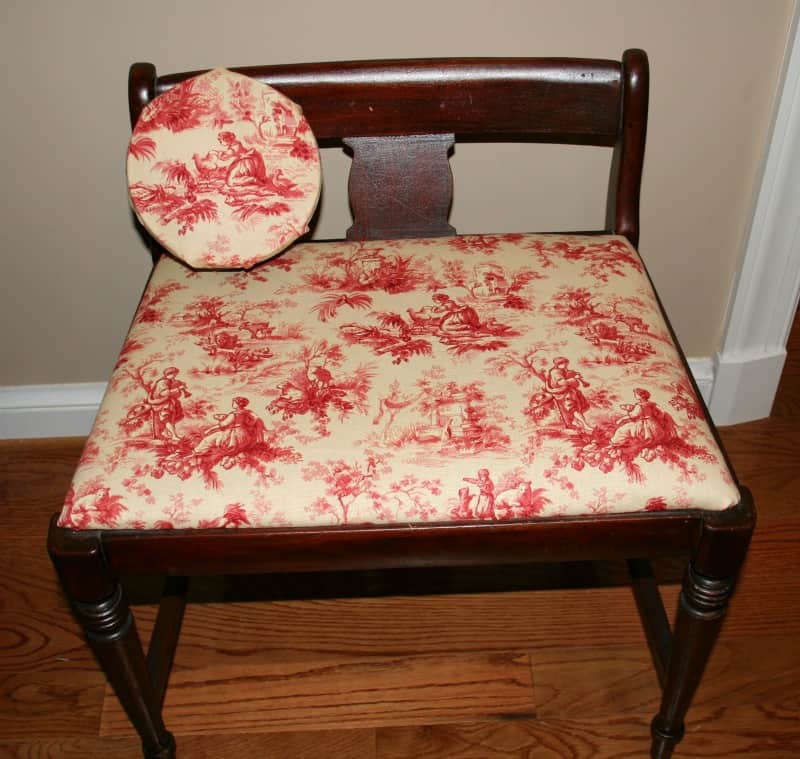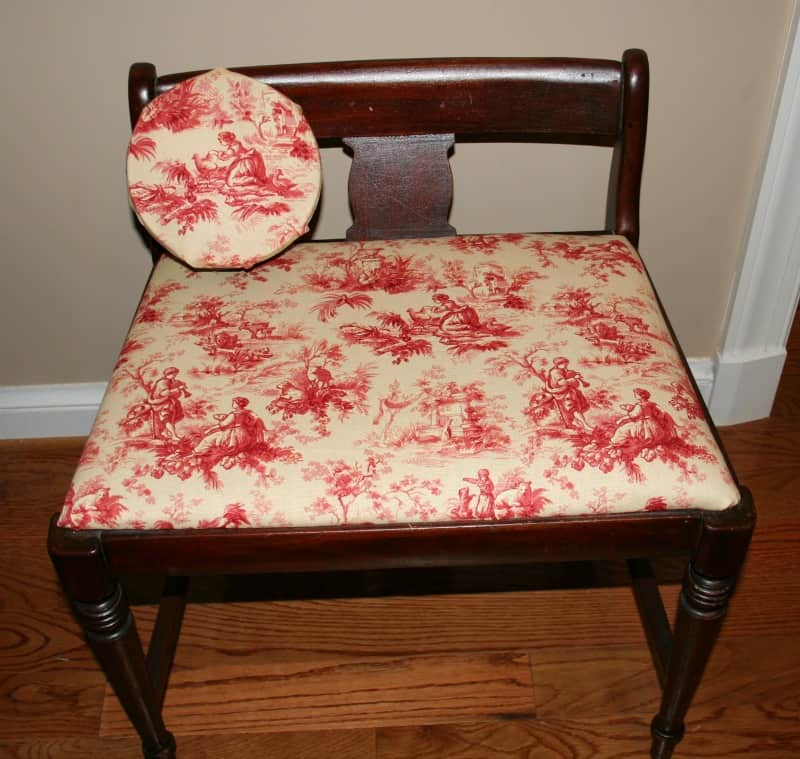 This project was actually spearheaded by my husband. It's an old piano bench that my sister purchased at a yard sale back in the early 1980s or so. My husband refinished the wood work for me about 20 years ago, and we covered the top in a lovely green satin upholstery fabric. It stands in my walk in closet, and I use it as a little dressing bench to sit on while I tie my shoes.
But after all this time, the green upholstery fabric finally ripped. We decided to cover it again. I found Waverly fabric in this gorgeous toile pattern at, of all places, Wal-Mart.  I purchased half a yard for just $2. I had enough material left over to cover a cookie tin (in the picture, the round thing) to match. All we did was unscrew the base from the frame of the seat, flip it over and use it to measure the fabric. Then we used upholstery tacks to secure the fabric to the frame. Done!
So far, these are my craft projects for the winter. On my crafting table now is a wall hanger with hooks to hold my gardening gloves, also a blogging find from a fellow blogger at the #HomeMattersParty
If you haven't checked out the blog party, I hope you take a look. It is in the previous post. What is a blog party? It's a link up where different bloggers add selected posts, and you can visit a whole bunch of fun blogs at one shot. This link up is for crafting and home-based blogs. I have found many inspirational posts in the party as well as yummy recipes to try!
Check out the Home Matters Party #69 this week.
Jeanne Grunert is a certified Virginia Master Gardener and the author of several gardening books. Her garden articles, photographs, and interviews have been featured in The Herb Companion, Virginia Gardener, and Cultivate, the magazine of the National Farm Bureau. She is the founder of The Christian Herbalists group and a popular local lecturer on culinary herbs and herbs for health, raised bed gardening, and horticulture therapy.