If you're curious about how to grow stevia, the all-natural sweetener herb, I've got the answers for you. Stevia (Stevia rebaudiana) is a plant native to South America whose leaves impart sweetness to foods and beverages. Learn more about how to grow stevia in your own garden.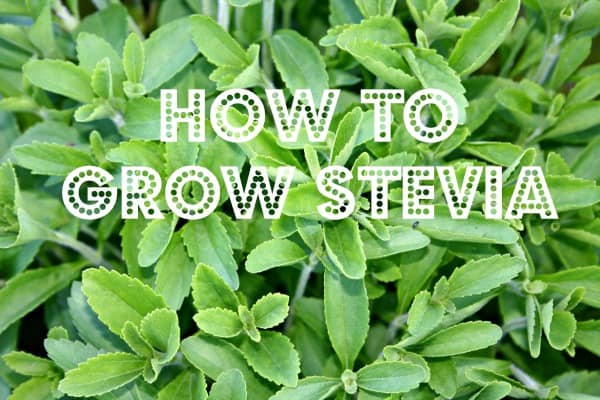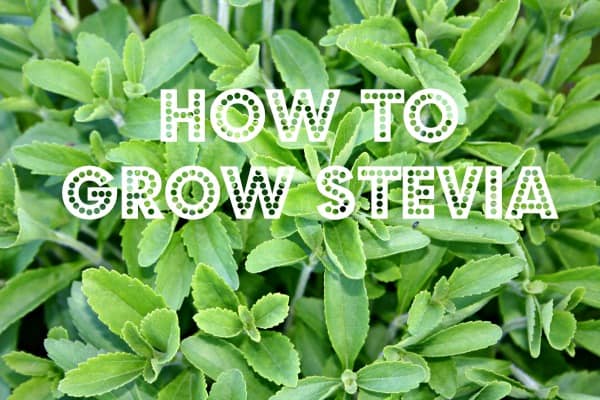 How to Grow Stevia
I learned about stevia from a nutritionist friend many years ago who was trying to wean me off of my artificial sweetener habit many years ago. "It's from a plant" she said, handing me the powdered extract. A plant? My ears perked up. It was time to learn how to grow stevia.
Stevia can be grown from either seeds or plants. It's become so popular to grow your own stevia that even Wal-Mart had stevia plants for sale on a rack near the front door when I did my grocery shopping last weekend in our small rural town! That just goes to show you how much people have embraced the natural sweetener.
If you're learning how to grow stevia so that you can have your own sweetener for teas and foods, you need to be aware of a few things. First, the powdered concentrate that you purchase at the store is actually an extra, usually manufacturers in China, from the stevia plant itself. It's been refined and somewhat altered to concentrate the sweet taste. Natural stevia, derived from drying and powdering the herb's leaves, tastes similar but isn't as strong as the stuff you can buy int he store.
To grow stevia, all you need is a container and full sun. That's it. Grow it outdoors on your deck or patio, watering it when the soil gets dry.
It's easy to grow in the garden, and I was surprised this spring when the stevia plant that I'd grown last year returned. I had no idea it could be a hardy perennial, but the raised bed vegetable garden where I grow stevia has a little micro climate that keeps the soil warm enough to sustain the plant through the winter.
Stevia needs full sunlight, rich, well-drained soil, and plenty of water. After that, the plant will reward you with abundant growth.
[Tweet "Learn how to grow stevia, nature's zero calorie sweetener! #gardening #WellnessWednesday #herbs"]
My stevia plant: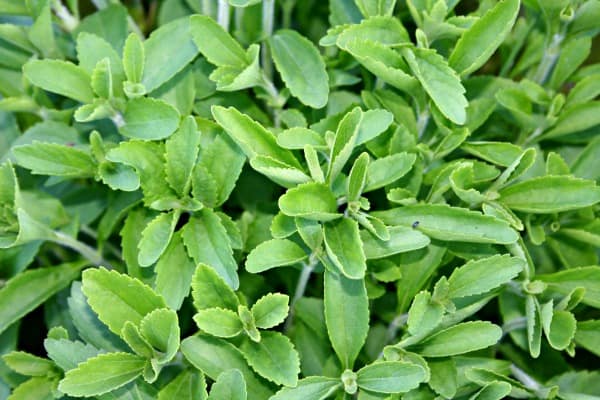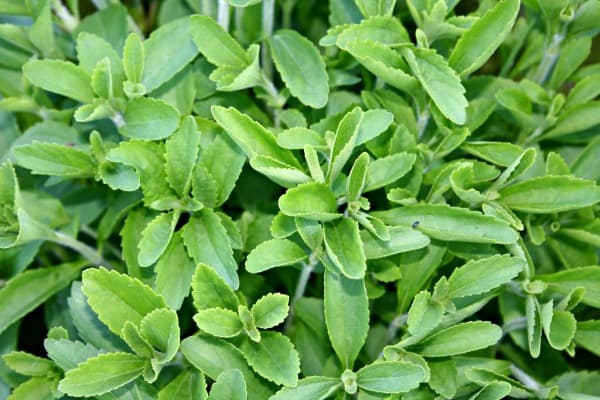 Drying and Storing Stevia Leaves
The edible part of the stevia plant that is used to sweeten foods is the leaves. When the plant is mature, it stands about a foot to two feet tall. It has woody stems like rosemary or thyme, but leaves similar to oregano or mint. It is not invasive.
Here's how to harvest and dry your stevia leaves:
Early in the morning, rinse the plant off with the garden hose.
Let the  leaves dry out for two to three hours after cleaning it.
Use a sharp pair of scissors to cut the stems near the base.
Hang the stems upside down in a warm, dry place. You can dry stevia in the sun without compromising its flavor. I hang mine on the herb drying rack (the old repurposed CD rack). Here is my catnip drying on the rack. Stevia is bundled and hung in a similar manner: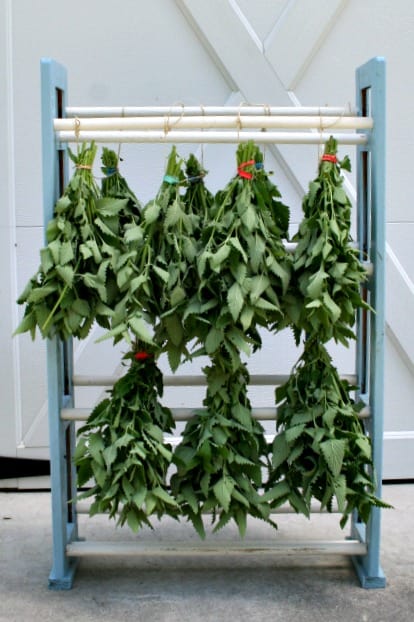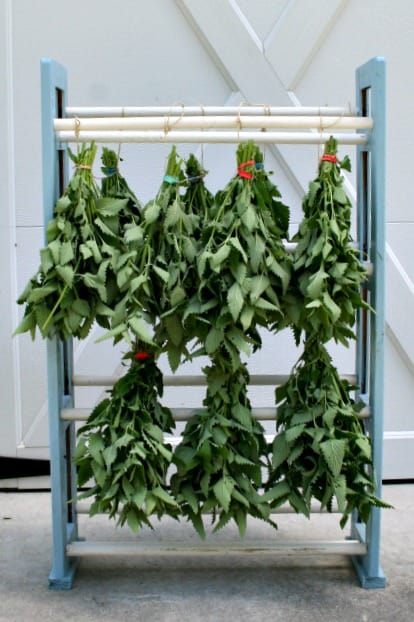 When the leaves are quite dry and crisp to the touch, pull them off the stems. Discard the stems.
Grind the dried leaves in a coffee grinder that you use to grind herbs. DO NOT use a grinder that you use for your coffee! You'll mix in coffee grounds and gag at the taste. It is helpful to have a good quality grinder to prepare your herbs.
Store in a glass jar. Keep it in your pantry or another cool, dark place.
Date and label the jar so you know what's inside and enjoy!
Krups makes a good stainless steel coffee grinder or herb grinder. You can buy it on Amazon for under $20 (affiliate link):

KRUPS F203 Electric Spice and Coffee Grinder with Stainless Steel Blades, 3-Ounce, Black
Botanical Interests also offers stevia seeds. I've grown stevia from seed. It's not difficult but does require patients. Start the seeds in early spring indoors. Harden off outside (put outside during day and take in at night) until the plants become acclimated to the outdoors and after all danger of frost is past. Then plant in the garden.
Stevia – 12 Seeds – Organic Heirloom Seed
Benefits of Stevia
Stevia has no known side effects, and has been used for hundreds of years by the native people of Paraguay. It is useful for sweetening foods and beverages and has no calories. I do not know of any health benefits of this useful herb except that it does not raise blood sugar the way other natural sweeteners such as honey or maple syrup do. It's a good herb for those who want to avoid empty calories but don't want to use artificial sweeteners.
I hope you enjoyed this post about growing and using stevia. I love it and am so happy to have my little plant in the garden!  Thank you for joining me for #WellnessWednesday and our weekly #herb gardening special.
Happy gardening. KEEP GROWING!


Jeanne Grunert is a certified Virginia Master Gardener and the author of several gardening books. Her garden articles, photographs, and interviews have been featured in The Herb Companion, Virginia Gardener, and Cultivate, the magazine of the National Farm Bureau. She is the founder of The Christian Herbalists group and a popular local lecturer on culinary herbs and herbs for health, raised bed gardening, and horticulture therapy.