This recipe uses leftover lamb from either a roasted leg of lamb or lamb chops, transformed into a delicious stew using plenty of fresh vegetables and herbs.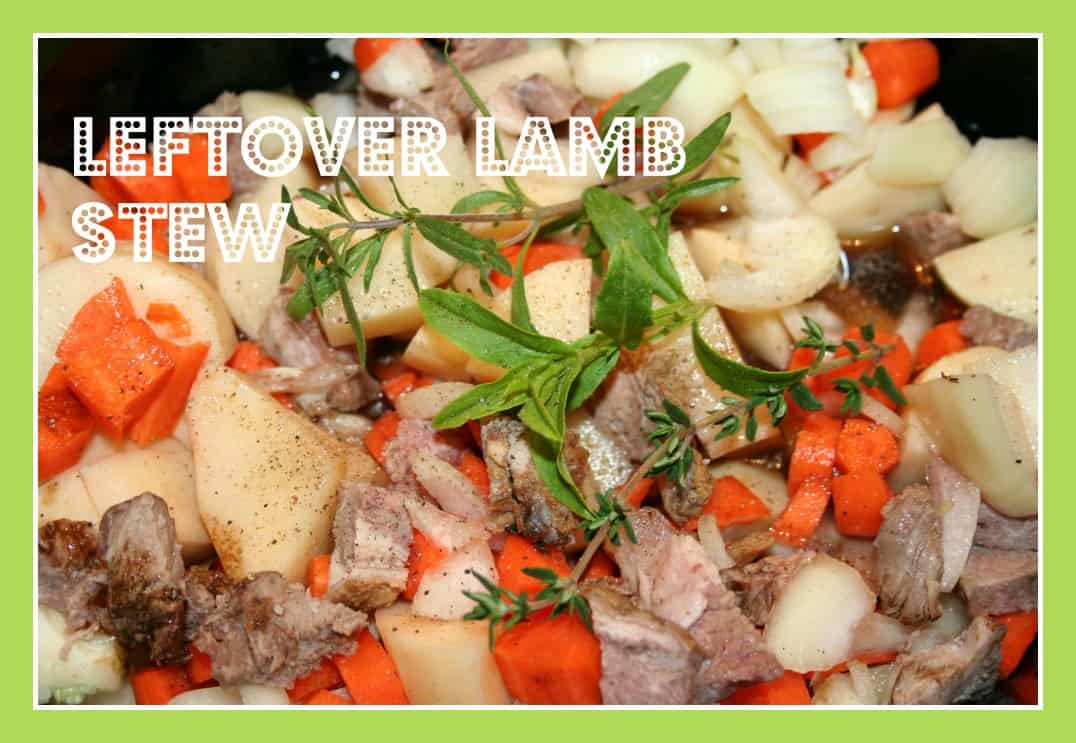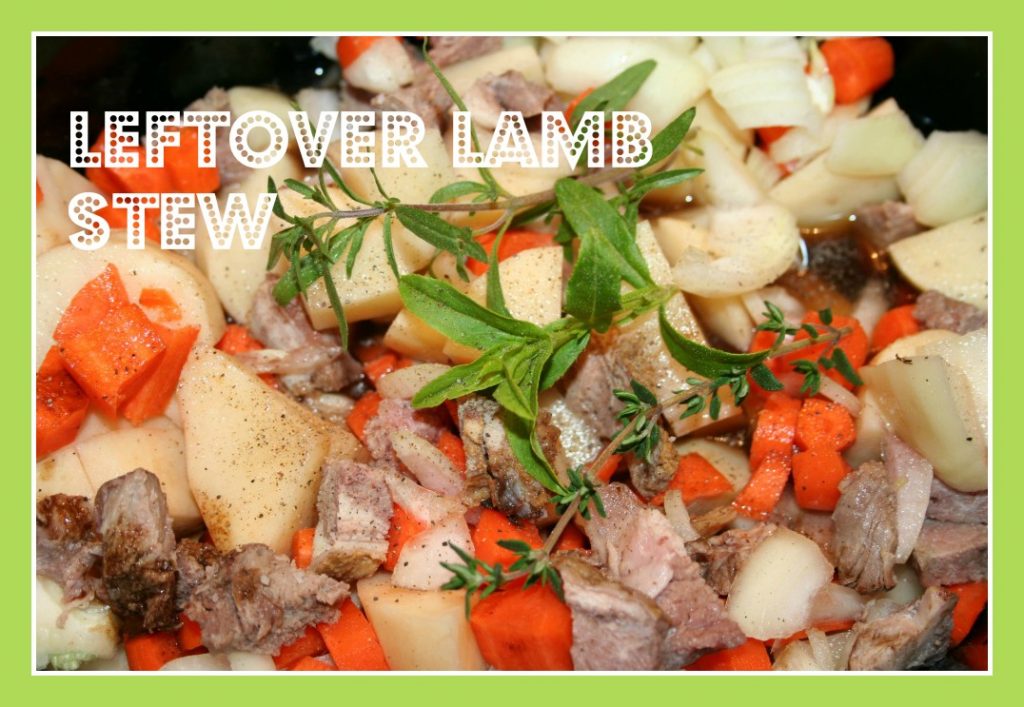 Leftover Lamb Stew Recipe
I have a confession to make: a love lamb.  It sounds crazy, me being the animal lover that I am. How can you eat those fluffy bouncing baby lambs? Well…I try not to be a hypocrite. Unless I can be a complete vegetarian, I will be open to eating all types of animals, and that includes lamb.
Lamb roasts are a staple of many international cuisines. Here at Seven Oaks, a roast lamb is almost always on the menu for Easter. But with just a few people, we never can eat a full leg of lamb. My husband cuts the larger cut of meat into smaller segments and I package them and freeze them for future meals.
We enjoyed a roast lamb last weekend, and I was stuck with just one slice – one small slice – leftover. My dog gets the runs when she eats lamb, so chopping it up for her was out of the question. Besides, lamb is expensive here, and it's also delicious so…why not a lamb stew?
I modified my usual Italian beef stew recipe for the cooked lamb. I made it in my CrockPot® (slow cooker) using fresh garden vegetables and herbs, plus a few pantry staples.  I served some dinner rolls on the side, and it was a delicious, filling meal.
The fresh herbs in this recipe all came from my garden. I felt they added layers of flavor to the dish that dried herbs do not. You can use dried herbs from the grocery store if you do not grow fresh herbs.
This leftover lamb stew recipe was a big hit at my house. If you have leftover beef or even rabbit, you could also use it in the stew recipe.
Leftover Lamb Stew Recipe
Feeds 4
Ingredients
1 slice of cooked meat – lamb, beef or rabbit
3 large potatoes
1 large onion
4 large carrots
1 cup beef broth (or 1 bouillon cube and 1 cup water)
Fresh herbs: 1 sprig savory, 1 spring Texas/Mexican/French tarragon, 1 sprig thyme
1 tablespoon sweet port wine
1/2 teaspoon Worcestershire sauce
You can substitute 1 teaspoon of dried herbs for the fresh ones. Summer Savory is available dried and fresh at major supermarkets.
Peel and slice or cube the potatoes, placing them in a layer at the bottom of the slow cooker. Peel and slice carrots, adding on top of the potato layer. Peel and slice onion, adding that on top of the carrots. Slice the cooked meat into bite-sized cubes and layer on top. Add sprigs of herbs across the top. Pour in the mixture of beef broth, wine and Worcestershire sauce. Cover your slow cooker, and cook on HIGH for 4 hours. Lower temperature to LOW for 1 hour. Total cooking time: 5 hours.
Discard sprigs of herbs before serving.
Alternate Version
If you prefer a stronger stew, at the end of cooking time, use a slotted spoon and remove meat and vegetables to a saucepan. Discard stew cooking liquid. Add 1 can of drained peas. Add 1/2 cup tomato sauce or spaghetti sauce of your choice. Heat 1-2 minutes, stirring to mix, then serve.
Bon appetit and Keep GROWING!
#FoodieFriday