Have you heard about Can-It-Forward-Day? It's a day set aside to talk about all things canning, and it's sponsored by the good folks over at Ball Canning. I'm thrilled to announce that this year, Home Garden Joy will not only be participating, we'll be sharing all the goodies with you so that you too can "can it forward" and save those fresh garden vegetables and fruits to enjoy all year long!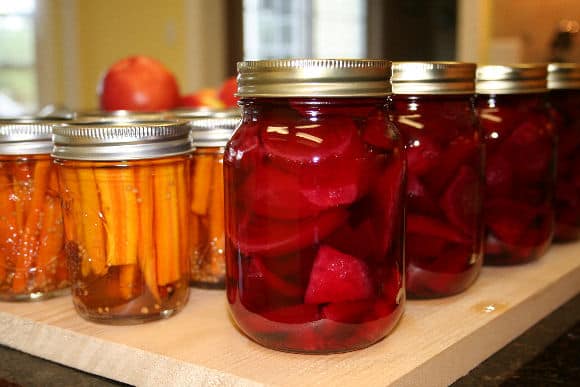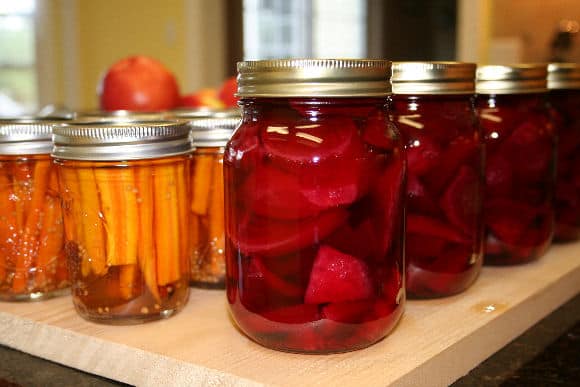 Long-time readers will recall that I wasn't always into home canning. In fact, my first canning projects were fraught with anxiety. Would I poison my family? Would I waste all that time, money and effort with something completely inedible?
My first batch of pear butter came out great. The persimmon jam? Awful, sort of like lemon-flavored gasoline. Unripe persimmons got into the batch and the tannin in the jam were just too horrible to talk about. Let's just say I won't be growing, harvesting, cooking or even trying a persimmon any time soon.
But soon I taught myself to can, and now home canning is one of my favorite activities each summer and fall. The year begins with this:
Blackberry and strawberry jam, canned in my own kitchen. This year's batch of strawberry jam, I was told, was the 'best' I'd ever made. Thank you, Hubby. When he tells me something I've made tastes good, I feel like a winner!
And ends with this: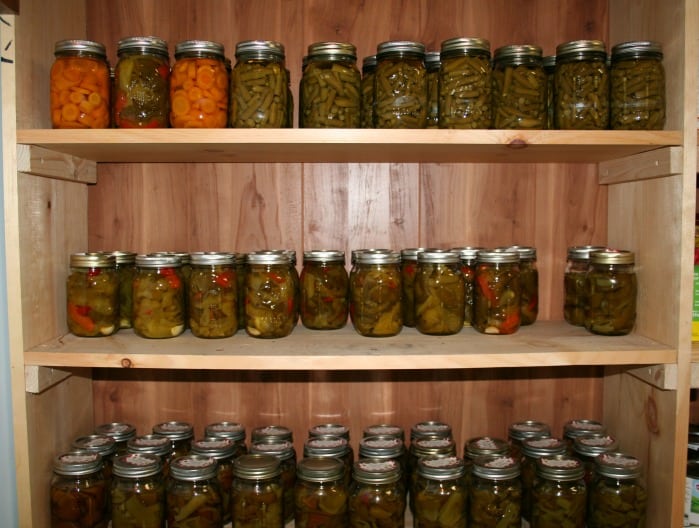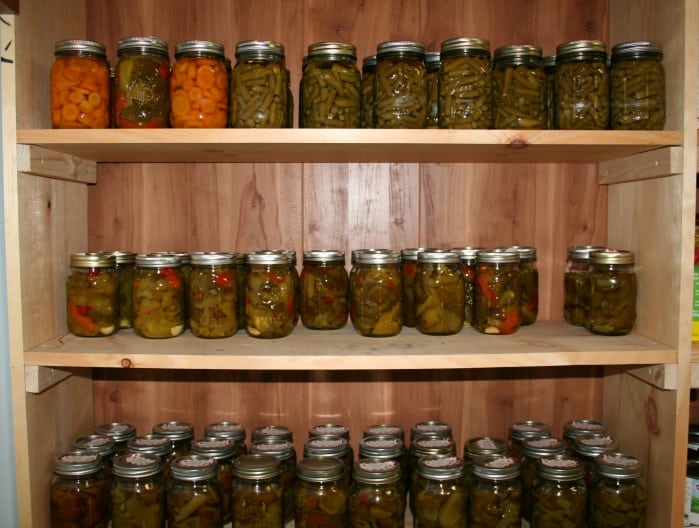 Canning projects in a typical year include green beans, pickled beets, pickled peppers, regular peppers, and in some years I add tomato juice, sweet potatoes, and carrots. It all depends on what the garden decides to produce in abundance. We enjoy the bounty year-round thanks to my Ball Complete Home Canning Cookbook, an antique hot water bath canning pot and a brand-new pressure canning system.
The book that started it all and my guide to everything canning:
Ball Complete Book of Home Preserving
Yeah, I guess you could say I'm just a little bit into home canning….
Can-It-Forward-Day
From the company's press release: "Jarden Home Brands, makers of Ball® brand home canning products, announces its 2016 Can-It-Forward Day will take place on Friday, July 22nd from its new digital location, Facebook Live.  Now it its 6th year, Can-It-Forward Day was born from the desire to share – or pay forward –  the joy and benefits of canning, bringing together canners, gardeners and food enthusiasts alike.  Canning demonstrations from popular canning bloggers, as well as the Ball brand's expert chefs will take place from 10:00AM – 3:30PM ET on the Ball Canning Facebook page."
Isn't this cool?  The company will have two experts, Chef Sarah Page and Jessica Piper, a Consumer Specialist, demonstrating recipes and techniques.
Here at Home Garden Joy, we'll also be participating in a special way. I'll be sharing with you a super canning recipe, along with pictures, and discussing some of my tips for newcomers to canning.
It all takes place on Friday, July 22nd. Mark your calendars. Follow both Home Garden Joy and Ball Canning on your favorite social media. Gather your garden product. Let's Can-It-Forward!
Happy Gardening. Keep Growing!


Jeanne Grunert is a certified Virginia Master Gardener and the author of several gardening books. Her garden articles, photographs, and interviews have been featured in The Herb Companion, Virginia Gardener, and Cultivate, the magazine of the National Farm Bureau. She is the founder of The Christian Herbalists group and a popular local lecturer on culinary herbs and herbs for health, raised bed gardening, and horticulture therapy.