I can hardly believe it's November! It seems like just yesterday, and it was March and I was dreaming of things to come. This year has been a cycle of drought and rain, more drought than I'd like, unfortunately, It's made me consider the flower garden areas and what I can do to make the more drought-tolerant.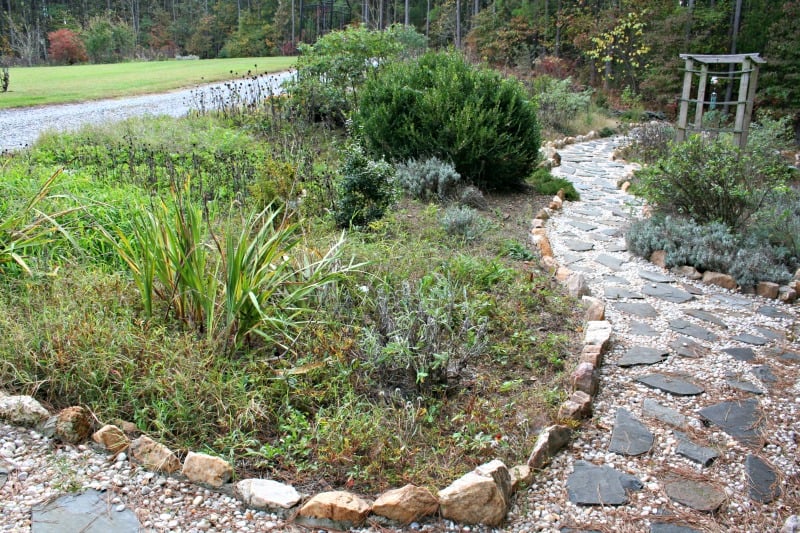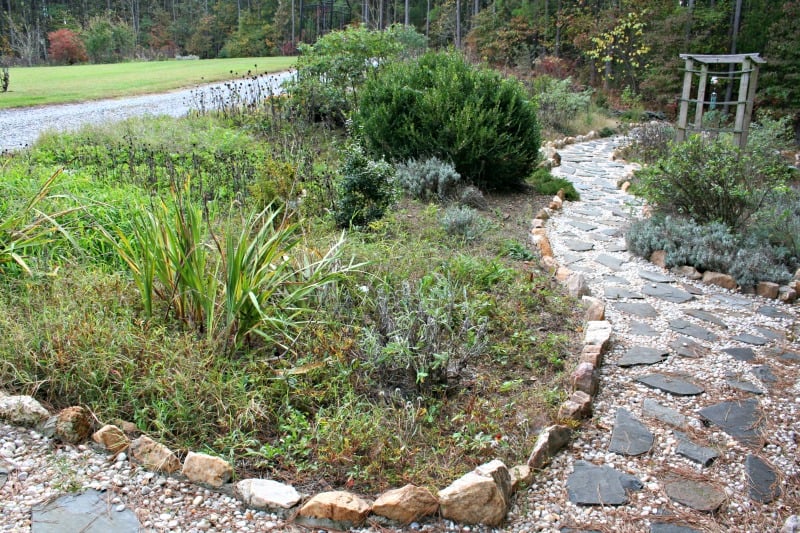 The area above is the section that's part of my garden redesign project for 2017. As you can see, certain plants thrived, while others just look lank and sad. There's also the wire grass in the bottom left hand corner. It's completely overtaken the daylilies and is impossible to remove at this point unless I dig everything up, which is going to happen soon, I think.
When I consider which plants thrived and which did not, I see a pattern emerging. Shrubs survived; the boxwoods, peonies (technically perennials but quite shrubby), and the holly all emerged winners. So too do the native perennials like the purple coneflower, which seems to live no matter what the weather throws at it.
Drought-tolerant plants like the area, too. Culinary sage, transplanted from a shady area in the rear of the garden to a more front-and-center location provided plenty of leaves for me to dry this past weekend to refill my spice rack. Lavender also thrives in the garden, a blessing since so many other plants struggle.
The area is sloped more than the picture reveals, and I think that increases the dryness factor, too. Water does run off the driveway somewhat during rainstorms, but it also rushes down the hillside. The plants and mulch help prevent erosion, but I think more runs off than I realize. The area dries out quickly.
As I ponder my garden redesign project, I realize a few things:
My garden is a lot more complicated than I originally thought. There are many micro climates within this 22 x 12 area, as well as within the entire garden.
I completely underestimated how much water the garden receives during the year. Annual rainfall is one thing, but if it all occurs spring and fall, then the summertime should be considered because the hot, dry conditions are brutal for water-loving plants.
I need to stop fighting against what works. I resist planting marigolds because they're so 'common' and I am tired of them. But they thrive and right now, they are the only color in that entire bed. And they'll keep blooming until the hard frosts of December. I need to plant more of them, not less. I need to be open to new colors and varieties from among the plants I have found that work in my garden.
If I forget to mulch, the garden remembers. We were late getting the mulch into the garden and had to stop because of the summer heat. We didn't remove last year's mulch, but it did begin to decompose. The garden really does need its annual one to two inches of mulch to keep it cool and moist.
Native plants are probably the answer to my garden's needs.
I need to focus on the overall design, rather than just chuck in any plants I like, which is part of the problem now, and why it looks so much like a hodgepodge.
November is a great time to reflect on your garden. Here in zone 6b – 7, the garden is still green enough to show me where most of the plants are without hiding the garden design imperfections that summer's bright blooms often do.
This month, I'll be busy with garden clean up – both the perennial garden and the vegetable garden. Would you believe I am still picking green beans, peppers and tomatoes? The end of this week promises temperatures in the 30s overnight, so I think my vegetables will be finished for the season. But for now, I continue to pick and pick veggies until the last frost.
Happy gardening. Keep growing!
Jeanne Grunert is a certified Virginia Master Gardener and the author of several gardening books. Her garden articles, photographs, and interviews have been featured in The Herb Companion, Virginia Gardener, and Cultivate, the magazine of the National Farm Bureau. She is the founder of The Christian Herbalists group and a popular local lecturer on culinary herbs and herbs for health, raised bed gardening, and horticulture therapy.