A good eggplant recipe can be hard to find. I grew eggplant this year and love fresh eggplant, but my family doesn't enjoy it quite so much. What do I do with the extra eggplant?
Make grilled eggplant with garden pesto for lunch, an eggplant recipe that will have your mouth watering!

Eggplant Recipe: Grilled Eggplant with Garden Pesto
This recipe is one that I made up myself. First, I needed to find a way to use those small eggplant that aren't big enough for a meal and tend to get smushy in the fridge too fast. I had one of those, on the verge of smushiness beyond repair.
I needed to cook it, and fast, but I had just made eggplant on Saturday night for our family meal. What could I do with this little guy?
Then I remembered the sunflower seed pesto sauce recipe I made and it all clicked together. I had read several recipes calling for pesto on top of eggplant, but the sunflower seeds used in this recipe added a tasty layer to the flavor that was unsurpassed.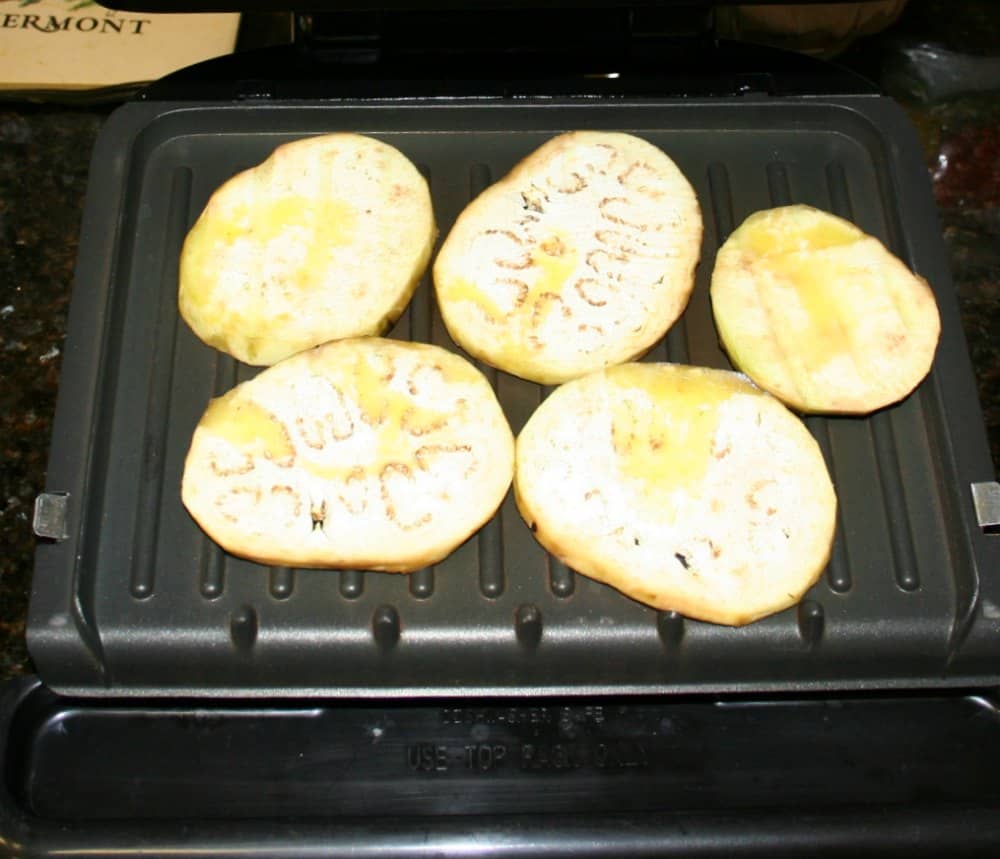 Using a Foreman Grill to Grill Eggplant Slices
I don't have a working outdoor barbecue grill (I know, I know – what kind of American am I without a grill?) right now. We do have a grill, but it's in the garage, the deck is ripped up as my husband repairs a bunch of broken and warped boards, and we never connected the propane tank to the grill once this summer.
There goes my grilled eggplant…or so I thought.
Then I realized: I can use my George Foreman grill to cook the eggplant! If you don't have a George Foreman grill, I highly recommend it. It is a small, tabletop grill that cooks food quite well without making a mess. I use ours to make hamburgers and steaks in about 5-6 minutes. You can use it to grill eggplant, too!
To grill eggplant on a Foreman grill, heat the grill to temperature. Peel and slice the eggplant. Salt it, then brush both sides with olive oil. Place it on the grill, close the lid, and cook for 4 minutes. That's it! When you remove the slices from the Foreman grill, they even have those beautiful grill marks on them – and they taste great!
Ready to make one of the tastiest, healthiest lunches ever? If you've got eggplant, basil, and tomatoes in your garden, olive oil, and some sunflower seeds and garlic, make the pesto sauce recipe and then grill some eggplant. You're all set to enjoy this awesome dinner or lunch eggplant recipe, Grilled Eggplant with Sunflower Pesto Sauce.
Grilled Eggplant with Sunflower Pesto Sauce
Grilled eggplant, basil and garlic combine in a delicious meal. The sunflower seed pesto sauce adds a nutty flavor to the meal, a perfect accompaniment for the eggplant and tomatoes.
Ingredients
1

small

eggplant

peel and slice

1

cup

diced tomatoes

1/4

cup

feta chunks

(optional)

1

tablespoon

olive oil

1/2

cup

sunflower seed pesto sauce

(substitue any pesto)
Instructions
Preheat the George Foreman grill.

Brush each side of the peeled and sliced eggplant with olive oil. Place slices on the hot Foreman grill.

Close the lid and grill the slices for 4 minutes. Repeat as needed until all slices are grilled.

Arrange grilled eggplant slices on a serving plate. Place one generous teaspoon of pesto sauce on each. Layer more slices of eggplant over this, add pesto.

Sprinkle eggplant and pesto sauce with diced tomatoes and feta. Serve immediately while eggplant is still warm.
Jeanne Grunert is a certified Virginia Master Gardener and the author of several gardening books. Her garden articles, photographs, and interviews have been featured in The Herb Companion, Virginia Gardener, and Cultivate, the magazine of the National Farm Bureau. She is the founder of The Christian Herbalists group and a popular local lecturer on culinary herbs and herbs for health, raised bed gardening, and horticulture therapy.