Ready for a gnocchi recipe? We're continuing to pursue our goal of two vegetarian meals per week and this recipe for gnocchi with mushrooms and herbs offered a filling, flavorful vegetarian meal that was absolutely delicious.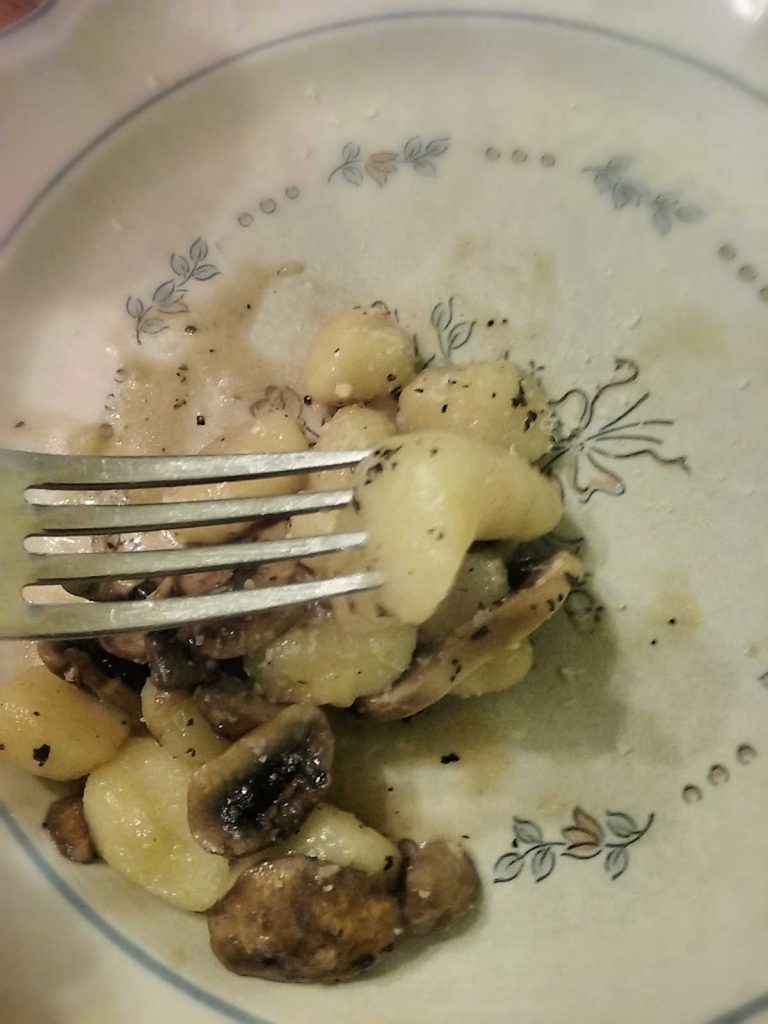 Gnocchi Recipe
What is gnocchi? My husband's family pronounces it "knorrr-ki" and it's an Italian "pasta" made from potatoes. To make this gnocchi recipe, I purchased premade gnocchi from, of all places, Dollar Tree, but you can also buy packaged gnocchi at the supermarket or make your own.
To make your own gnocchi, use this simple gnocchi recipe:
Bring a big pot of salted water to boil.
Peel two large potatoes. Add peeled potatoes to the water and cook for 15 minutes.
Drain potatoes and allow them to cool. Mash with a hand-held potato masher.
Add 1 egg and 2 cups of all purpose flour to the mashed potatoes.
Knead with your hands after mixing until it forms a dough.
Roll out "snakes" of dough on a floured breadboard.
Cut the "snakes" into 1-inch pieces or smaller.
Use a fork to make a little design on them.
Drop them into another pot of boiling, salted water. When they rise to the top, they're done, so use a strainer or a slotted spoon and take them out. Use the cooked gnocchi for the recipe below.
History of Gnocchi
Gnocchi are Italian dumplings. Potatoes only grow in colder climates, and they grow in Northern Italy. Many heartier Italian dishes like gnocchi, polenta, and risotto come from Northern Italy. The word "gnocchi" is similar to the Italian word "nocca" which means "knuckles" and the little fluffy potato dumplings do indeed look like knuckles!
They can be made from semolina flour or white flour. I use plain all purpose flour, the kind you can buy at any grocery store, and they come out great.
Gnocchi Recipe: Gnocchi with Mushrooms
A hearty meal that takes only minutes to make if using prepared gnocchi. If making gnocchi from scratch, the entire meal takes about an hour and is very easy to make.
Ingredients
1

package

prepared gnocchi

If making from scratch, make about 40 gnocchi

1/2

cup

white wine OR vegetable broth

2

tablespoons

salted butter

2

cups

sliced mushrooms

Use any mushroom you desire

2

cloves

garlic

Peel and mince garlic

dash

grated Parmesan cheese

1

tablespoons

dried basil

1

teaspoon

dried parsley

1

teaspoon

lemon juice
Instructions
Boil water and add gnocchi. Cook until gnocchi rises to the top. Then use a slotted spoon to remove the gnocci. Set aside.

In a large sauce pan, melt butter. Add mushrooms and cook until browned.

Add broth or wine and lemon juice to mushrooms. Scrape bits of browned mushroom from the bottom and simmer.

Add garlic and cook an additional 30 minutes. Add basil and parsley. Stir.

Add gnocchi; stir. Remove from heat and serve with grated Parmesan.
If you enjoyed this recipe and like mushrooms, you may also enjoy this Recipe for Marinaded Mushrooms.
Jeanne Grunert is a certified Virginia Master Gardener and the author of several gardening books. Her garden articles, photographs, and interviews have been featured in The Herb Companion, Virginia Gardener, and Cultivate, the magazine of the National Farm Bureau. She is the founder of The Christian Herbalists group and a popular local lecturer on culinary herbs and herbs for health, raised bed gardening, and horticulture therapy.