Low sodium spaghetti and meat sauce s easy to make and whips up in half an hour or less. It's low salt, low cholesterol, and packed with flavor! Who wouldn't want a lovely Italian dinner that's low sodium and reduces the salt in the original recipe by 84?
Recipe Rehab: Low Sodium Spaghetti and Meat Sauce Dinner
A typical Wednesday night meal for my family is spaghetti and meatballs. Sometimes we shake it up a little with chicken breast instead of meatballs, but the favorite by far is our Wednesday pasta night.
Until we started counting sodium and cholesterol, we had no idea how high in salt this meal was! Not only high in sodium and cholesterol, but calories, too.
This low sodium spaghetti and meat sauce recipe substitutes a few simple ingredients to produce a delicious low salt meal. At first, your family may notice a difference in the taste of the spaghetti sauce. Our palates accustom to high salt diets. Switching to a lower sodium diet or a heart-healthy diet tastes "funny" for a while until our taste buds adjust. Once they do, however, you'll find the lower sodium meal tastes great.
Before: High Salt, High Cholesterol and Calories
Our typical spaghetti and meatballs meal included
Two homemade meatballs each
4-6 ounces of spaghetti
About 1 cup of jar sauce from a commercial brand
Texas toast or garlic bread,
Glass of red wine.
The family recipe called for the meatballs to be baked in the oven in a little water to keep them moist. I thought this was healthier than frying and therefore I the 'before' recipe was fine for my family. Unfortunately, commercial Italian-style bread crumbs and eggs used to bind the ingredients increased the cholesterol and salt to unacceptable levels.
Weigh and Measure All Ingredients
Before being careful with our meals, I rarely weighed or measured all the ingredients in a meal. Instead, I was a casual cook; I'd just throw spaghetti into the pot and there you go. Help yourself.
One thing we learned is the importance of weighing and measuring ingredients for accurate calorie counts. This has been very helpful to my own personal weight loss. A little cut here and there in calories and fat adds up!
After: Lower Salt, Cholesterol and Calories
The "after" low sodium spaghetti and meat sauce meal includes, per person:
4 ounces of spaghetti
3 ounces of ground beef
Low salt tomato sauce made with no salt tomato sauce (homemade or storebought), 1 tablespoon no-salt tomato paste, and a tablespoon or two of commercial sauce for flavor
Basil, garlic, and mushrooms, cooked
Glass of red wine
The results:
Lowered calories by 24%, cholesterol by 53%, and sodium by 84%.
Are you ready to challenge yourself to eat healthier? Try one of our Friday Recipe Rehabs from Home Garden Joy.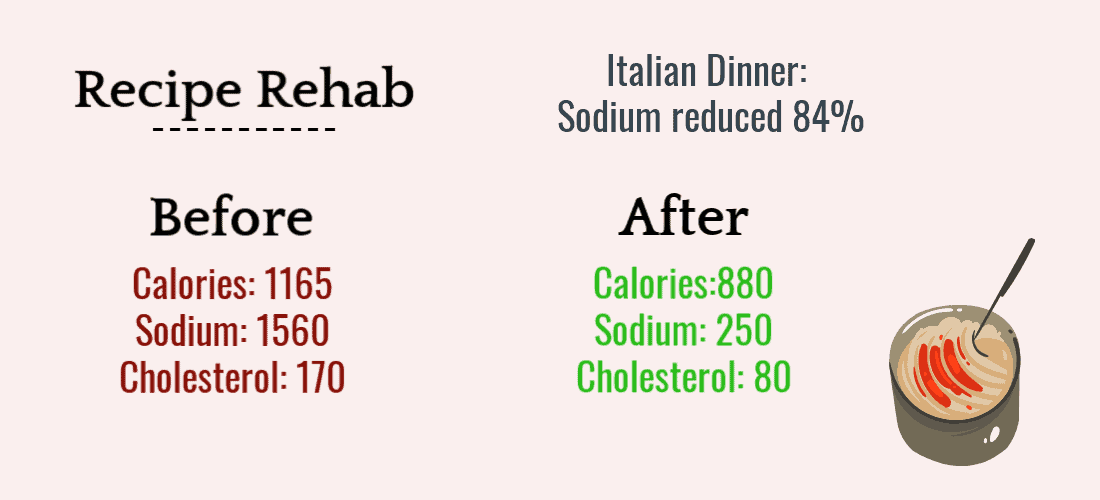 Jeanne Grunert is a certified Virginia Master Gardener and the author of several gardening books. Her garden articles, photographs, and interviews have been featured in The Herb Companion, Virginia Gardener, and Cultivate, the magazine of the National Farm Bureau. She is the founder of The Christian Herbalists group and a popular local lecturer on culinary herbs and herbs for health, raised bed gardening, and horticulture therapy.