Low sodium tacos are possible – and delicious. The secret is finding salt-free taco shells and using only a portion of a low sodium taco seasoning package. I found no salt taco shells at Dollar Tree.
Low Sodium Tacos
I love tacos. They're tasty, easy to make, and filling. But the sodium in the typical taco recipe is astronomical.
Our original taco recipe used commercial dinner kits available at any grocery store. The shells, the canned beans, and the seasoning package, along with the cheese and salsa added to the tacos, raised the sodium to ridiculous levels. I'm talking 935 milligrams of sodium for three tacos – or about half of your daily allowance of sodium.
Reduced Salt Tacos: Find a Substitute for Each Ingredient
To reduce the sodium in our family's meals, I approach the meal one ingredient at a time. I may tinker with an ingredient, swapping out a high sodium food for a lower one, adjusting the seasonings until my family agrees it tastes as good or better than the original. It may take a few tries – and failures – to get it right!
The first and easiest substitution in our original taco recipe was the canned beans. Commercially canned beans add salt as a preservative but low sodium canned beans are available. If they aren't, you can purchase dried beans and cook them the night before so they are ready at mealtime. They can be cooked easily without salt.
By substituting commercially canned beans for no salt added beans, I was able to reduce the salt considerably.
Taco Shells: Why Add Salt?
One of my frequent questions when I cook dinner each night is "Why did they add salt to this?"
Companies add salt to everything: frozen vegetables, meat, you name it! It enhances flavor, preserves color, and it's cheap. But it isn't healthy to eat that much salt.
Finding low sodium taco shells was next to impossible. Every single commercial dinner kit or taco shell on the shelf at the grocery store contained high amounts of sodium. I finally found the solution in, of all places – Dollar Tree!
I've written before about the no salt added pizza crust that I found at Dollar Tree. It amazes me that I end up finding the healthiest alternatives at the dollar store, but it's the truth. The taco shells at Dollar Tree do not have a brand name on the box. It is a plain box with simple ingredients and it tastes great.
Low Sodium Taco Mix
Another way in which I was able to lower the sodium in the recipe was to purchase McCormick 30% less sodium taco seasoning. I use half the package instead of the entire package, which further reduces the sodium.
Leave Out the Commercial Salsa
Unfortuantely, if you want true low sodium tacos, you'll need to leave off the commercial salsa mixes. Every single brand had sodium amounts that were too high for our diet.
Instead of salsa, I diced onions and fresh tomatoes. This added plenty of nutrients, taste, and a bit of zing that satisfied.
Cheese? Yes, Please – But Only a Little
Lastly, because we are also watching our cholesterol intake, instead of piling on the shredded cheddar cheese as we used to do, we use a cheese grater and grate the block of cheddar, making only two or three passes with the hand grater. The little sprinkle of cheese on top of our tacos is just right – without adding too much cholesterol.
We kept the meat. Since we already mix in a can of kidney beans, both to stretch the meat and to add fiber and nutrients, it only seemed right.
Low Sodium Tacos: Before and After
Before
| | | | |
| --- | --- | --- | --- |
| Menu Items (Original Dinner) | Calories | Cholesterol | Sodium |
| | | | |
| Old El Paso Taco Shells (3) | 240 | 0 | 555 |
| Beef 4 ounces | 290 | 80 | 75 |
| Great Value taco seasoning, 1/2 packet | 45 | 0 | 900 |
| Kidney beans, 1/2 can | 210 | 0 | 455 |
| Kraft cheddar cheese, 1 oz | 110 | 30 | 180 |
| Great Value salsa, 2 tbsp | 10 | 0 | 230 |
| | 905 | 110 | 2395 |
After
| | | | |
| --- | --- | --- | --- |
| Menu Items (Modified Dinner) | | | |
| | | | |
| Taco shells, no salt, 4 shells | 220 | 0 | 0 |
| Beef 4 ounces | 290 | 80 | 75 |
| Kidney beans, no salt, 1/2 can | 210 | 0 | 20 |
| McCormick reduced sodium 1/2 packet | 25 | 0 | 375 |
| | 745 | 80 | 470 |
| | | | |
| | | | |
| Reduction | -160 | -30 | -1925 |
| | -18% | -27% | -80% |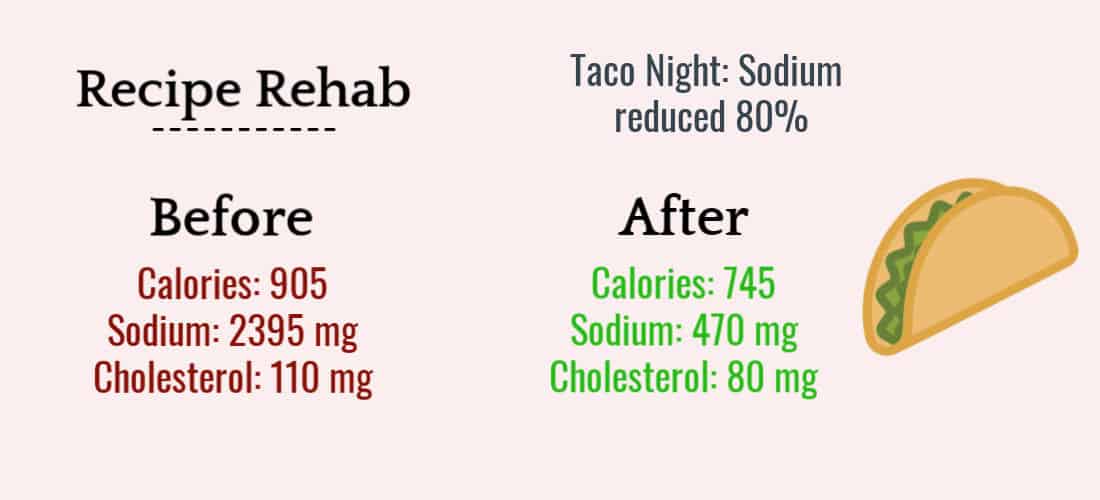 With a few simple adjustments, you can also make your favorite recipes low salt and low cholesterol without sacrificing taste!
You may also want to see my easy Black Bean Burrito Recipe for more healthy goodness.
Jeanne Grunert is a certified Virginia Master Gardener and the author of several gardening books. Her garden articles, photographs, and interviews have been featured in The Herb Companion, Virginia Gardener, and Cultivate, the magazine of the National Farm Bureau. She is the founder of The Christian Herbalists group and a popular local lecturer on culinary herbs and herbs for health, raised bed gardening, and horticulture therapy.