Bierocks are small wrap sandwiches made with fresh bread and a meat or vegetable filling. Vegetarian bierocks are made with an all-vegetable filling and are just as delicious as their meat-heavy counterparts.
This recipe takes time to make (about 2-3 hours, total) but it's worth it. Vegetarian bierocks freeze well and can be thawed in a lunchbox or overnight at room temperature. You can also microwave frozen bierocks for 15-30 seconds and they are ready to go!
Serve with a dab of good mustard and they are surprisingly satisfying and filling.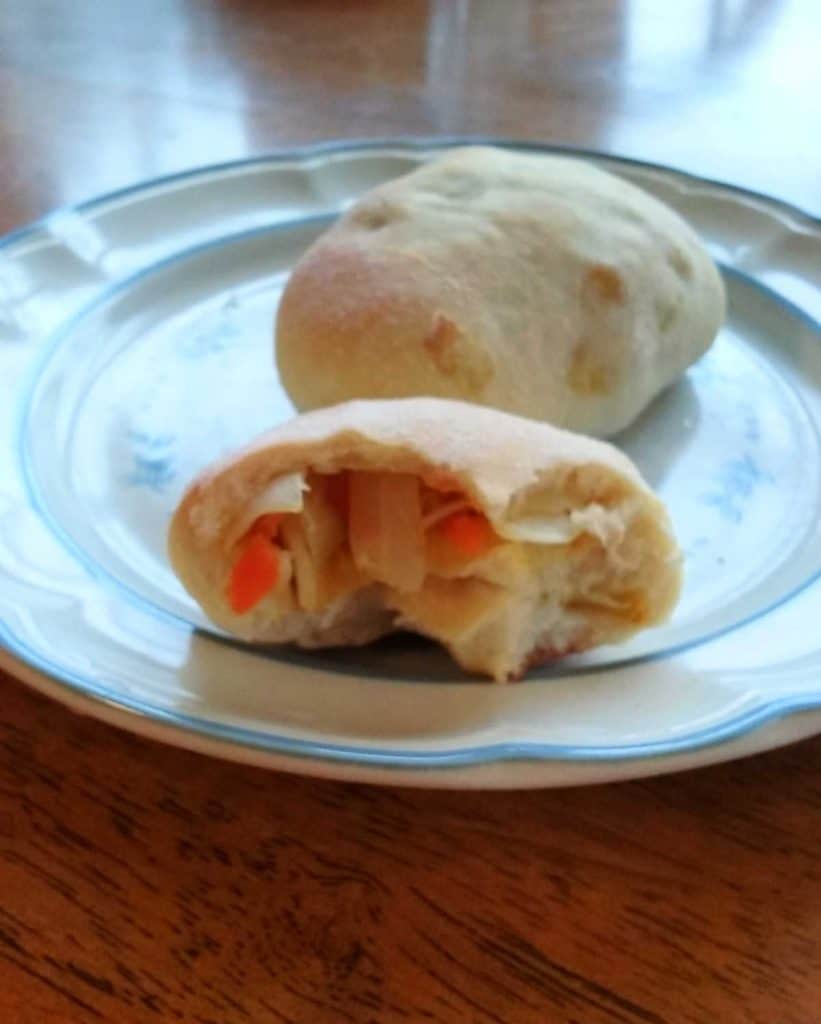 Best Vegetarian Bierocks Recipe
This is one of the best vegetarian bierocks recipes I've ever found. What are bierocks?  Think of them like little portable sandwiches. They are also called runzas and typically contain a soft, sweet bread wrapped around a savory filling.
Many cultures enjoy such sandwiches. Coal miners carried "pasties" in their lunch buckets; these portable meat-filled sandwiches could be heated over lamps or small fires or eaten right from the lunch pail. Today, we can purchase "Hot Pocket" sandwiches in the frozen food aisle at the supermarket. It's the same concept.
Bierocks Recipe Vegetarian Style
Most bierocks recipes contain meat in the filling and are heavy on the salt. I cut the salt by 2/3 in this recipe without sacrificing taste and virtually eliminated the cholesterol from the filling by making it vegetarian.
Don't cut all the salt from the bread recipe, however. Salt helps the rising process. Without salt, your bread pastry wrap will be tough, and it needs to be soft and pliable to make the little pockets.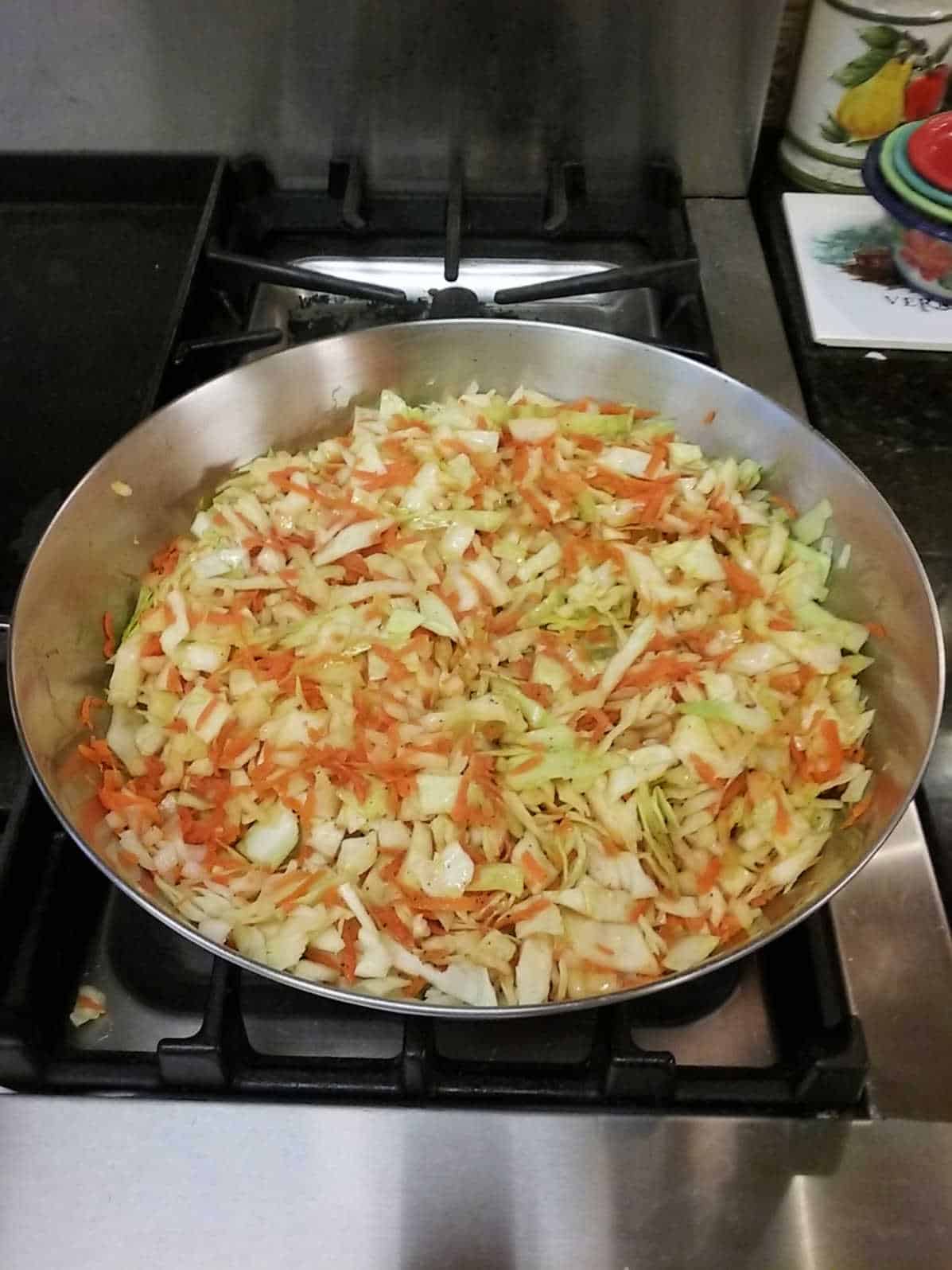 Vegetarian Bierocks Filling
The filling in this recipe consists of shredded cabbage, onion, and carrot, cooked until soft in olive oil. That's it. I add a bit of Braggs Amino Acids, a soy sauce alternative, for flavor. Be sure to cook the filling first then put it in the refrigerator while you make the bread dough. The filling is easier to work with when chilled.
To make the filling:
Shred 2 cups cabbage, 1 cup shredded carrot, 4 stalks of celery, and dice one onion.
Cook in two tablespoons of olive oil until soft.
Add 2 teaspoons of Braggs Amino Acids.
Once soft, remove from heat, place in a bowl, cover, and refrigerate while you make the dough, below.
Freezing Bierocks
Freeze uneaten bierocks by wrapping them in foil and placing in a plastic bag. They keep well for 3 months or more. Unwrap and remove the foil, then microwave for 30 seconds to reheat.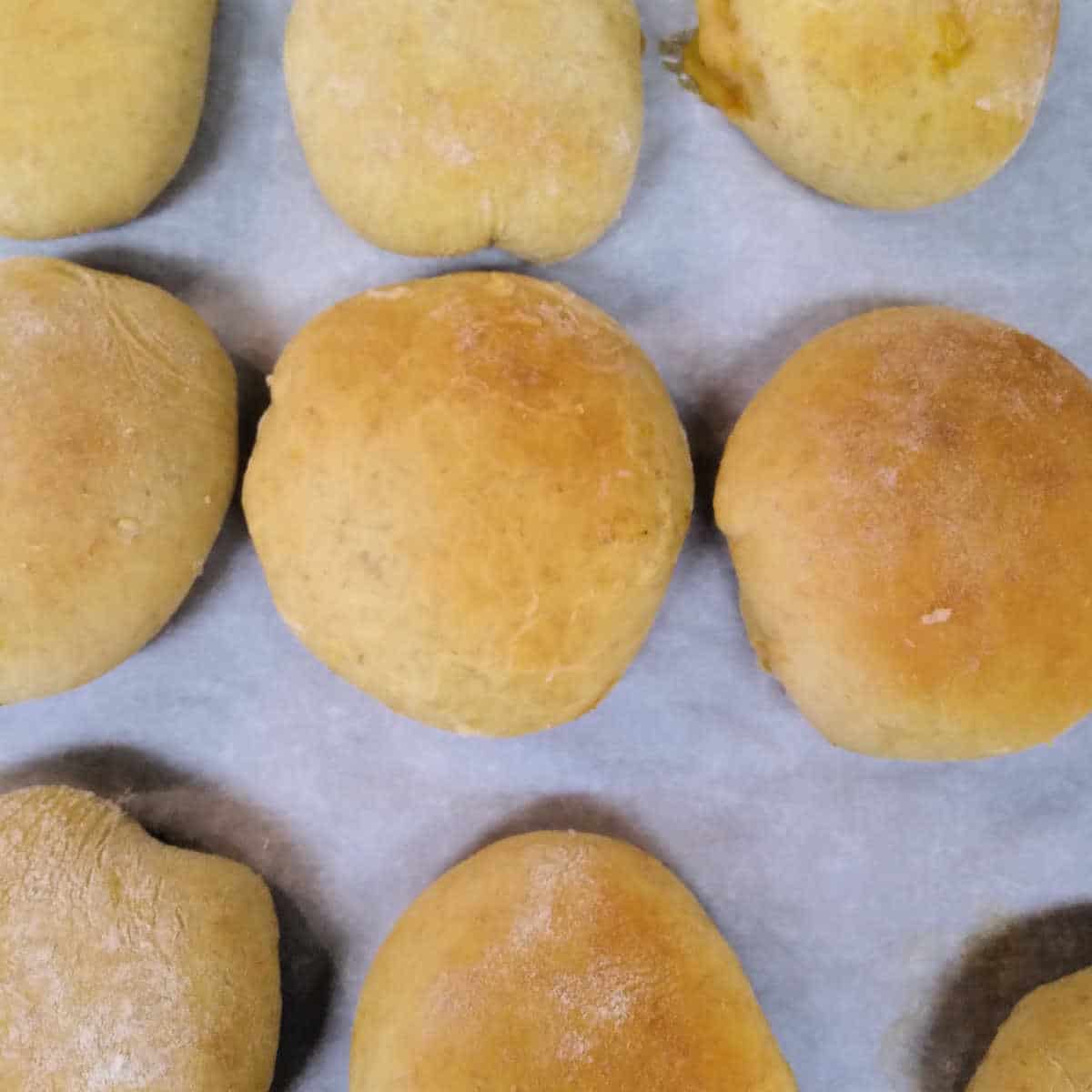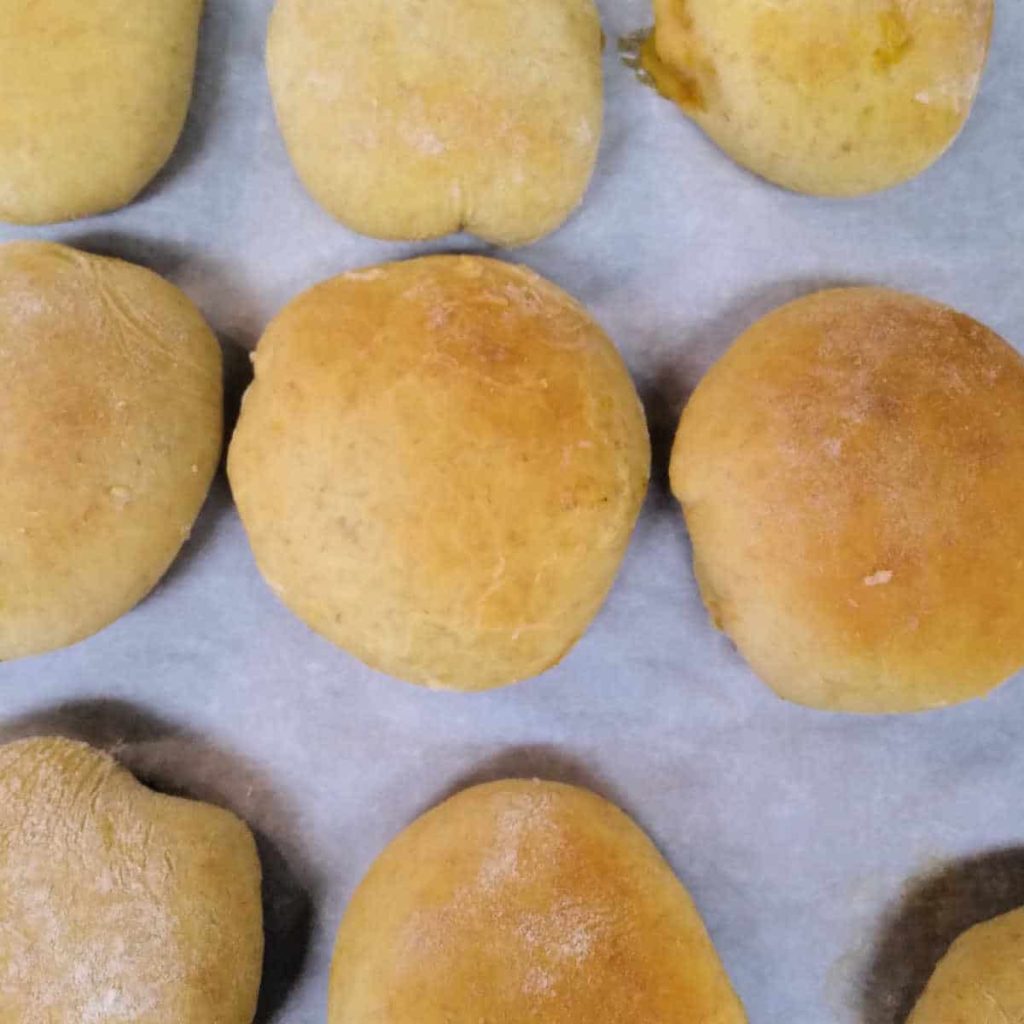 Please note that this post contains Amazon Affiliate links. When you purchase a product after clicking on the link, Home Garden Joy receives a small commission from the sale. This does not affect your price in any way. Thank you for supporting Home Garden Joy!
Recommended Products

9 Inch Bread Banneton Proofing Basket – Baking Bowl Dough Gifts for Bakers Proving Baskets for Sourdough Lame Bread Slashing Scraper Tool Starter Jar Proofing Box
Silicone Baking Mat for Pastry Rolling with Measurements, Liner Heat Resistance Table Placemat Pad Pastry Board, Reusable Non-Stick Silicone Baking Mat for Housewife, Cooking Enthusiasts
King Arthur Flour – Unbleached Bread Flour, 80 Ounce (Pack of 2)

Vegetarian Bierocks Recipe Inspiration
This bierocks recipe first caught my eye in a 2005 edition of the Cooking Light Complete Cookbook. I made it then with meat, but now I have updated the recipe so that it is whole food plant-based and low salt. The result? A heavenly "Hot Pocket" type sandwich that freezes well and meets our family's dietary requirements deliciously!
First published November 2019. Updated with new instructions, revised ingredients, and new images May 23, 2021.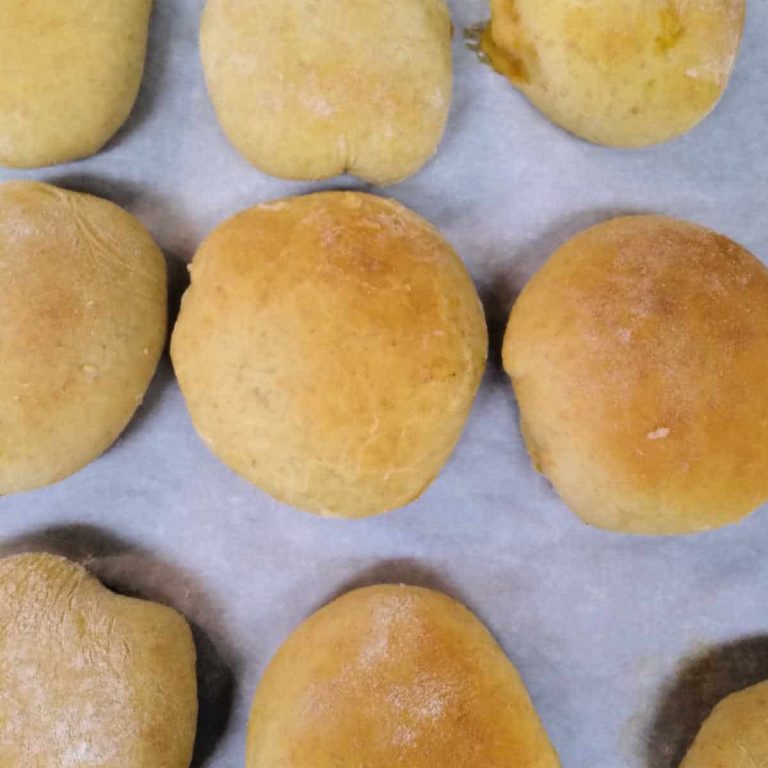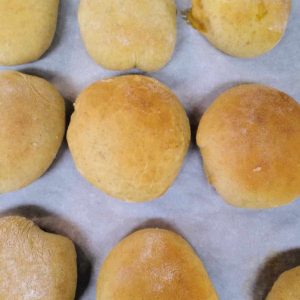 Bierocks Recipe - Vegetarian
After cooking the filling (above), make the bread dough, then assemble and bake the sandwiches.
Ingredients
1/4

cup

sugar

2 1/2

teaspoons

yeast

Red Star dried yeast

1/2

cup

warm water

1/2

cup

1% milk

1/4

cup

vegetable Oil

1/4

teaspoon

salt

2

large

eggs

3

cups

white flour

1

cup

whole wheat flour
Instructions
Make the bread wrap: dissolve the sugar and yeast in warm (not hot) water in a large bowl. Let it stand for five minutes. Then, add the milk, eggs, oil, and salt. Stir gently. Add 1 cup of wheat flour and 2 1/2 cups of white flour and stir to form a soft dough. (Reserve the 1/2 cup of white flour for kneading the dough. It is very sticky).

Sprinkle white flour onto a bread board. Gently turn the dough onto the board and knead for 8 minutes. The dough is very sticky, so use flour as needed to sprinkle on the board, your hands, etc. to keep kneading.

After kneading the dough, spray cooking spray inside a clean bowl. Place the kneaded dough in the bowl and cover with plastic wrap. Place in a warm, draft free area for an hour to rise.

Punch the dough down and let it sit for five minutes after it is finished rising.

Sprinkle flour onto the bread board. Work in small batches. Take some dough and roll it out until thin. Cut into rectangles about 4 x 6 or slightly larger if desired.

Place chilled filling inside the center of each dough rectangle. Then bring the sides of the dough together on a diagonal, pinching until sealed. I use a bit of water to seal the ends.

Line baking sheets with parchment paper. Preheat the oven to 375 degrees F

Place assembled bierocks seam-side down on the parchment covered baking sheet. If they are mishappen, gently pat them into rectangles or squares. Cover with a clean dish towel. Let them rest and rise again for 20 minutes while the oven preheats.

After the final proofing, bake bierocks for 15 minutes. They sound hollow when tapped which indicates they are done!

Allow to cool at room temperature and store uneaten ones in the fridge or freezer. Unused filling can be cooked or heated and added to soup broth for a tasty soup.
Jeanne Grunert is a certified Virginia Master Gardener and the author of several gardening books. Her garden articles, photographs, and interviews have been featured in The Herb Companion, Virginia Gardener, and Cultivate, the magazine of the National Farm Bureau. She is the founder of The Christian Herbalists group and a popular local lecturer on culinary herbs and herbs for health, raised bed gardening, and horticulture therapy.