Dutch tulip bulbs perform the best when they are carefully chosen. That doesn't just mean the type of tulip, but also the best bulbs of that type. Let's take a look at some things to consider when choosing the right tulip bulbs.
This post has been sponsored by Dutch Grown Bulbs.
Choose a Variety of Dutch Tulip Bulbs

You might be surprised to learn that there are over 3000 varieties of tulips. I know I was! This can make choosing a variety pretty tricky because it's difficult to look at all the varieties available and not want every single one of them.
Tulip varieties are divided up into 15 groups that are determined by the type of flower, how long the flower blooms, and the height of the flower. Here are some of the most popular groups tulips are divided into, but there are many more including Emperor, Fringed, Greigii, Kaufmanniana, Lily, Viridiflora, and Miniature Tulips.
Single Tulips: These are further divided into early spring blooming which are 10 to 18 inches, and late spring blooming which are 18 to 30 inches. These are probably the first thing you picture when you think about tulips, but there are so many more to consider.
Double Tulips: Also divided into early and late spring blooming, double tulip flowers resemble peony flowers. For this reason, they are sometimes called peony tulips. Blooms are about 12 to 16 inches.
Triumph Tulips: Triumph tulips offer an amazing variety of colors and get 10 to 16 inches tall. They last beautifully all spring.
Parrot Tulips: Parrot tulips are derived in part from Triumph tulips. The large flowers start out with green buds. As they open, you will notice the petals look feathery or fringed. These are late spring bloomers.
As you can see, choosing a variety can be hard to do with so many amazing Dutch tulip bulbs to choose from. You'll likely want to plant a mix of early and late bloom times for the best display. They'll look amazing with your daffodils and other spring flowers. You'll also want to select heights that allow your tulips to be seen among any other plantings you may have. Those are my only recommendations because I want them all.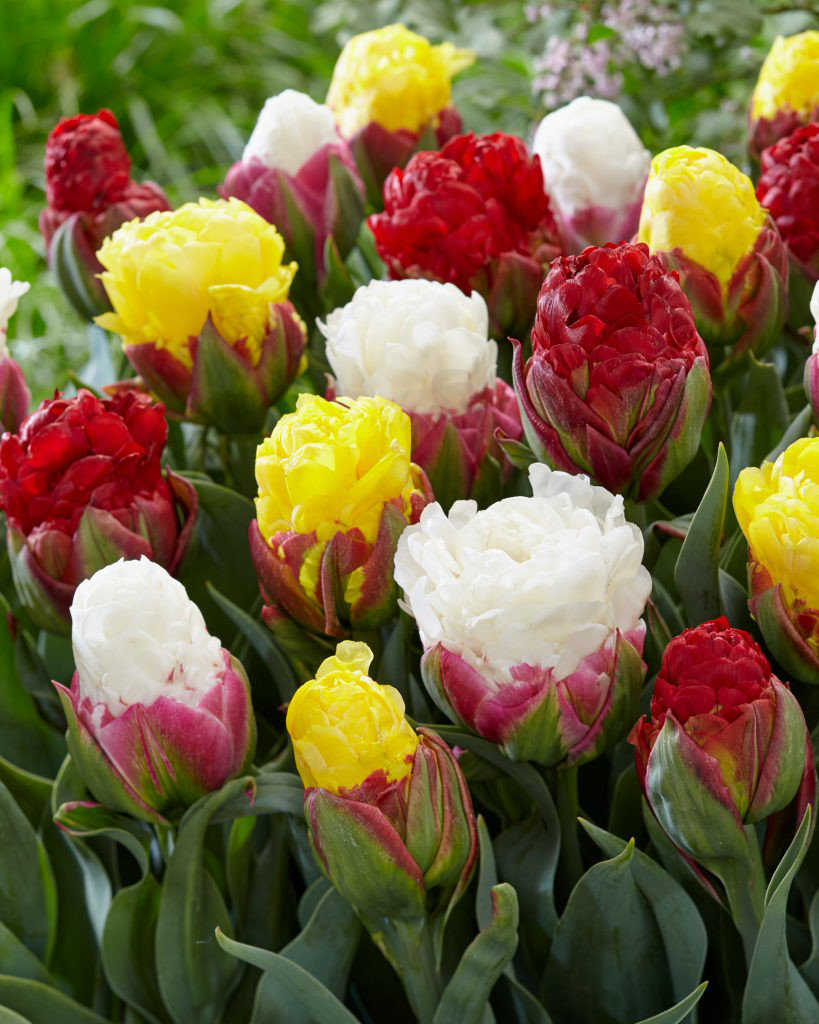 Color Selection
Tulips from Holland also offer an amazing color selection. Nearly any color you can think of, you'll find among the best Dutch tulip bulbs. So now your choices get even more difficult. Do you want specific colors or a mix of different colors?
Some people might find this easier than others. If you have a theme for your garden, you might know exactly what colors will fit best. Or, you might want to create a theme based on your favorite tulip varieties. One of my favorites is the Ice Cream Strawberry tulip from Dutch Grown Bulbs. It makes me want to plant an ice cream garden. I may need to order the Ice Cream Collection and plan this for next year.
You can mix and match colors from classics like red, yellow, pink, blue, and purple. Or you can add in some more unique colors like apricot, black, lavender, and orange. And if you're really struggling to choose, remember white goes with everything. Other considerations are fragrance, and if you want to use your tulips for cutting. Nothing says welcome to spring than a gorgeous bouquet of colorful tulips on your table.
Quality Dutch Tulip Bulbs

Choosing the best Dutch tulip bulbs isn't only about aesthetics, though how your tulips look is essential to a successful garden. But if you really want to grow great tulips, you have to start at the beginning: quality bulbs. And tulips from Holland are known for having the best quality.
Choosing quality bulbs begins with finding a reputable seller. Dutch Grown Bulbs has been around since 1882 and they clearly know what they are doing. After four generations, one thing they have learned is to offer only the largest bulbs. This is because larger bulbs produce larger flowers. They are healthier plants and have stems that are strong making them less likely to droop.
It might seem like you are paying more for the top-quality bulbs, but this is definitely a case of "you get what you pay for". If you've ever watched your beautiful flowers tip over after a rain, you know what I'm talking about. The higher the quality, the better your tulips will last.
If you want to grow great tulips, the formula is simple. After you choose the colors and varieties that suit your needs, choose the highest quality bulbs you can find. Then prepare to enjoy your stunning spring landscape.
This post was sponsored by Dutch Grown Bulbs. All opinions are those of the author.