"Are tulips annuals or perennials?"
I thought I'd answer this question today because I've been watching and weeding around my tulips this week, and noticed that many of my bulbs really need to be replaced.
Here are the daffodils in my orchard. They return year after year with larger flowers and more abundant flowers. The solid yellow cups are King Alfred daffodils, a wonderful variety that naturalizes or spreads out on its own. The goal is to have a carpet of daffodils under our fruit trees in the future….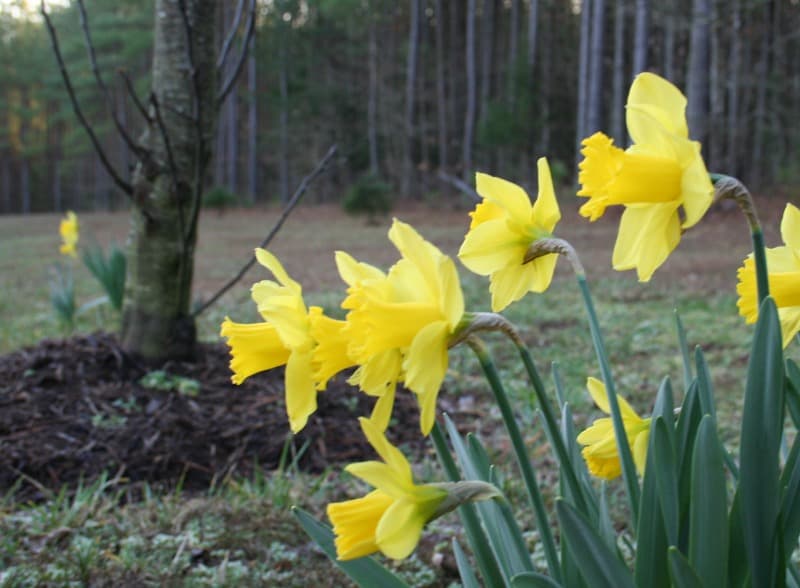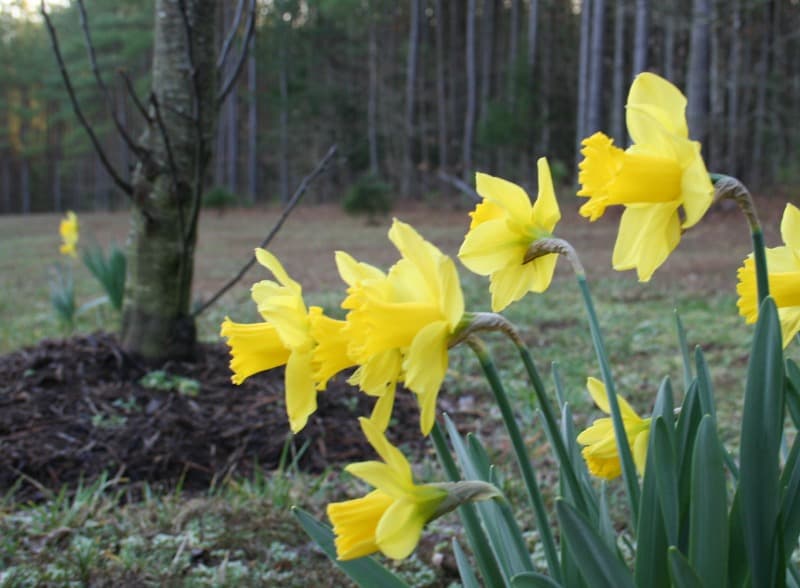 Now here is my lonely Darwin hybrid tulip. It's the sole survivor of a group of yellow and red tulips planted along the walkway by our garage: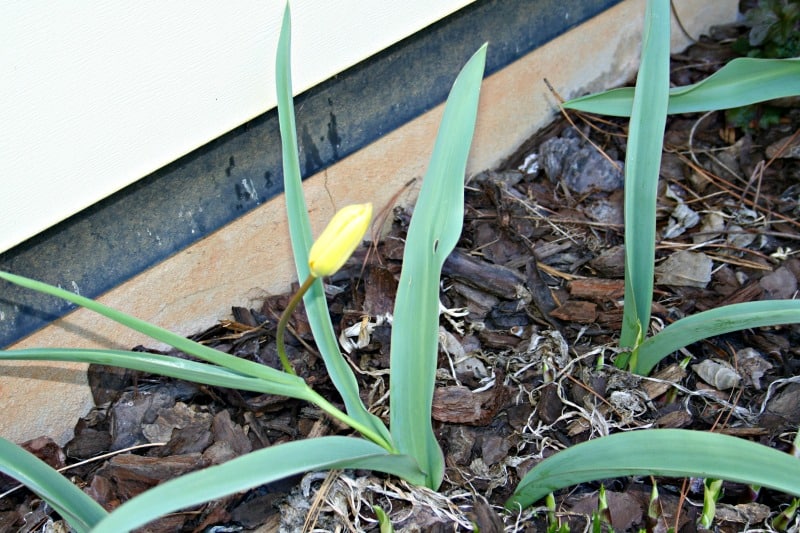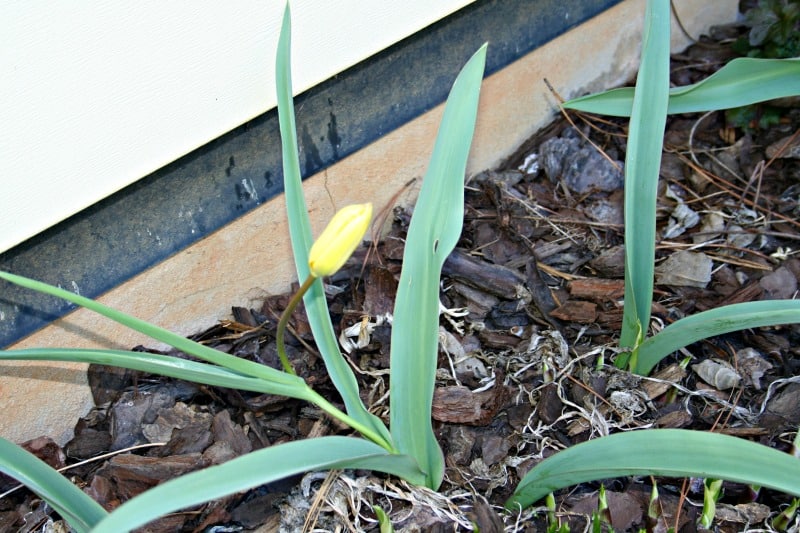 (The green things poking up through the mulch are hosta stems, by the way.)
Why Don't Tulips Come Back Like Daffodils?
Why do the daffodils look better with age but tulips decline over time? Why do daffodils return, year after year, naturalizing through the garden and the grass into a golden carpet, while tulips….fade away? Are tulips annuals or perennials?
Both tulips and daffodils grown from bulbs. Growers choose bulbs are the peak of flowering ability to please consumers. The tulips you purchase in the fall were harvested just when they were ready to produce their biggest flower.
You plant it in your garden, enjoy the flower, and then what happens?
Under the soil, the parent bulb begins to produce offspring, smaller bulbs attached to the main parent. Now, if you were a Dutch bulb grower, you would dig up these bulbs, replant them in a specially prepared field, and let each small bulb grow for a few years into a new, giant tulip flower.
But you're not a Dutch bulb grower (or at least I assume you're not) – you're a homeowner who just wants a pretty yard. Instead, you get the limp, sad looking tulip specimen like the one I have above.
Are Tulips Annual or Perennials?
So if you're still asking, "Are tulips annuals or perennials", the answer varies depending the the type of tulips you have. As you've seen, they may not come back with the same vigor as when they were first planted. The only solution to this problem is to replace your tulip bulbs annually. I know it's expensive. I haven't replaced the tulip mix "Easter Joy" in my backyard for several years, but that particular species seems to thrive in the location and continues to bloom for me, although this year the flowers are smaller.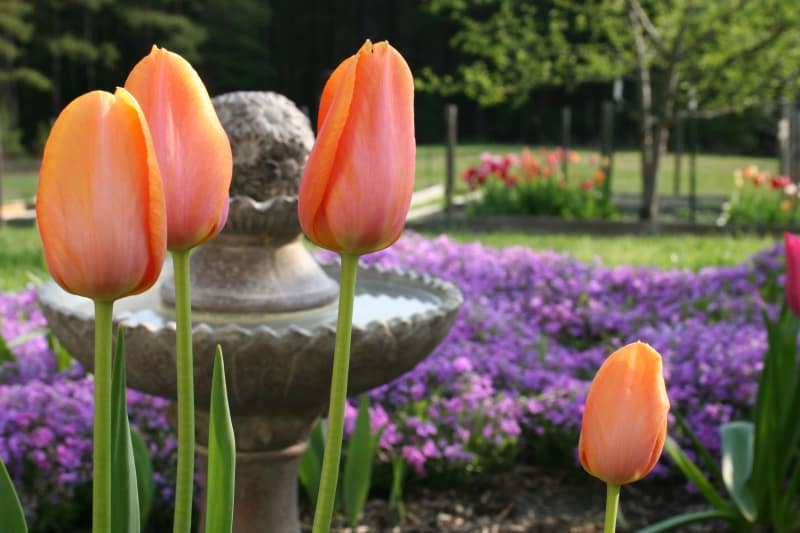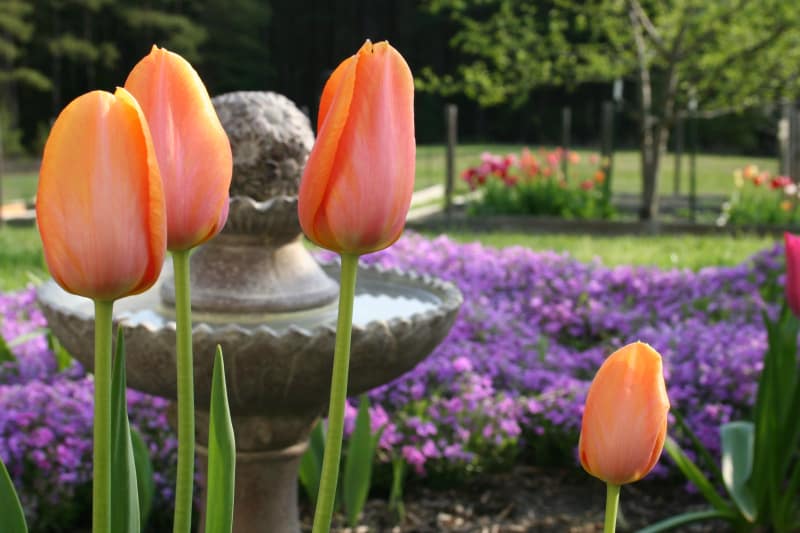 The Darwin hybrids by the garage are unfortunately another story. These do need to be replaced. As you can see, the bulbs just do not have the energy anymore to produce flowers.
How to Keep Tulips Coming Back
If you're a fan of tulips, as I am, then plan on replenishing your flower selection each fall. Fall is the proper time to plant tulips. They need a cooling period in the ground in order to grow and bloom later on.
Lastly, DO NOT CUT OFF THE LEAVES after flowering! This goes for all bulbs – crocus, daffodils, tulips, hyacinth, and all the other gorgeous spring-flowering bulbs. Leave the green stems and leaves alone!
The leaves and stems produce food for the plant through photosynthesis. If you cut the leaves back too soon, the plant doesn't have enough time to produce energy to create next year's flower. The result is a poor showing next spring with fewer flowers. Let the leaves turn brown and die back naturally. When they are brown, dry, and feel like paper, you can safely cut them off.
Jeanne Grunert is a certified Virginia Master Gardener and the author of several gardening books. Her garden articles, photographs, and interviews have been featured in The Herb Companion, Virginia Gardener, and Cultivate, the magazine of the National Farm Bureau. She is the founder of The Christian Herbalists group and a popular local lecturer on culinary herbs and herbs for health, raised bed gardening, and horticulture therapy.