Gardners have been planting tulips every fall and anticipating their spring blooms for centuries. Tulips were first cultivated from the wild variety by the Turks in 1,000 AD. Since then, the humble wild tulips has grown into a worldwide phenomena. They've been the cause of market crashes, fortunes made and lost, and both celebration and dismay in the garden.
To get your tulips off to a great start, I've put together these 10 expert tips for planting tulips. It isn't hard to grow gorgeous tulips once you master the basics.
Your Guide to Planting Tulips
1. Choose the perfect variety for your garden
Gardeners and horticulturists group the many types of tulips into 15 categories based on petal shape and form. Within each category of the types of tulips, you'll find that some bloom longer than others. Other tulips may have a better chance at returning year after year (although most tulips are not considered perennials).
Tulip Varieties
| Tulip Classification | Gardening Tips |
| --- | --- |
| Single Early Tulip | Comes in nearly all colors. Grows 6-8 inches tall. Blooms early spring. |
| Double Early Tulip | Available in nearly all colors. Grows 12 – 16 inches tall. Blooms early spring. Double petals on the flowers. |
| Triumph | Slightly smaller flowers than the early tulips. Available in nearly all colors. Grows 14-24 inches. Blooms mid to late spring. |
| Darwin Hybrid | Available in most colors. Grows 18-24 inches tall. Blooms mid to late spring. |
| Single Late | As the name suggests, "late" means these tulips bloom late in the season. Single flowers are available in nearly all colors. Plants may grow multiple stems of flowers. Grows 18-30 inches tall. |
| Lily Flowered | The flowers have pointed petals, and when closed, resemble a lily. (However, they are not related to the lily, which is a separate species of plant). 18-30 inches tall and blooms late spring. |
| Fringed | One of the few perennial tulips! They will naturalize, or spread, in wooded areas with good soil. Fringed tulips have a distinct fringe on the ends of the petals. They come in almost all colors and grow 18-30 inches tall. Blooms late spring. |
| Viridiflora | The word "virid" means green – and these tulips have a green stripe in the center of each petal, no matter what color the petal. 18-30 inches tall. Blooms mid to late spring. |
| Rembrandt | This category of tulip is named after the Dutch painter, Rembrandt. He made them famous for including them in his paintings. Colors are wild, partial colored, with streaks and stripes of other colors on each tulip. Late blooming – late spring. 18-24 inches. |
| Parrot | Parrot tulips feature bold, colorful fringes and thick double petals. They bloom late season, late in the spring, and are usually 24-30 inches tall. Because of the thick, heavy flowers, these tulips are susceptible to damage from rain and may bend over from the weight of the flowers. |
| Kauffmaniana | The so-called "Water Lily Tulip" because they look like water lilies. The flowers always feature red and yellow petals. Grows only about 6 to 10 inches tall. Blooms early to mid spring. |
| Emperor (Fosteriana) | These tulips were cultivated directly from wild strains with large bulbs. They produce big flowers, too. Grows 20 inches tall and blooms early spring. |
| Greigii | Greigii tulips are available in red, yellow and white. Multiple 6-inch stems on each plant with mottled green and brown foliage. |
| Wild or Botanical Tulips | The wild or botanical tulips are closest to the ones found in Turkey. They are hardy and may naturalize (spread out) over time. The flowers are much smaller than the hybridized tulips. |
| Double Late | Double late tulips are, as the name suggests, "double" the petals on the flowers for a richer, fuller appearance. Blooms late season. |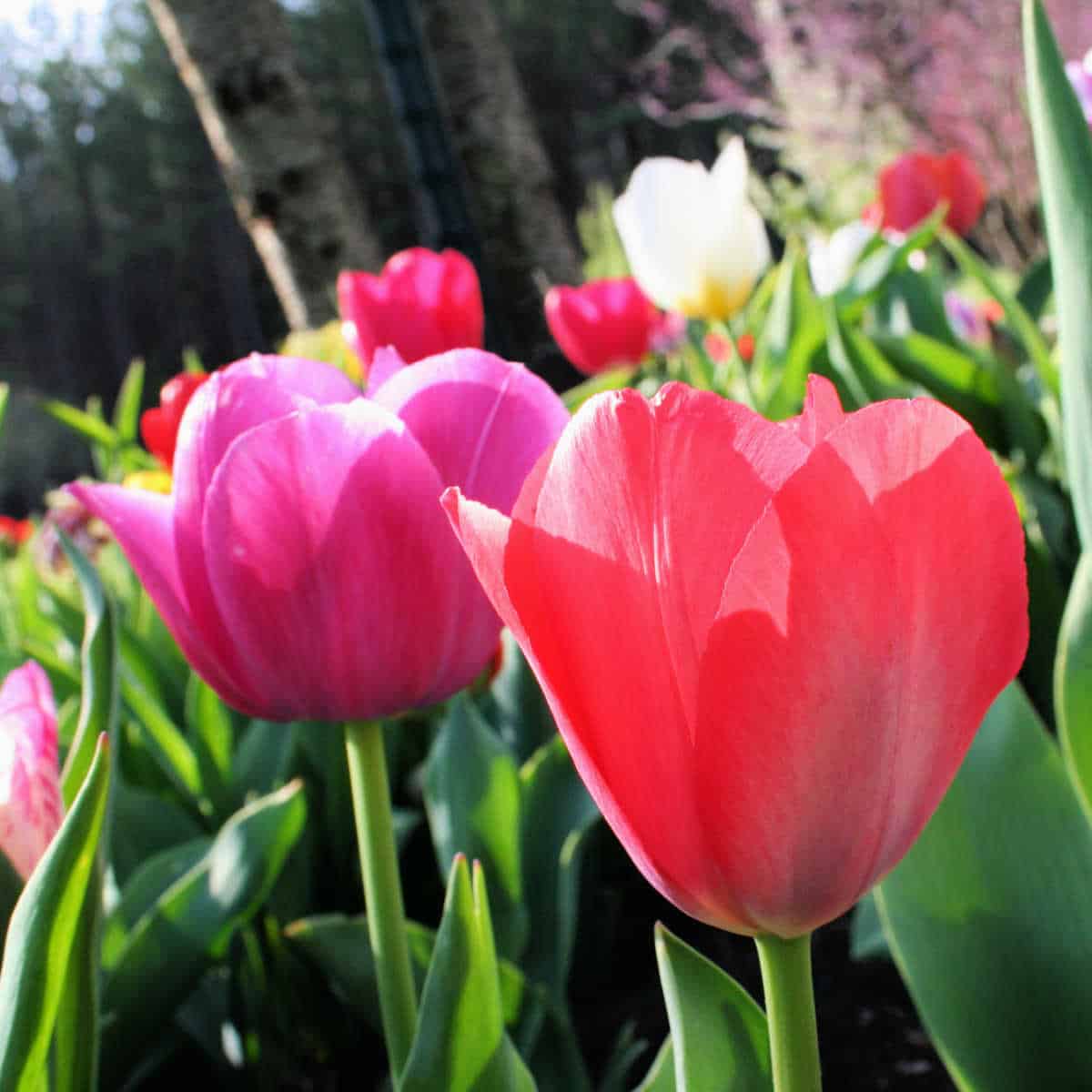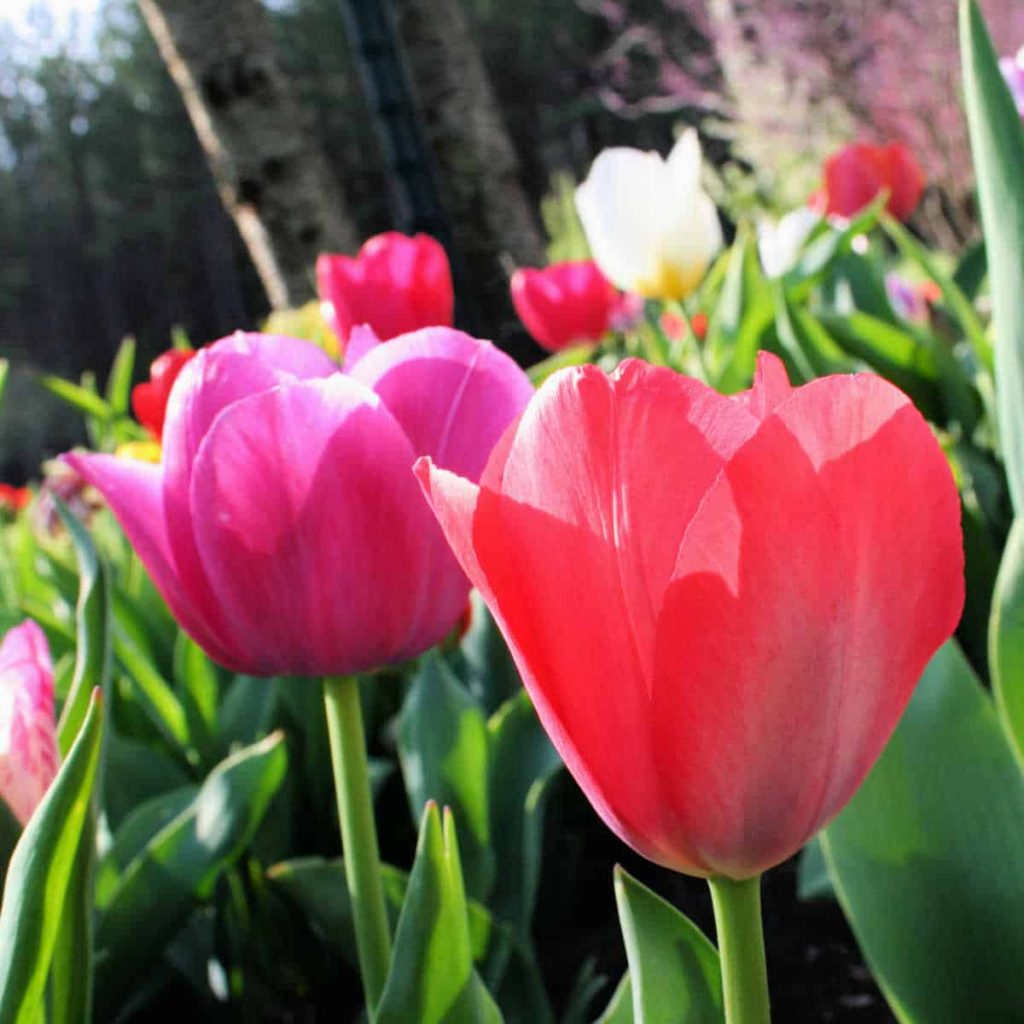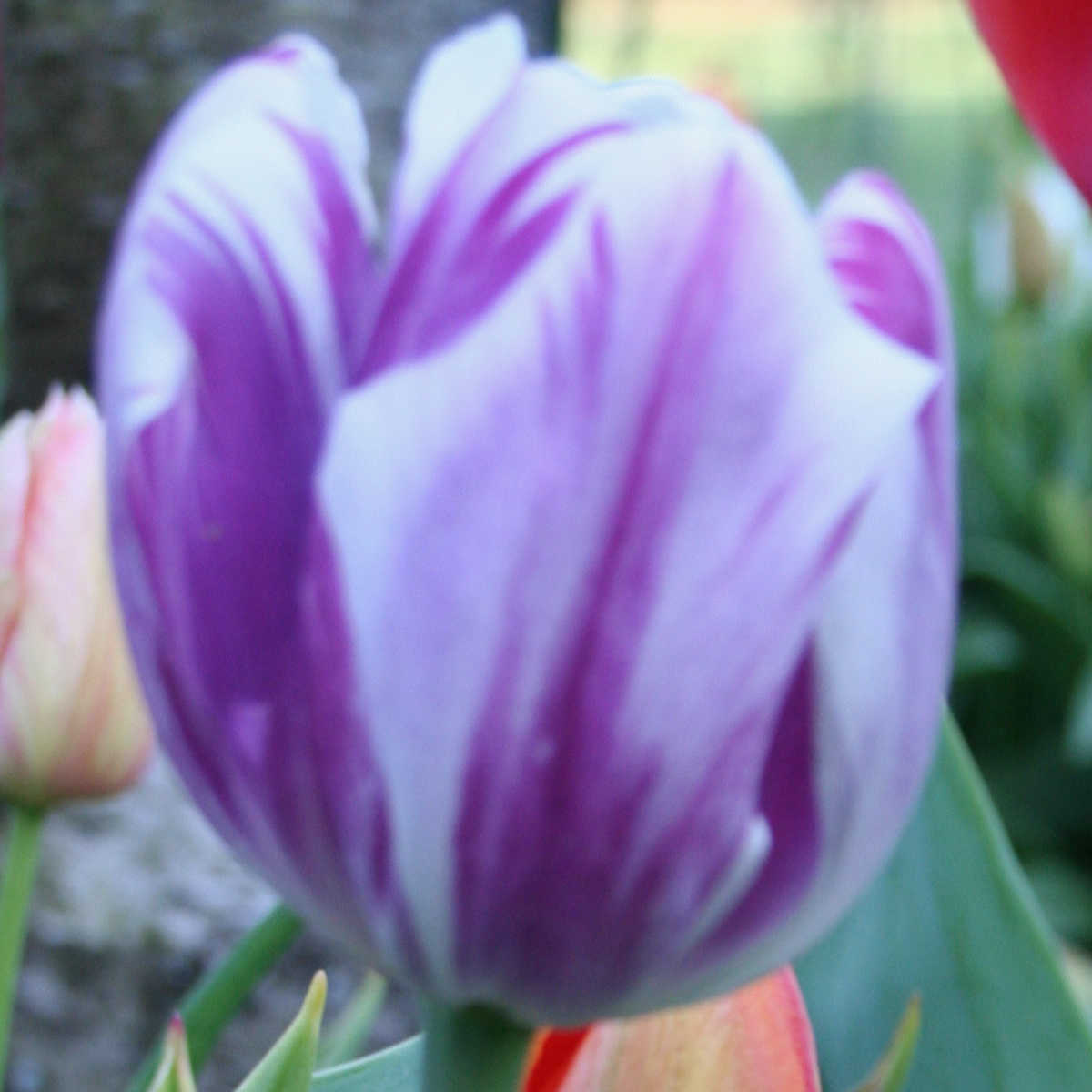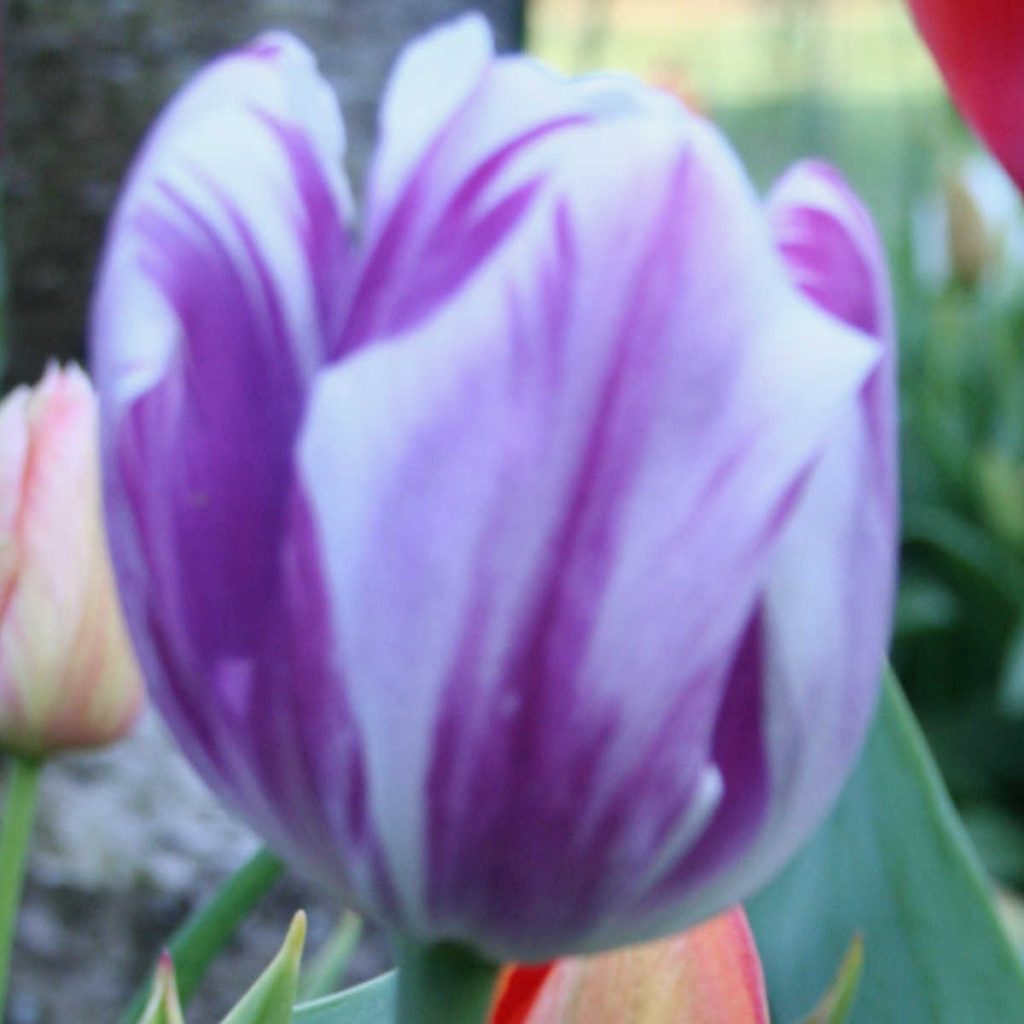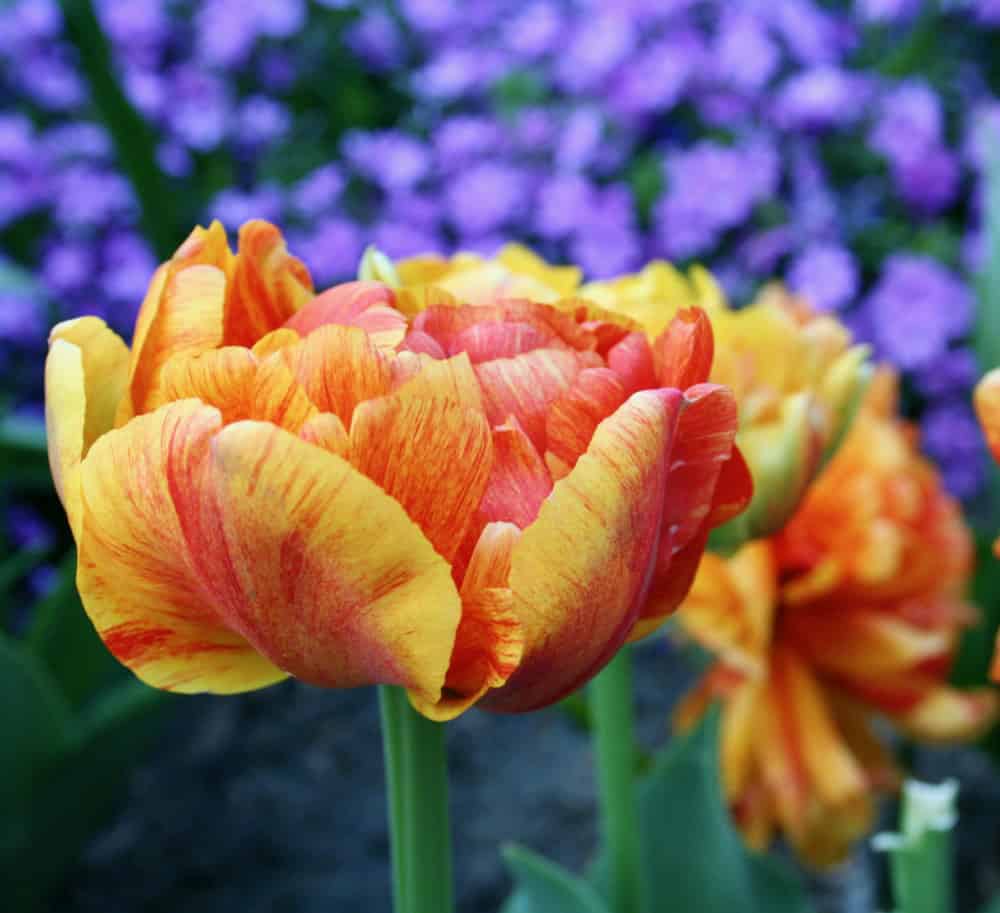 2. Select the best tulip bulbs
Each of the tulip categories, above, features bulbs of various sizes. However, within each unique group, you want to pick the biggest bulbs you can find.
The bulb contains both the root that will eventually anchor your plant and provide nutrients and water. But it also contains the flower, and the bigger the bulb, the bigger the flower! So, choosing a big bulbs means you have a better chance of a big flower.
3. Plant tulips pointy-side up (like a chocolate kiss)
Tulip bulbs look kind of like onion, but with a pointy top. You might say they're shaped a little like a chocolate kiss. The roots grow out of the bottom of the "kiss" shape and the leaves, stems, and flowers grow out of the pointed tip.
Remember this when you go to plant your tulip bulbs because it does matter which way is up when you plant a tulip bulb. Plant them pointy side up.
4. Wait until late fall for planting tulip bulbs
Tulips are planted in the fall while the ground is still soft enough to dig into, but not so warm outside that they'll sprout and begin growing in the fall. It is best to wait as long as you can to plant tulip bulbs to avoid having them sprout in the garden during the fall. To time your planting, look at the weather, and plant tulips after the first frost.
5. Pick a sunny spot
Choose a location in your garden or landscape that receives plenty of sunshine in the spring. Like most flowering bulbs, tulips need a good 6 or 8 hours of sunshine each day in order to really thrive.
The exception are the Fringed tulips, which like woodland areas. They will grown under the canopy of trees and will naturalize, or spread out, if the conditions are right.
6. Avoid planting tulips near tree roots
Speaking of trees, I don't like to plant tulips near the roots of trees. For one thing, you've got to dig down pretty deep to get the proper planting depth for tulips, and digging 6 to 8 inches into the ground near a tree's roots can be tough.
Secondly, digging into the root system of a tree or shrub isn't advisable. You may accidentally hurt the roots of the tree, cutting into the slender threadlike feeder roots near the surface. This can weaken your tree by making it harder for it to take up water and nutrients.
Lastly, planting tulips near tree roots means that by mid to late spring, it is likely that the area will be in full shade. As the trees grow their leaves, they will limit or cut off sunlight to the tulips. It is better to plant tulips in sunny spots.
Try planting tulip bulbs in flower beds where you'll plant your spring and summer annuals. By the time you're ready to plant impatiens or petunias, the tulips will be finished with their blooming and growing cycle in the spring.
7. Plant tulips in odd-numbered groups
Try planting tulips in groups of 7, 9, or 13 for a natural look. If you use even numbers, the resulting group can look artificial.
8. Grow tulips with other bulbs
You can plant tulips with other spring-blooming bulbs to ensure continuous color in your garden. This provides color from early spring to early summer if you plant the right varieties together.
I layer my bulbs inside the hole with those requiring the deepest spacing going into the hole first. Next, I layer more soil on top. Then, I plant another layer of bulbs. Lastly, I finish with the smallest bulbs. These include crocus and grape hyacinth. The result is almost always continuous blooms from early to late spring or early summer.
9. Treat tulip flowers like annuals
Aside from the Fringed tulips, most tulips behave like annuals. The first spring after planting new bulbs provides the best and brightest display of tulip flowers.
If the tulips do return again next year, the flowers will likely be smaller than the previous year. Each year, if they return, the flowers will get smaller until finally you'll only see green in the spring. You can dig up your tulip bulbs to see if they have produced bulblets, or smaller bulbs on either side. These can be planted if you do not mind waiting a few years for pretty tulips again.
10. Prevent pests from eating your tulips
One of the most frustrating things you can encounter as a gardener is critters digging up your tulip bulbs. Mice and voles dig up tulip bulbs. Deer eat the flowers. To discourage squirrels and other rodents from digging up tulips, you can take a few precautions.
Keep Mice and Voles Away from Tulips
Soap: Buy a very strongly scented soap such as Irish Spring or Coast and shaving pieces off with a knife. Drop the pieces around the soil surface. Supposedly the scent keeps the rodents away.
Ropel: Ropel is a product made that repels all sorts of creatures including squirrels, rats, and raccoons. It makes the bulbs taste bad but won't harm or kill the animals. Dip bulbs in Ropel or spray a liquid Ropel solution on bulbs to keep animals from eating them.
Planting Tulips This Year?
Learn more from Home Garden Joy
With so many pretty tulips to choose from, they're an easy addition to your spring garden. The hardest thing about growing tulips is remembering to buy and plant them in the fall. The next time you are out shopping, buy some tulips to plant this fall.
The Gardener's Journal
Strangely enough, my father didn't plant tulips. He liked growing vegetables better. I fell in love with tulip flowers when I worked at Martin Viette Nurseries. There, spreading down the hillside to Route 25A, the crew planted thousands of Pink Impression tulips each fall. In the spring, it was like a glowing pink ribbon helping customers find their way to the store. It was absolutely beautiful.
This post was first published in October 2014. It was updated on July 5, 2021 with new information, updated links, added content, and new images.
Jeanne Grunert is a certified Virginia Master Gardener and the author of several gardening books. Her garden articles, photographs, and interviews have been featured in The Herb Companion, Virginia Gardener, and Cultivate, the magazine of the National Farm Bureau. She is the founder of The Christian Herbalists group and a popular local lecturer on culinary herbs and herbs for health, raised bed gardening, and horticulture therapy.