Beet kvass. What? What the heck is kvass (and how do you pronounce it?)
My husband stared into the fridge and pulled out the jar of beet kvass. He unscrewed the lid, nearly slopping the thick purple liquid onto my newly scrubbed beige tile floor. "Are these pickled beets?" he asked hopefully. He loves pickled beets.
"No, it's kvass."
"Keh what?"
"Kvass."
"What's that?"
"It's a thing!" I explained. "A thing unto itself, like juice, or soda, or tea…kvass is a drink."
And what a drink it is. Beet kvass offers a rich-tasting probiotic drink that supports gut health. In other words, it puts good bacteria into your body, which in turn helps your body digest food easier.
After drinking my own homemade beet kvass, I can tell you that the minimal side effects (a day or two of a bit more gas than usual) are definitely worth the rewards (tons more energy).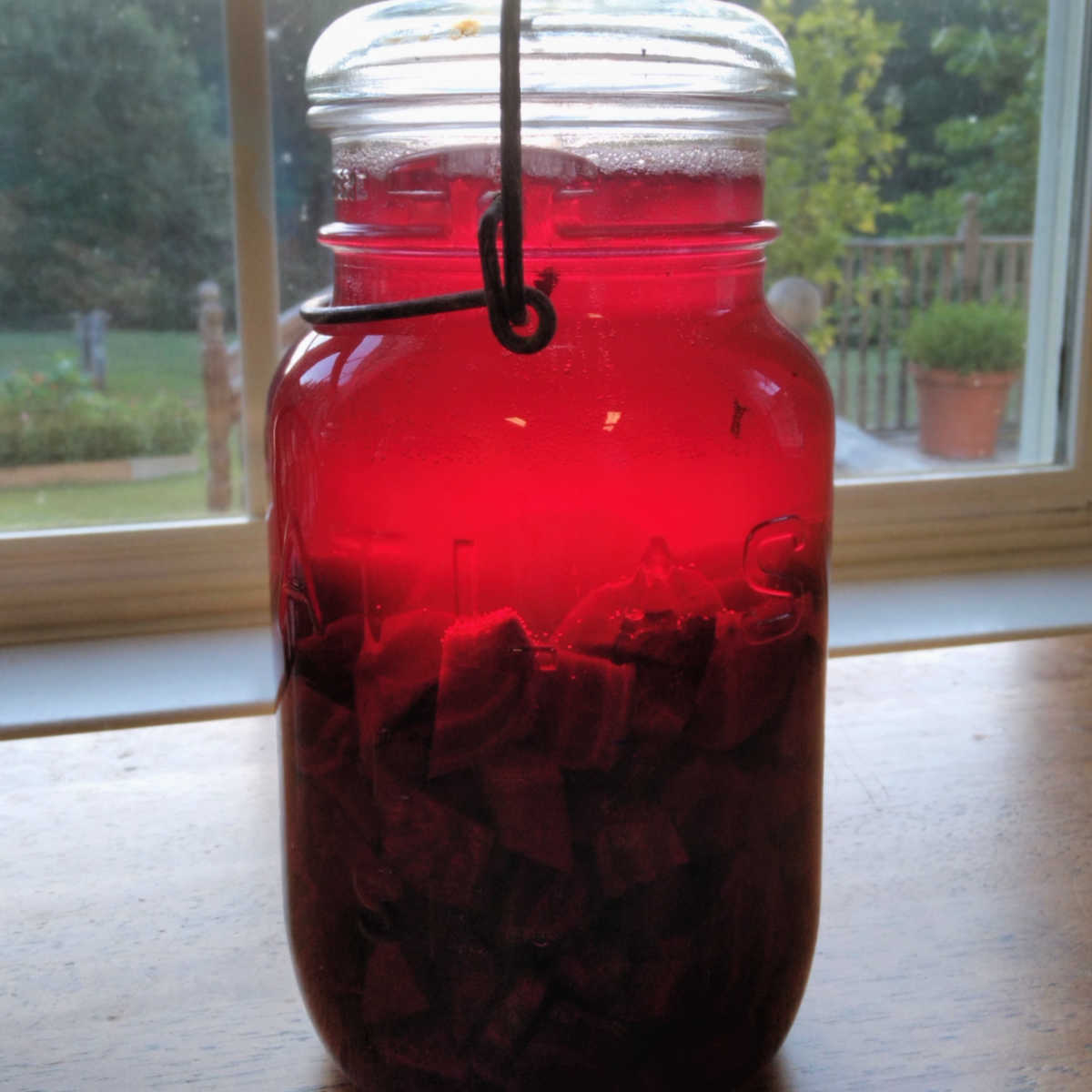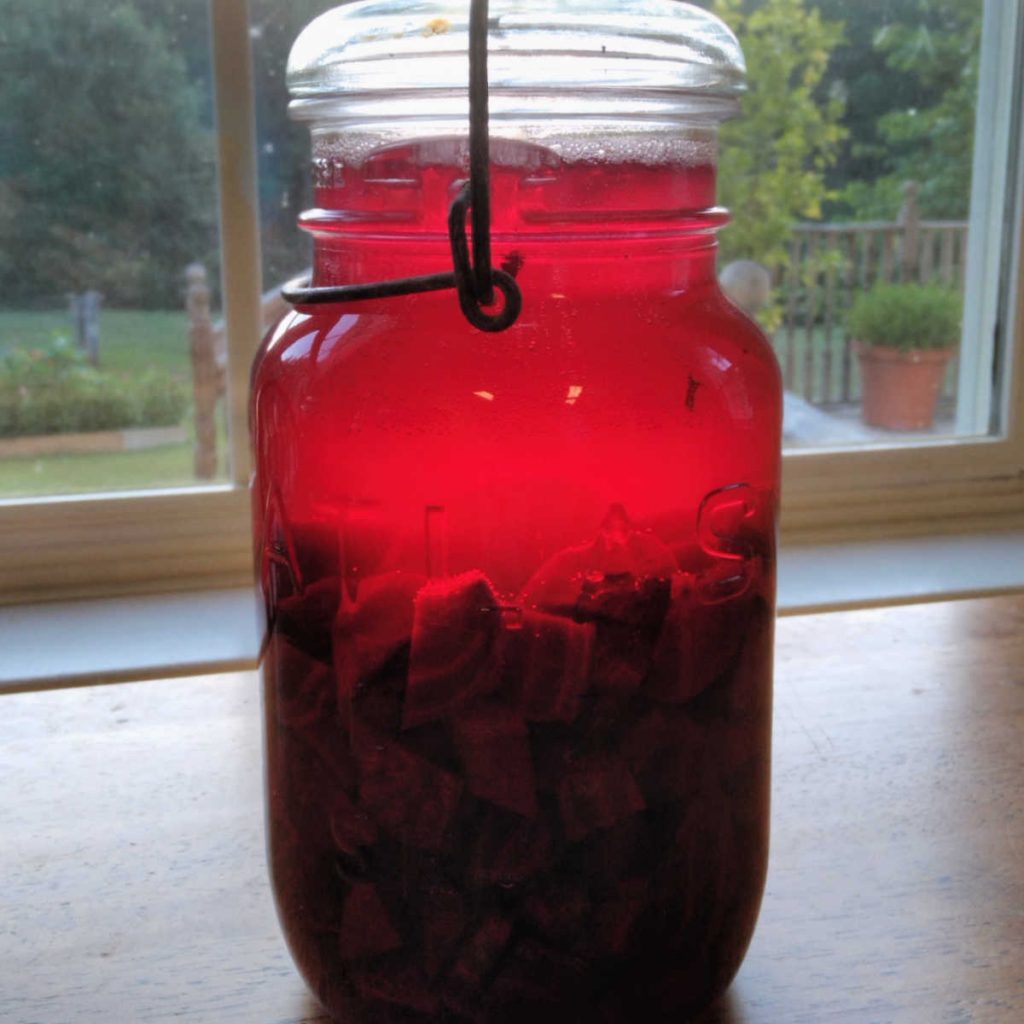 What Is Beet Kvass?
Beet kvass (pronounced kuh-VASS) is a drink made by fermenting beets. To ferment beets you need fresh, organic, clean beetroot, filtered tap water, whey, and salt. Where do you get whey? Don't panic, you can easily make it at home, and I'll go into that in a sec.
Kvass was made by ancient Russian, Ukrainian, and Eastern European people to provide a nutritious drink — and safe water. An old Russian legend has it that drinking beet kvass daily would make one impervious to any bad water source. It might be true, although I don't plan to test it! The good bacteria infused into the digestive system from the kvass may keep the bad intestinal bugs at bay.
By mixing water, a bacteria and carbohydrate source (the beets), a source of probiotic bacteria for fermentation (whey), and salt (for pickling and proper pH) and allowing it to ferment at room temperature for a few days, you encourage a colony of good bacteria to propagate inside the liquid. The beets turn the salt, whey, and water mix into a thick, rich, purple liquid.
Health Benefits of Beet Kvass
There's good reason why people choose to drink this purple fermented beet juice. The health benefits of beet kvass have not been scientifically studied, but proponents of making and drinking kvass believe that it:
Improves digestion
Reduces inflammation
Protects against cancer
Given the many known health benefits of both beets and probiotics, it's not a stretch to extend them to kvass, too.
What Does It Tatse Like?
What does beet kvass taste like? Earthy is the best way to describe it – like soil and beets and salt. It's not a bad taste, and it has some fizz to it, but the first time I sipped it, it wasn't pleasant. It's not a familiar taste for modern folks, and it may take some getting used to. Now I like the taste. I wouldn't say I love it, but I like it.
What You Need to Make Beet Kvass
To make beet kvass, you'll need:
A clean, quart-sized glass jar – I like a wide mouth canning jar with a plastic lid
Filtered tap water
2 medium-sized beets
2 tablespoons of kosher salt
¼ cup of whey
Organic Beets 
If you're growing beets in your home garden, you'll have plenty of fresh, organic beets available to make kvass. Scrub the beetroot clean and cut off both the leaves and the root tip. Then, peel the raw beet with a vegetable peeler and cut it into cubes. 
If you don't have organic beets, you can use store-bought ones. Just clean them and peel them before using them.
How to Make Whey
Whey is included in this recipe even though it is difficult to find in stores. You can make it easily from yogurt. Whey is the watery part of milk. It's the stuff that drips off while making cheese or curds (which eventually become cheese). It includes much of the good bacteria that makes probiotic products such as yogurt and cheese.
To make your own whey, you'll need:
1 quart of unflavored, gelatin-free whole milk yogurt (I used Dannon for my kvass-making experiment and it worked great).
A bowl
A long-handled wooden spoon or dowel
A sieve that fits over the bowl
A cloth, such as a clean dishcloth
Place the dishcloth inside the sieve. Then, dump the entire container of yogurt into the cloth. Take the ends of the cloth and tie them around a spoon so that the cloth is gathered up over the sieve. Suspend the whole thing over a bowl to let the whey drip out of the cloth, through the sieve, and into the bowl.
Let the yogurt stand at room temperature, dripping into the bowl, for 2-4 hours. My own experiment yielded a good pint of whey from the yogurt.

What do you do with the leftover yogurt? Scoop it out of the cloth and into a plastic or glass container and use it as cream cheese! It is absolutely delicious, like a very delicate whipped cream cheese with a slight yogurt tang to it. Keep it refrigerated and use it within 1 – 2 weeks. It's the freshest cream cheese you will ever enjoy (if you don't live on a dairy farm making your own, that is).
Now the liquid that dripped out of the yogurt is your whey. Measure out ¼ cup of it for the beet kvass and store the rest in a clean glass jar, such as a canning jar with a screw-on lid, in the refrigerator for 1-2 weeks. You can use the remaining whey to make beet kvass again.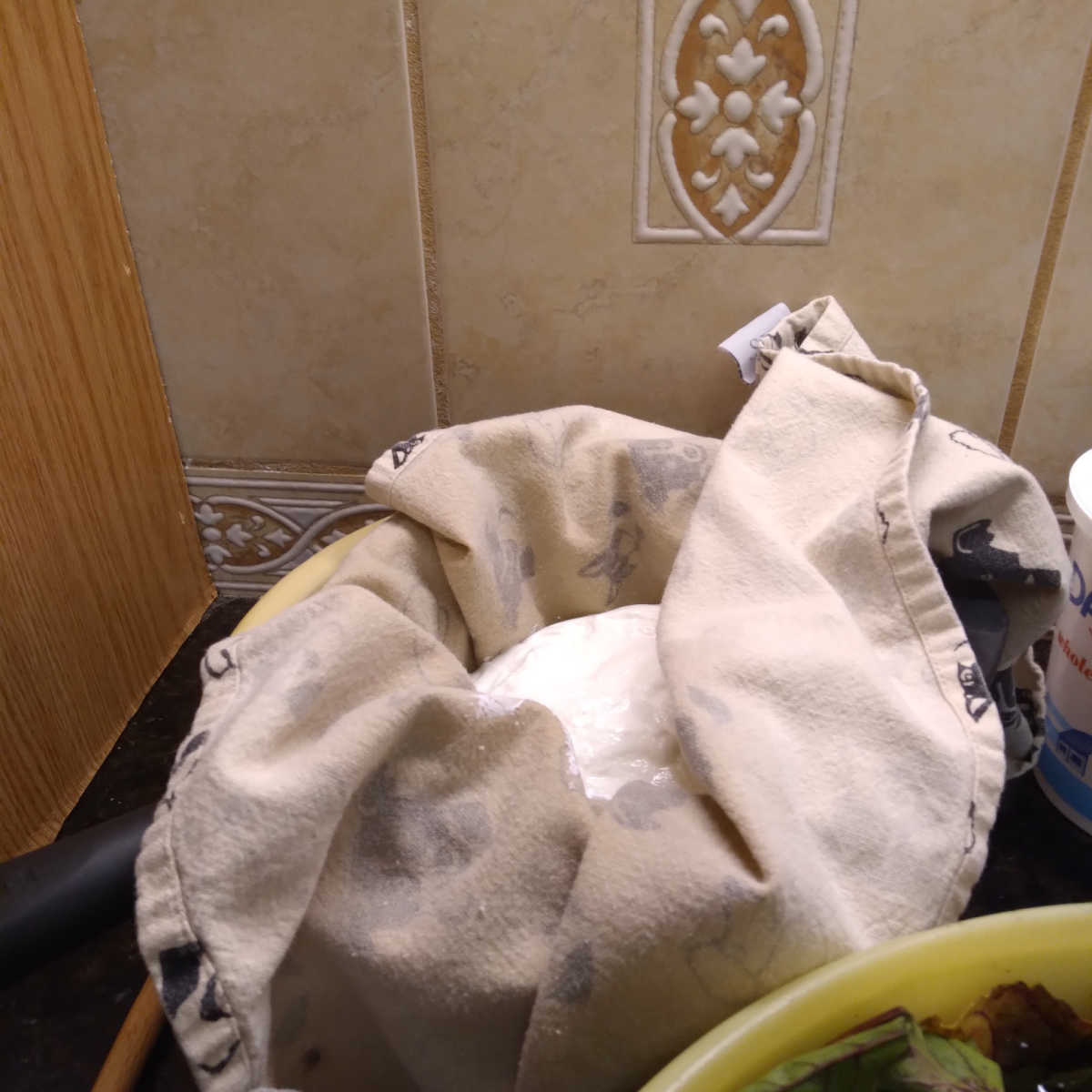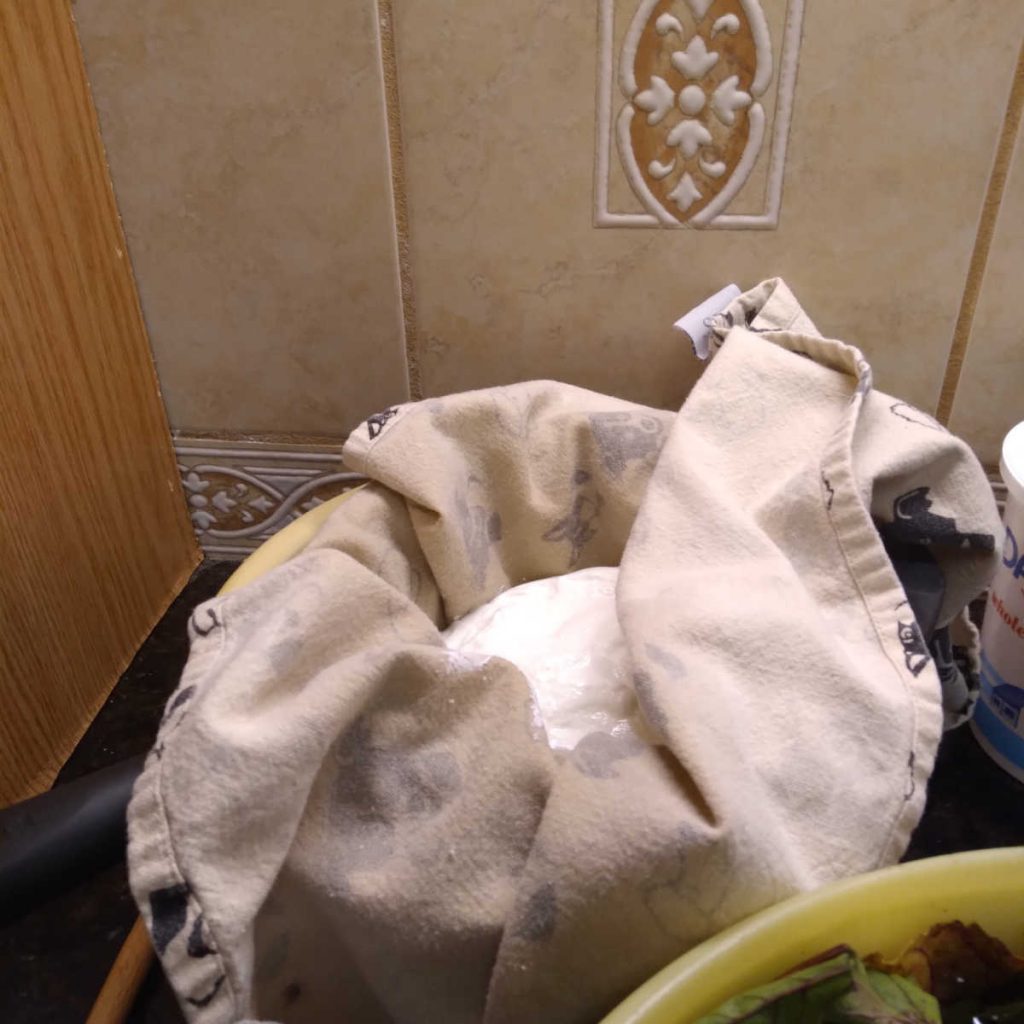 Directions to Make Beet Kvass
Simply put the beets in the bottom of the jar and add salt and whey. Then, pour in the filtered water until the jar is full. Cover it with a plastic or glass lid. Place it on a counter for 2-3 days at room temperature. You'll see bubbles start to form near the surface. That's a good sign. It means that the bacteria are busy fermenting the mix.
Refrigerate the jar after 3 days at room temperature and allow it to remain in the fridge for 2 additional days. The kvass should be ready to drink. Mix about ¼ cup into cold water at first if you do not like the taste. I recommend starting with half a cup and working up to more if you would like to enjoy it.
Side Effects of Beet Kvass
The first day of drinking beet kvass, I noticed two things: I had a ton of mental clarity and energy, and I had more gas than usual. The gas went away quickly, but the mental clarity and energy was noticeable the second and third days I enjoyed my first batch of kvass.
The second time I made it, I was sloppy about measuring my ingredients. The results tasted funny. I had diarrhea after sipping it. I tried it again the second day, and had diarrhea again, so I discarded the batch. Clearly something was wrong with it.
As you can see, there are some potential side effects. I have never heard of anyone becoming seriously sick after fermenting their own product, but you must understand the risks and rewards before you make this recipe. Enjoy, be safe, and if the product doesn't taste right, or you feel sick after drinking it, discard the batch and start again.
Another sign of a bad batch is mold or fuzz growing on the beets in the jar. My own mix was clear, but still tasted different from the first batch, so I suspected something was wrong with it. Any strange odors or signs of mold call for the jar to be completely discarded and a fresh batch tried in a cleaned, new jar.