This butterscotch biscotti recipe recreates my favorite treat – Italian biscotti! It adds a sweet twist to a basic biscotti recipe. Biscotti keep for months in the freezer and over two weeks on the counter (if you can stop yourself from eating them all!).
What Is Biscotti?
Biscotti are dry, oblong-shaped cookies that hail from the Tuscany region of Italy. They are baked twice, which gives them the super dry crunchiness they are known for.
Traditional biscotti are made with almonds and almond flavoring. You can use almost any flavoring to liven up your biscotti recipe.
This recipe uses melted butterscotch chips swirled into the dough. An additional sprinkle of additional chips adds asweet, caramel infusion.
This is an affiliate link. If you make a purchase after clicking the link, I earn a small commission, which does not affect your cost in any way. Thank you for supporting Home Garden Joy.
The original biscotti recipe was inspired by Marcy Goldman's biscotti recipes in her book A Passion for Baking but I've added my own twists to create an entirely new recipe.
Biscotti Recipe Secrets
There are a few 'secret techniques' that will help you make fantastic biscotti.
First, after you mix the wet and dry ingredients, let the dough sit, covered, on the counter for about 15 minutes. This allows the flour to absorb as much of the wet ingredients as possible, making the dough easier to work with.
Use parchment paper to prevent the dough from sticking or scorching on baking pans.
Bake longer at a low temperature to fully dry out the biscotti.
The drier the biscotti, the longer they keep.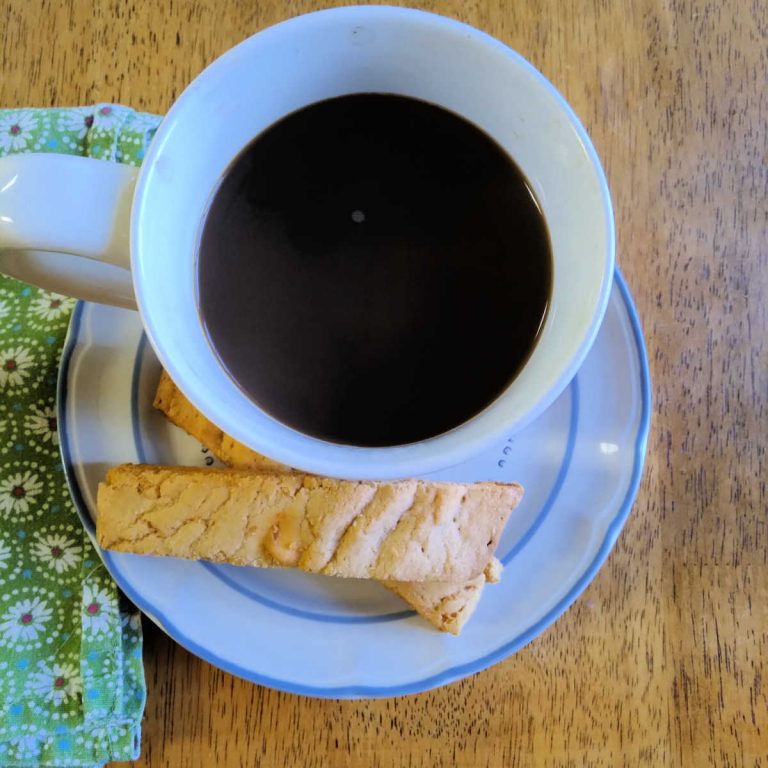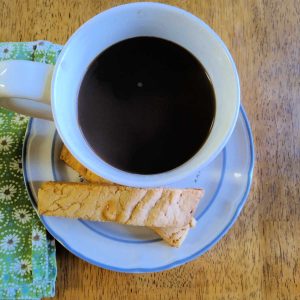 Butterscotch Biscotti Recipe
This butterscotch biscotti recipe is super easy and divinely inspired with the sweet, caramel taste of butterscotch. Dunked in a cup of freshly brewed coffee, the taste combination is the perfect sweet comfort food you'll crave.
Equipment
Stand mixer

Oven (convetion oven is a bonus)

Baking sheets

Baker's parchment paper

Measuring cups & spoons

Microwave oven
Ingredients
1

cup

butterscotch chips, any brand

1

cup

unsalted butter, softened

1 1/2

cup

sugar

3

large

eggs

2

teaspoons

pure vanilla extract

2

tablespoons

brewed strong coffee

3

cups

all purpose flour

2

teaspoons

baking powder

1/4

teaspoon

salt
Instructions
Preheat the oven to 350 degrees F. Line two baking sheets with parchment paper and set aside.

Soften butter at room temperature until it's almost squishy, or melt it in the microwave.

Place 3/4 cup of butterscotch chips in a heat-proof, microwave safe bowl. Microwave on high for 30 seconds, then stir. Microwave another minute and stir until completely melted. If it needs to melt more, microwave for 30 seconds at a time, paying close attention and making sure the mixture doesn't burn. (Set aside the remaining 1/4 cup of butterscotch chips. You'll need them later).

Using your stand mixer, cream butter and sugar. Add eggs, one at a time, until completely mixed, then add the vanilla, coffee, and melted butterscotch chips.

Mix the dry ingredients (flour, salt, baking powder) and gradually added to the liquid mixture, mixing until well blended.

Turn off the mixer, scrape the beaters, and mix the remaining 1/4 cup of chips into the dough by hand.

Now allow the dough to "rest" for 15 minutes. Cover the bowl with a clean dishcloth. This allows the flour to absorb as much of the liquid as possible.

Working with half of the dough at a time, turn it out onto the parchment paper lined baking sheet. It will be very sticky. Shape it into a log or a rectangle, flattening it gently until it is about 1 inch high. You can dip a spatula in cold water, shake off the excess water, and use that to shape the log or run your hands under cold water and very gently shape the log. The surface can be uneven, but the shape should be roughly that of a one-inch high rectangle. Repeat with the remaining dough.

Bake both trays at 350 degrees F for 30-40 minutes.

Remove from the oven. Set aside for 15 minutes and allow to cool. Then, place the logs onto a cutting board. With a serated knife, cut on a slight diagonal to make the tradition biscotti logs.

Place the logs back onto the parchment covered sheets, cut sides facing up. Turn the oven down to 325 or if using a convection oven, to around 300 with convection heat. Place trays bake in the oven.

Bake a second time for 15 minutes. Watch them carefully to make sure they do not burn.

Remove from the oven, allowing to cool completely. Freeze and enjoy straight from the freezer by dunking into warm milk or coffee. Or, they keep in an airtight container for up to two weeks.
Notes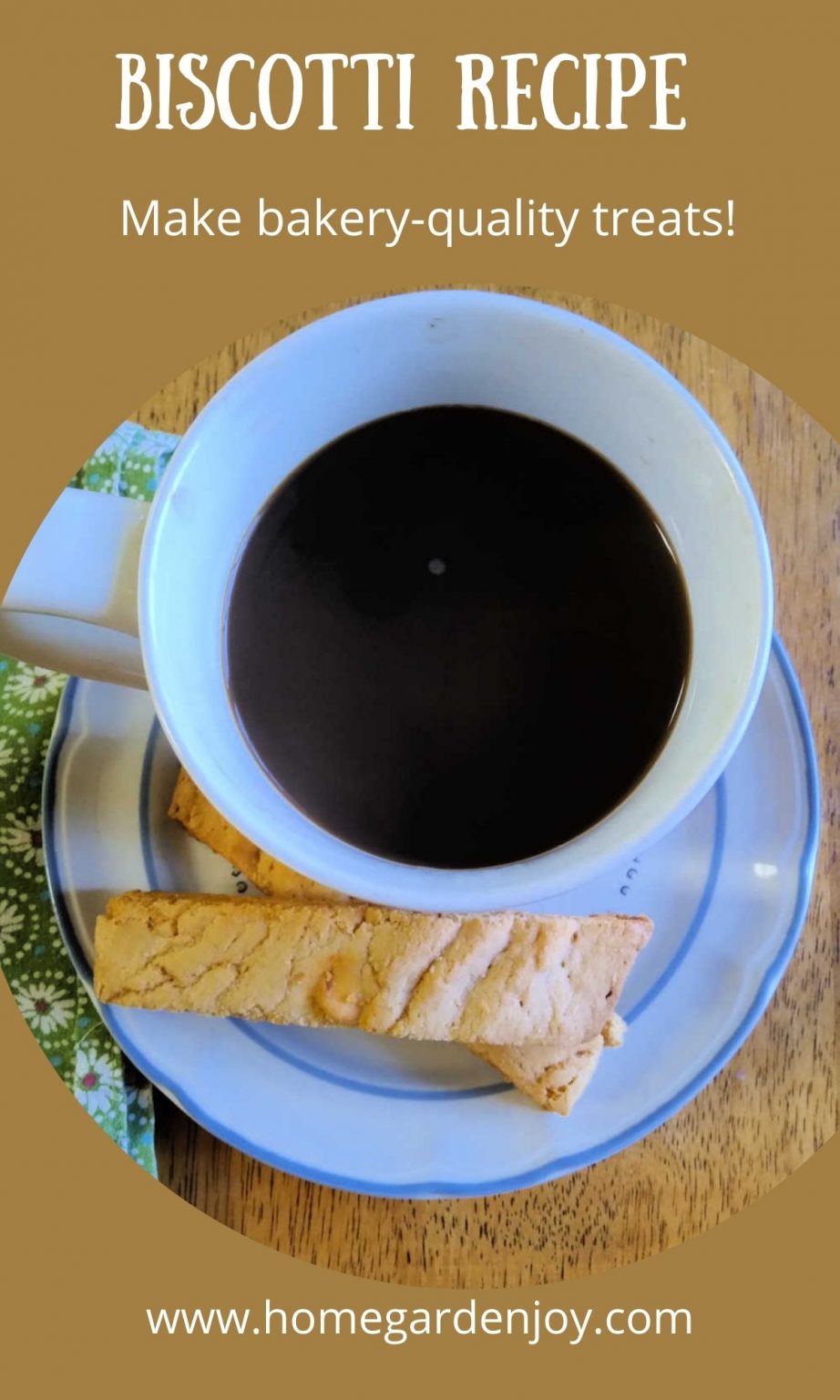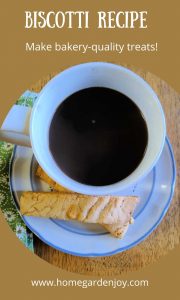 Whenever I go into Baines' Books and Coffee in Appomattox, Virginia, I love to order a cappuccino and biscotti. But when the pandemic struck, sitting at my favorite table and sipping cappuccino while nibbling a yummy biscotti was out of the question.
Marcy Goldman's "A Passion for Baking" came to the rescue. I used Marcy's basic biscotti recipe, making it my own, to create this and other biscotti recipes. I hope you like it.
Jeanne Grunert is a certified Virginia Master Gardener and the author of several gardening books. Her garden articles, photographs, and interviews have been featured in The Herb Companion, Virginia Gardener, and Cultivate, the magazine of the National Farm Bureau. She is the founder of The Christian Herbalists group and a popular local lecturer on culinary herbs and herbs for health, raised bed gardening, and horticulture therapy.