Pruning tools include various shears, scissors, and saws that are used to prune various trees, shrubs, and flowers. Let's take a look at the different pruning tools you may need, when you use them, and why.
What Are the Different Types of Pruning Tools?
There are four main types of tools used to prune trees, shrubs, and flowers.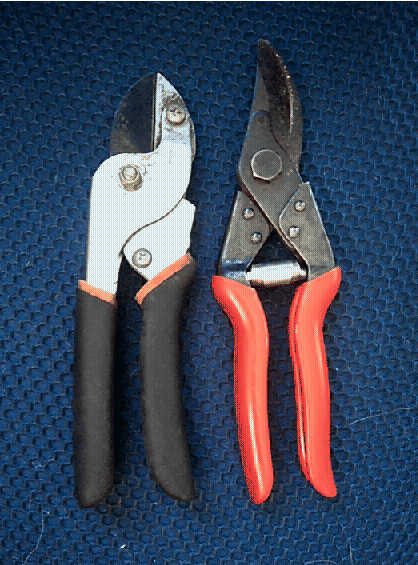 Hand Pruners
Pictured at left are two types of hand pruners:
Anvil pruners, which have two blade of equal length
Scissor pruners, which have a curved blade
You can use anvil or scissor pruners interchangeably. They should be used on branches no thicker than 1/2 to 3/4 of an inch in diameter.
The blades on both of these pruners, the Fiskars model on the far left and the Felco pruners (red handle) on the right, can be changed by loosening the screw holding the blades. Replacement blades can be purchased online.
Both anvil and scissor pruners have a safety catch that holds the blades shut. It's important to have the safety catch on while carrying pruners. I tuck my pruners into my back pocket while gardening, and I don't want to get stuck in the butt by accidentally opening them!
Loppers & Saws
Loppers and saws are used to trim larger branches. They are used most often on trees and large shrubs.
Loppers have long handles and short, compact blades. The long handles provide an easy way to reach into big shrubs or up to overhanging tree branches to snip them.
Pruning saws, such as the red-handled Corona brand pruner at right, offer saw blade that makes it easy to cut through large branches. The blade folds into the handle. A safety button protects against accidents by locking the blade in place.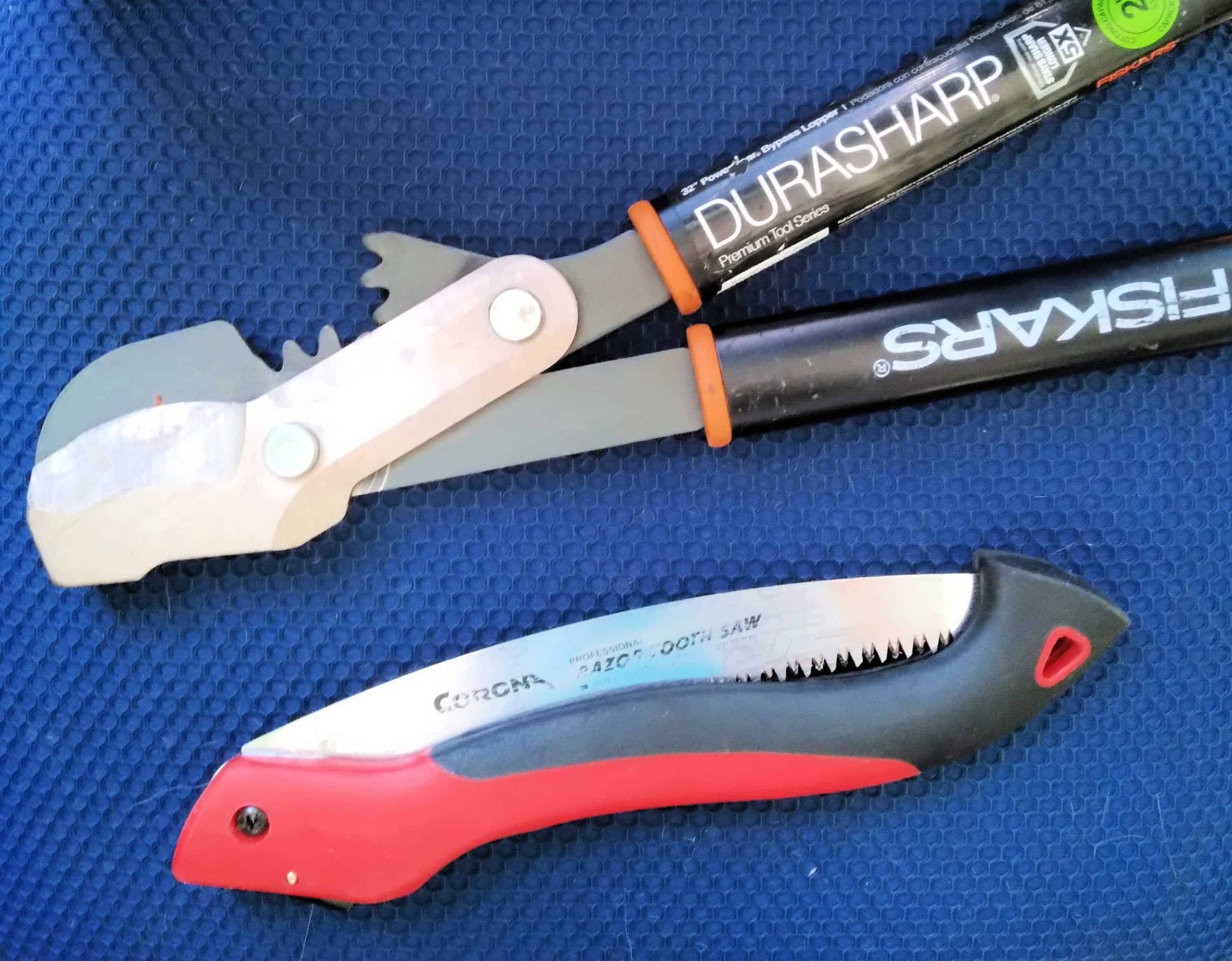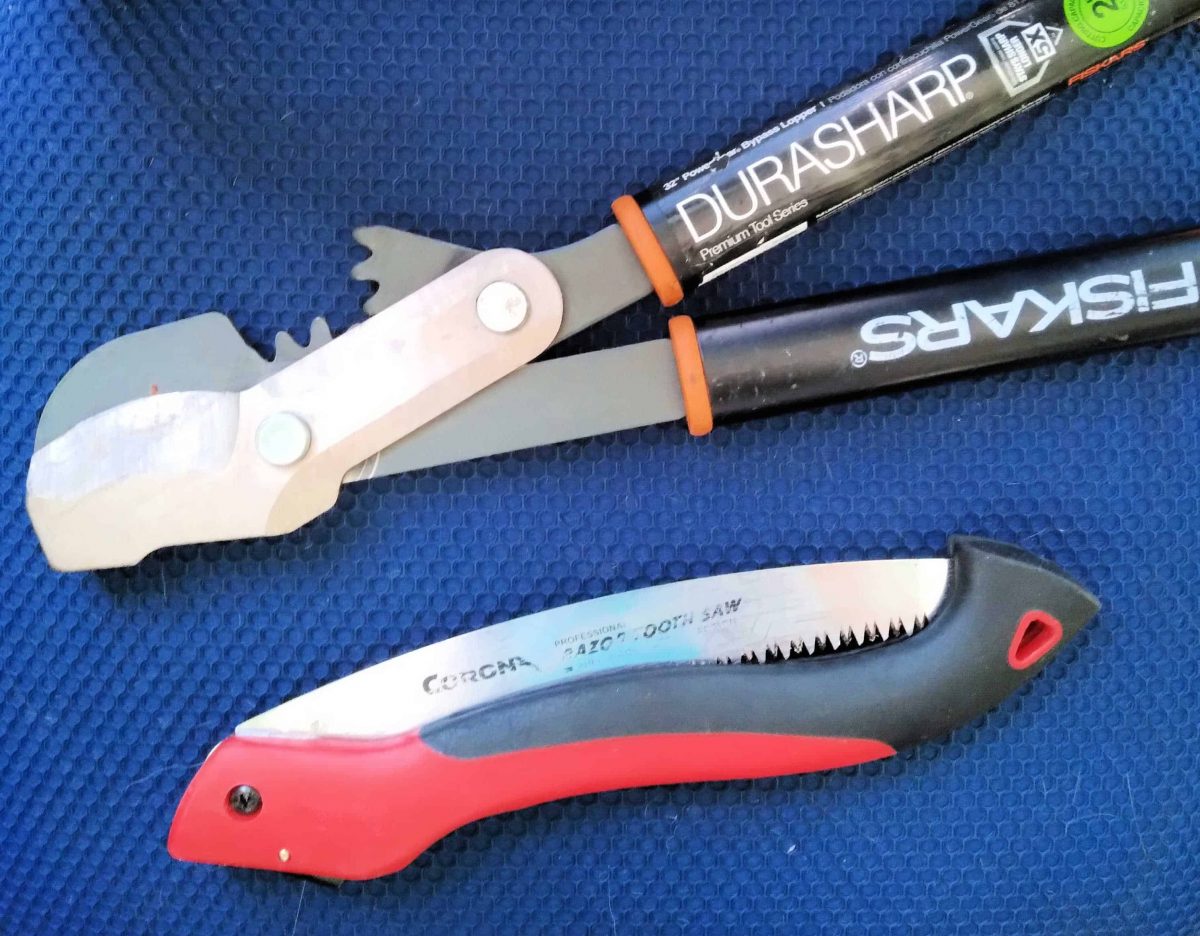 Choosing the Best Pruning Tools
When shopping for pruning tools, there are several considerations.
Materials: Look for pruners made from heavy-duty materials. They should have sharp, steel blades and comfortable handles. If you can try a brand of pruners before you buy them, do so — it's the best way to get a feel for them.
Replaceable blades: Some manufacturers forge the blades directly onto the handles, which makes it impossible to change them if they get dull. Make sure that the brand you choose enables you to easily replace the blades.
Weight: I like the red-handled Felco pruners the best because they are lightweight. Anvil pruners tend to be heavier. My husband prefers them while I prefer scissor pruners. No matter which tools you choose, they should be easy for you to handle.
Use: How do you plant to use your tools? For light seasonal pruning or heavy-duty orchard work? We invested in the pruning saw because we have to trim apple trees and prune many other large trees in our orchard. If you're just cutting back shrubs in your front landscape, you may not need all of the pruning tools, just hand pruners and a good pair of loppers.
Tool Demonstration
Check out each of the tools described above in my video.
Best Pruning Tools
The following are affiliate links. We are a participant in the Amazon Services LLC Associates Program, an affiliate advertising program designed to provide a means for us to earn fees by linking to Amazon.com and affiliated sites. Thanks so much for being a part of Home Garden Joy!
Felco Hand Pruners
Here they are – the best scissor pruners on the market, in my opinion. When I worked at Martin Viette Nurseries, the staff was issued a pair of Felco #5s. I still use my pair 25 years later and they are going strong. They are lightweight, comfortable, and durable. These Swiss-made hand pruners are a great investment for the serious gardener.
Fiskars Lopper and Pruner Set
For the homeowner, this is a great set. The Fiskars lopper and pruner set contains both tools that you are most likely to need to prune the average foundation plants. Fiskars is a great brand too and very heavy duty. I like the padded hand grips on my Fiskars tools.
Corona Folding Pruning Saw
This is our go-to pruning saw for orchard work. It folds and clicks into the handle, adding a good safety feature to protect against accidents. The blade has remained sharp for over two years for us with heavy use. It even hangs on the wall from a convenient hole in the handle.
More Helpful Pruning Articles and Worksheets
Jeanne Grunert is a certified Virginia Master Gardener and the author of several gardening books. Her garden articles, photographs, and interviews have been featured in The Herb Companion, Virginia Gardener, and Cultivate, the magazine of the National Farm Bureau. She is the founder of The Christian Herbalists group and a popular local lecturer on culinary herbs and herbs for health, raised bed gardening, and horticulture therapy.