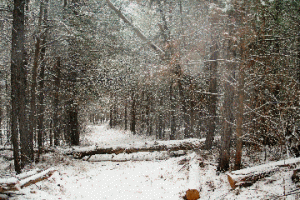 There are so many blogs on the web. I wonder if anyone is interested in mine?
Life in the country continues….we watch the young male hawk fly over our fields and hunt through the millet for mice. We enjoy watching the other birds too, although the turkeys haven't been back soon. I'm busy planning the elaborate gardens for the spring, including the vegetable garden. Now to find someone who knows how to preserve food so they can teach me!
Here are photos taken on January 17th. This was our first honest to goodness snowfall in the country. It was lovely watching the snow….then it turned to ice, and then rain. But at least some snow stayed on the ground for us!
Between work, and working on our home, we ordered a ton of new books to read….Medieaval poetry, earth science, and religious topics again. John is going to need to start building those bookshelves soon.
Not much to report now, so enjoy the photos!
Jeanne Grunert is a certified Virginia Master Gardener and the author of several gardening books. Her garden articles, photographs, and interviews have been featured in The Herb Companion, Virginia Gardener, and Cultivate, the magazine of the National Farm Bureau. She is the founder of The Christian Herbalists group and a popular local lecturer on culinary herbs and herbs for health, raised bed gardening, and horticulture therapy.