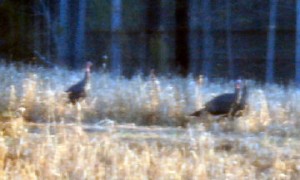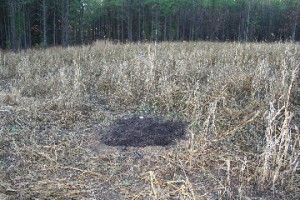 Wow, but we did a lot this week – and look what fine guests we had in the cleared area behind our house! We had four wild turkeys visit us on Wednesday morning. Two are captured above left. They were fascinating. The crows who normally visit twice daily didn't like the turkeys, and vice versa, and we watched the birds battle it out for control of the millet field for about an hour. The turkeys won! There were three about the same size, and one smaller one. I think they are females. They were back this morning, but only for a short while, and disappeared into the section of woods abutting the creek.
The orchard trees were all planted on Tuesday. Above right is one lone apple tree. Or twig, as the case may be. We planted approximately 10 different apple tree, 6 pears, 2 plums, 2 cherry trees, 2 apricot trees, and 2 peach trees.
Jeanne Grunert is a certified Virginia Master Gardener and the author of several gardening books. Her garden articles, photographs, and interviews have been featured in The Herb Companion, Virginia Gardener, and Cultivate, the magazine of the National Farm Bureau. She is the founder of The Christian Herbalists group and a popular local lecturer on culinary herbs and herbs for health, raised bed gardening, and horticulture therapy.