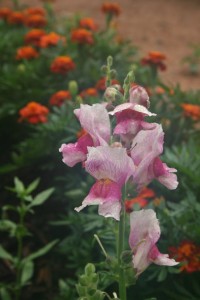 It's summer, glorious summer! We have been busy beyond belief. I guess everyone is, but this is our first summer on the farm (such that it is!) and our first summer owning our own home.
Fourth of July weekend was great. I shut down the company early on July 3rd, and although I did a ton of housework this weekend, we managed to find time for dinner with friends, watching old classic movies on TCM, and cooking John his favorite dinner – my special pot roast. We did skip the fireworks on July 3. John's back was bothering him a lot, and I couldn't see us sitting on the ground or on lawn chairs for a while. Luckily for us neighbors on Olive Branch Road had great fireworks which we could see from the second floor of the house.
We did so much work on the yard. I weeded another large section of the perennial garden, then remulched the entire second half. I am thrilled at how many flowers are blooming now! The photograph I'm posting to the blog is one of my pictures, taken after a thunderstorm, of a snapdragon I grew from seed. I have coreopsis, rudbeckia, cosmos, Bachelor's Buttons, marigolds, snapdragons, zinnias and hollyhocks all coming up or blooming and all planted from seed.
I wish more people would plant flowers. I've always had this strong urge to encourage beauty wherever I go – in Manhattan, I would stop and enjoy the little alleyway gardens and I encouraged everyone to garden. Rooftops, fire escapes, alleyways…if there's a patch of dirt, plant a flower. Why have things ugly? I've had some people say it's too expensive, but the garden I planted here didn't cost much. Truth be told, I bought packets of seeds at Dollar General for 10 cents each. Yes, you're reading that right! Even the gladioulus bulbs I bought at Dollar General came out to around 10 cents a piece. I just scattered the seeds and watered them and now I have patches of beautiful flowers gracing the garden. Why won't people take the time to do this? It is just so gorgeous…flowers lift the spirits…make the world a more beautiful place!
The ticks seemed to have died down now, but the Japanese beetles are eating everything in sight, including the apple trees, the morning glories, the hollyhocks and hibiscus. We have traps and sprays but all to no avail. The man at the Prince Eward County Cooperative Extension office was great about helping me with my questions about the orchard trees – he sent me so much information. Unfortunately, I'm too late to spray this year, but we are now armed with our to-do list for next spring.
My gratitude knows no bounds. New friends from church gave me a used keyboard, and I am back playing piano. I regret daily giving away my sheet music ten years ago, but I know that little girl who got my beautiful spinet piano and all that sheet music was so happy, she probably loved it and played it for a long time. I just wish I could remember the author of that sonatina I played all the time. I found the Beethoven sonatinas I played in high school online, and printed the music out, but haven't found the one I played at my senior recital. I wish I could find it!
Thanks to all who submitted comments on my last post. To the lady who asked about Catholic model horse collectors, I don't know of any such group. There's a Christian model horse collector forum which is nice but not particular to Catholics.
Jeanne Grunert is a certified Virginia Master Gardener and the author of several gardening books. Her garden articles, photographs, and interviews have been featured in The Herb Companion, Virginia Gardener, and Cultivate, the magazine of the National Farm Bureau. She is the founder of The Christian Herbalists group and a popular local lecturer on culinary herbs and herbs for health, raised bed gardening, and horticulture therapy.