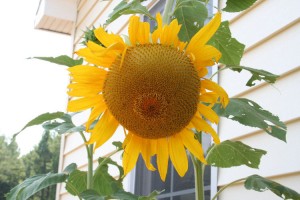 There's nothing quite so beautiful as field of sunflowers. When John and I drove across country in 2000, we saw miles and miles of sunflowers in the fields of South Dakota. I've never seen anything so beautiful, and the pictures we took that day are framed and downstairs, forever reminding us of how lovely it is to drive for hours and see nothing but glowing fields of happy yellow sunflowers.
This year the sunflowers here did well, and we saved the seed heads. I spent an hour or two happily smashing out the seeds on Sunday, filling the birdfeeder and saving the rest in an old plastic ice cream tub. Unfortuantely though I got some sort of splinter in my finger and boy does it hurt! It's all red and bumpy too. Ick!
But the seeds are harvested, and I have only some daisy, redbud tree, and coreopsis seeds left in the garage to process. It's gotten cool, with foggy mornings and strong breezes. I'm actually wearing a sweater today in the office as I type this.
We ordered the new shed on Saturday and the lumber for the raised vegetable beds. John sketched out the plan. He seems reluctant to add the chickens, but I'm convinced that's my 2010 project. I want the chicken house to have a roofed-in run that leads directly to the vegetable garden; that way I can let the birds scratch around and eat bugs there and shut them out when I don't want them there. I have the plans started and am just imaging all the beds of vegetables and fruit to come…and I'm sourcing heirloom seeds, too!
Have a beautiful day everyone!
Jeanne Grunert is a certified Virginia Master Gardener and the author of several gardening books. Her garden articles, photographs, and interviews have been featured in The Herb Companion, Virginia Gardener, and Cultivate, the magazine of the National Farm Bureau. She is the founder of The Christian Herbalists group and a popular local lecturer on culinary herbs and herbs for health, raised bed gardening, and horticulture therapy.