Growing self-seeding plants is great for areas where many things do not grow.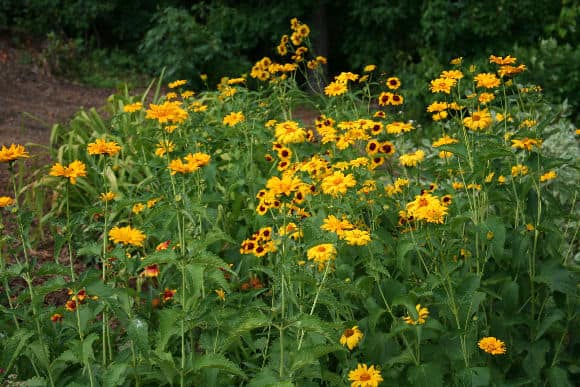 Self-Seeding Plants: Coreopsis
Gardening this weekend focused on plant rescue. Specifically, rescuing dozens upon dozens of plants that self-seeded throughout the perennial garden last fall and are now producing seedlings in unwelcome spots. After digging up my third bucketful of plants, I thought that self-seeding plants would be great topics this week since not many people know about them. Today's focus is on the toughest sunny plant I've found: Coreopsis tinctoria.
Coreopsis tinctoria (Golden Tickseed)
Looking at the USDA map of North America, it's amazing that Coreopsis tinctoria grows wild in all states except for Alaska, Nevada, New Mexico, and New Hampshire. How New Hampshire escaped I cannot fathom since the weather conditions are so similar to Vermont and the nearby states. I can understand Alaska, for the winters may be too cold, and Nevada and New Mexico have such hot, dry climates that it's possible the little tickseed doesn't like it.
In Texas, according to the Wild Plants of Friendswood blog, Coreopsis tinctoria grows wild by the roadside.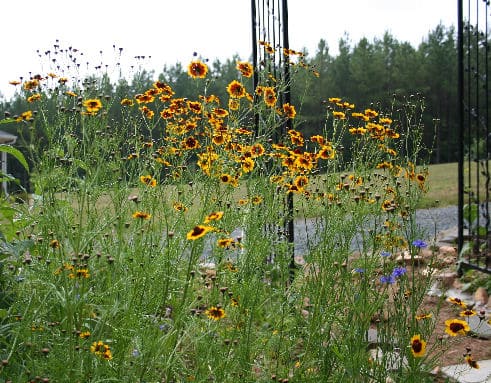 The plants like firm, dry seedbeds, but not too dry. They flower more with fertilization, but be warned – they also produce more seeds. The plants grow wispy stalks one to four feet tall and produce small, sunflower-like blossoms. They do need full sun – the more sun, the better.
The seeds will spread out around the Coreopsis plant, but be warned; they can be terribly invasive.
In my garden, for example, I not only have new Coreopsis plants coming up around the circumference of where last year's mother plant was growing, but I have Coreopsis coming up in the driveway (I'm not kidding – in fact, these plants look the healthiest!) and among many of the other perennials. These have to be dug out since I don't want coreopsis overshadowing the Echinacea, gaillardia, and yarrow.
Too much Coreopsis? Try moving these tough plants to areas where they can naturalize. If they get too invasive, you'll have to weed them out.
For novice gardeners, Coreopsis is super-easy to grow from seed. Seeds are available from Parks, Burpee, and the other major gardening catalogs.
Jeanne Grunert is a certified Virginia Master Gardener and the author of several gardening books. Her garden articles, photographs, and interviews have been featured in The Herb Companion, Virginia Gardener, and Cultivate, the magazine of the National Farm Bureau. She is the founder of The Christian Herbalists group and a popular local lecturer on culinary herbs and herbs for health, raised bed gardening, and horticulture therapy.