Growing Echinacea not only adds beautiful flowers to your garden, but this native perennial plant to the United States supports butterflies and birds
Growing Echinacea – Tough Plants
Growing echinacea in the perennial flower garden not only offers the home gardener an excellent and hardy perennial plant, but it also offers flowers that attract butterflies. Hardy, drought tolerant and native to most of the United States, Echinacea offers a wonderful flowering perennial for your garden.
Growing Conditions for Echinacea
Echinacea is native to most of the United States, and it seems to thrive in a wide range of soil types and conditions. Generally speaking, Echinacea likes a neutral soil pH but can tolerate slightly acidic soil. It does need full sun, however, for best blooms. Some gardeners grow it successfully in partial shade areas, but the plant should be in sunlight most of the day. It is drought-tolerant. Water it well after transplanting, but once it gets established, Echinacea thrives where many plants struggle.
Most Echinacea grows to heights of over a foot tall, so be sure to either choose some of the lower-growing cultivars if using them as edging or border plants, or mass the plants near the middle or back of the perennial garden so that you can see them easily and they don't hide other flowers.
Echinacea typically blooms from late spring through the late summer. In many gardening zones, June and July are the best months for enjoying the colorful blooms.
Colors and Types of Echinacea
Echinacea's common name is coneflower or purple coneflower. Native Echinacea plants offer tall stems with the telltale cone-shaped flower head. The petals curve back and away from the cone-shaped central portion. Flowers range from a pale lilac color to rich, deep shades of purple. White and yellow varieties are also available. Echinacea "White Swan" also offers graceful, thin-leaf foliage in addition to white flowers.
You can start Echinacea from seeds indoors, about 8 weeks before the frost-free date for your gardening zone. Follow the package directions carefully. The seeds need a soil temperature of about 60-70 degrees in order to germinate. Echinacea purpurea grows readily when sown directly into the garden soil as soon as it warms up enough. In fact, it seeds so freely that once planted, you may find many 'volunteers' growing from last year's discarded seeds.
You can also purchase Echinacea plants from the local garden center or from catalogs. Plant catalogs offer an abundance of new hybrids to choose from, including double flowering Echinaceas with intricate petals and rich colors ranging from burgundy to reddish-purple.
Attracting Birds and Butterflies with Echinacea Flowers
Echinacea flowers make a great border plant. You can group them together in the perennial garden, creating clusters and islands of color, or arrange them in a single row to accent a border or walkway.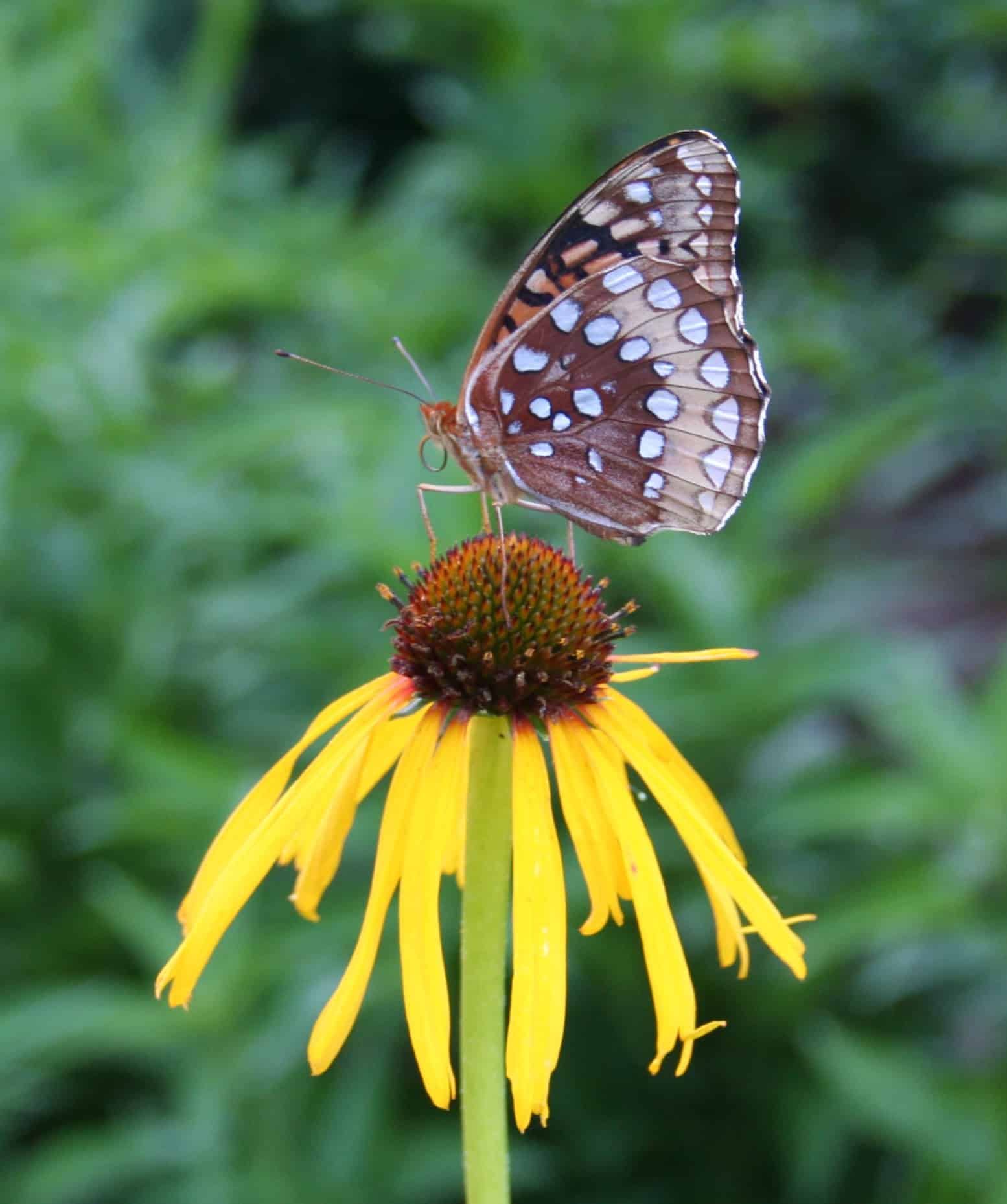 Another great use of Echinacea in the perennial flower garden is to attract wild birds to the garden. In the autumn, coneflower or Echinacea produce an abundance of seeds. Goldfinches and other small seed-eating birds love eating Echinacea seeds. Butterflies are also attracted to Echinacea, and these wonderful plants make a great addition to the butterfly garden.
Adding Echinacea to the flower garden or perennial garden not only adds a useful, decorative and easy to grow perennial plant, but it also adds a plant that nurtures wildlife. With its prolific blooms, drought tolerance, and many colors, Echinacea offers the home garden a wonderful plant. Growing Echinacea is easy and fun, and offers a simple way to add more flowers to the perennial garden.
Jeanne Grunert is a certified Virginia Master Gardener and the author of several gardening books. Her garden articles, photographs, and interviews have been featured in The Herb Companion, Virginia Gardener, and Cultivate, the magazine of the National Farm Bureau. She is the founder of The Christian Herbalists group and a popular local lecturer on culinary herbs and herbs for health, raised bed gardening, and horticulture therapy.