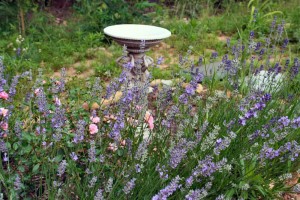 I promised that once a month, I'd stand in the same spot (next to the piles of slate destined for the garden paths…trust me, they aren't moving anytime soon) and snap photos of the flower garden. I love flower gardening. I could spend all day out there. The butterflies are out in full force. On Tuesday we counted 20 butterflies alone at the front of the garden. This morning as I snapped these pictures, several hummingbirds swooped by to drink nectar from the feeder hanging on the arched trellis entrance, but I was too slow to capture them.
Here is the garden on May 4, 20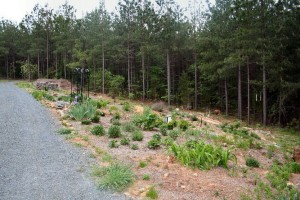 09:
And here it is: the flower garden, today, June 4, 2009. This is the hot, sunny, sloping area next to the driveway that the guys building our house thought of as wasted space. They've told us they wondered what we'd do there. Even the UPS delivery man stops to look at the flowers when he drives up. The flowers make me so happy! Annuals, perennials, roses and a ton of weeds, all in happy, messy profusion.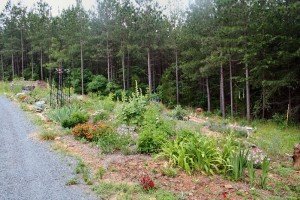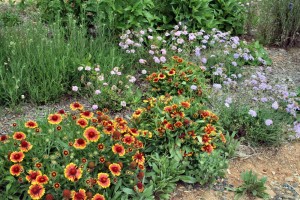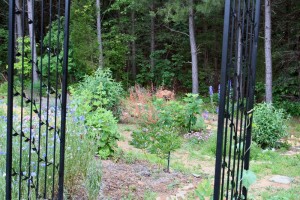 The majority of the plants are from SpringHill Nursery. Remember my story about them? I bought two kits and they had a year guarantee. I called them to ask for a replacement on just six plants that had died. Each kit had at least 30 plants. They didn't just send me new plants – they sent me the WHOLE KIT! TWO KITS! So my flower gardening joy is complete. More plants to play with!
Jeanne Grunert is a certified Virginia Master Gardener and the author of several gardening books. Her garden articles, photographs, and interviews have been featured in The Herb Companion, Virginia Gardener, and Cultivate, the magazine of the National Farm Bureau. She is the founder of The Christian Herbalists group and a popular local lecturer on culinary herbs and herbs for health, raised bed gardening, and horticulture therapy.