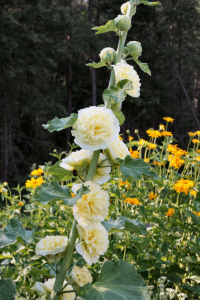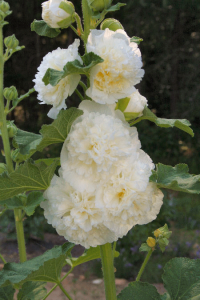 Today's update…journey into the garden through my camera lens.
Hollyhocks: took them two years but they were well worth it. Bought from Spring Hill Gardens (visit them using the link in the left side of the blog please).
The flower garden in June. One of my favorite places, and I hope it becomes one of your favorite places, too.
From one direction, the hollyhocks are highlighted by numerous yellow perennials, including varieties of daisies and Stella d'Oro daylilies….
Looking at them from another direction, the hollyhocks stand out against the salvia and nepeta in the butterfly and hummingbird garden behind them. I have white and yellow hollyhocks blooming now. A group I planted from seeds, mystery colors all, are about to bloom.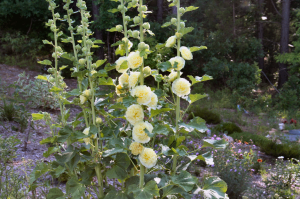 Here is one of our daily visitors. At one point today, three hummingbirds took turns on the feeder. They perch on the trellis. Morning glories are slowly making their way up the sides of the trellis, volunteers growing from plants I had there last year.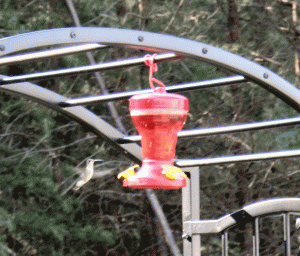 Jeanne Grunert is a certified Virginia Master Gardener and the author of several gardening books. Her garden articles, photographs, and interviews have been featured in The Herb Companion, Virginia Gardener, and Cultivate, the magazine of the National Farm Bureau. She is the founder of The Christian Herbalists group and a popular local lecturer on culinary herbs and herbs for health, raised bed gardening, and horticulture therapy.