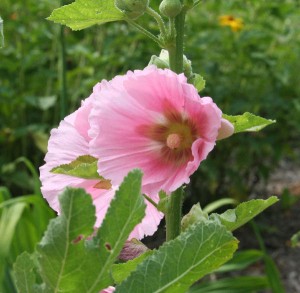 With each passing season, I grow obsessed with a different plant. In spring it was the iris, and I vowed to add more. Then came my peonies, and I considered adding even more plants to the flower garden.
Now it's the hollyhocks.
I've never grown hollyhocks before. Last year, we planted some from roots that came with the Spring Hill Gardens Sunny Perennial kits, but they sent up leaves and no flowers. I understand that they are biennials, so I had to be patient. I also bought seeds at the dime store and sowed a little patch of them.
This year – pure heaven. Majestic spires of pristine white mingling with deep blood rich crimson against my yellow daisies. Soaring double pompoms of pink backed by single pinks and yellows, and double yellows that look like cheerful carnations.
According to the book The Language of Flowers, hollyhocks stand for fruitfulness. And I'm not the first writer to become obsessed with them. Celia Thaxter wrote the following in her book about her garden hollyhocks: "One enormous hollyhock grew thirteen feet high! At night, the lights from one window illumined him as he swayed to and fro in the wind, a stately column of beauty and grace. A black-red comrade leaned against him and mingled its rich blossoms with his brighter color, and near him were rose, pink and cherry, and white spikes of bloom, lovely to behold."
My thoughts exactly.