I conducted a test I dubbed "the great spinach grow off." I tested different brands of spinach seeds to see which ones might grow better, an expensive brand or a cheap brand.
The results may shock you!
Spinach Growing Test – Which Are the Best Seeds?
Do you remember the Pillsbury Bake Off contests? People enter and bake their prized recipes, and the finalists go to some sort of convention and contest and bake on site. I've seen television shows that depict what goes on behind the scenes. I've always wanted to enter. I'm not skilled enough to win, although my sisters and I have talked about entering my Grandma's recipe for Alsace-Lorraine Bread Pudding that is our family tradition and secret weapon.
Well, I may not be a good enough baker to do a bake off, but I can do a 'grow off." I've always been curious about whether or not the name-brand seeds are worth the extra money. I decided to grow a common garden vegetable, spinach, and see which one would do better.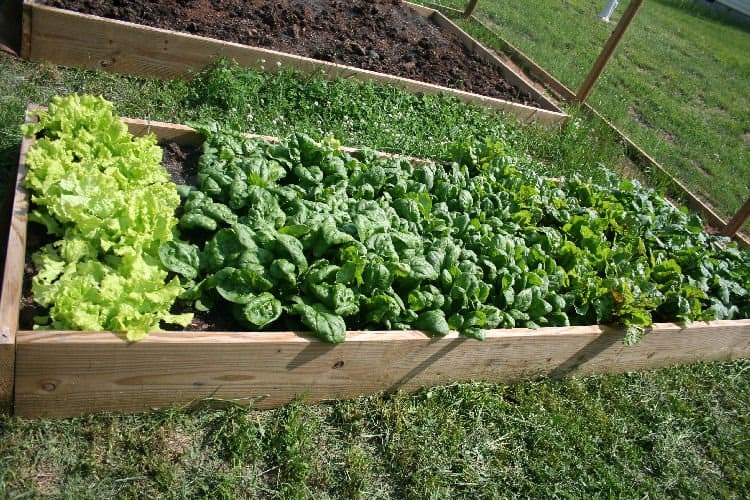 My Test
I held my own version of the bake-off. It was called the Great Spinach Grow-Off. Here's what I did:
I bought two packets of spinach seeds. One was called "Teton Hybrid" and it cost me around $2.99. The other packet was a generic "Spinach" variety without even a name that I bought at Lowes for 99 cents.
There were the same number of seeds in each packet – 100 – so I knew if I planted them all, I'd have an equal number in the garden.
We finished the raised vegetable garden bed on March 23, 2009. I divided one half of the raised bed into two equal sections and sowed the spinach seeds.
They appeared to germinate equally as well.
The Teton hybrids had dark green foliage and curly-edged leaves that were very pretty. The other spinach grew the traditional green leaves.
Yield from both beds was about the same. In total, we ate six meals with spinach as a side dish. I froze 3 gallon bags full of spinach too. And I must have cut baby leaves for salads and smoothies at least twice from each bed.
Yesterday, June 30, 2009, all of the spinach plants had gone to seed and were dying, so I pulled them all up and composted them.
Results of my Great Spinach Grow-Off and my recommendation:
The 99 cent package of seeds from Lowes was almost indistinguishable from the fancy, expensive named package. The spinach tasted about the same, grew at the same rate, and went to seed at the same rate.
For our vegetable gardening fans out there, go for the cheap spinach seeds. They grew well in our Virginia garden, and we enjoyed the harvest for many months. And thanks to the frozen bags of spinach in my freezer, I'm hoping to enjoy the harvest for many months to come.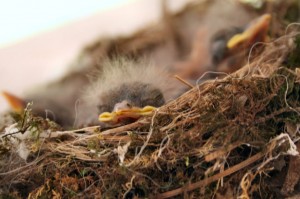 An Update on the Baby Birds
There are FOUR not three! I saw a fourth fuzzy head popping up from behind the three siblings yesterday and called John over to confirm the sighting. The fourth one is smaller than his nest mates and less aggressive. I can't believe there are four birds crowded into one nest. Every day we watch for babies in case one pops out. The biggest one is very vigorous and he rises on his tippy toes and flaps his baby wings and they crowd around the edge of the nest. Their eyes are still shut, but their beaks are ALWAYS open!