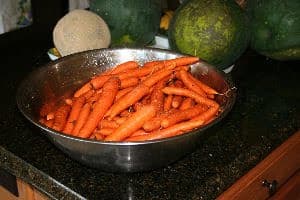 Random bits of what I've been up to this weekend.
Picked the rest of the organic carrots. We've grown about 20 pounds or more from a 99 cent package of seeds from Lowe's. The carrots are amazing…sweet, straight (for the most part) and just yummy. I planted the seeds and did nothing else the entire growing season. Just let the carrots alone. I did plant catnip heavily in the area, which may have helped keep the bugs at bay. The carrot patch was 4′ x 4′ and we grew over 20 pounds without one single pesticide, chemical fertilizer, or special anything. I will do another post on the specifics of growing these yummy organic carrots later this week.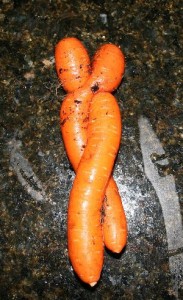 Loved this carrot. It's perfectly braided. It just grew that way. Leave it to a gardener to take pictures of a crazy carrot!
Now what to DO with all those carrots? Five pounds are in the fridge. Later today I will blanch and freeze more. To blanch the carrots, cut off the ends, peel, and slice into coins. Boil water and make sure it is in a good rolling boil. Fill a metal pan with ice cold water and ice. Place the carrots into the boiling hot water and boil for 2-3 minutes. Drain and quickly immerse them into the ice water. I leave them there a few minutes, drain, pat with paper towels, and pour into zip-lock freezer bags. Label, date and DONE – they pop right into the chest freezer in the pantry.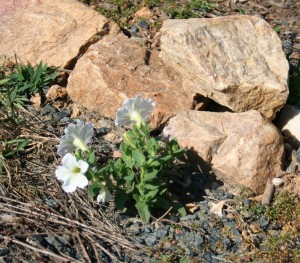 I went around the garden and checked on all the volunteer seedlings. There are over a dozen buddleia (Butterfly Bush) babies. A few I will dig up and move, and some will be potted up as gifts for my gardening neighbors. I took these photos in anticipation of another blog post this week on Garden Volunteers, Part 2. This silly white petunia is growing in the gravel in my driveway. What's astonishing is that I didn't plant ANY white petunias this year – this is a seed from last year's bed of petunias, grown about five feet further down the driveway, that somehow blew upwind, found its way into the driveway gravel, and decided over a year later to sprout. Amazing!
What els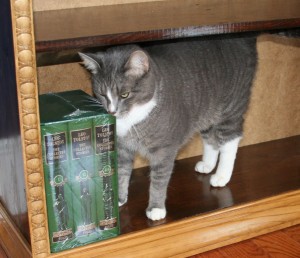 e did I do this weekend? Let's see…
I cleaned the house top to bottom. No photos of that, I'm afraid. But we snapped this picture of Pierre examing Hubby's new 3-volume set of Tolstoy. I guess he thinks Russian literature is a "must-read" for cats.
I took photos of the herb garden…hoping to do a new series on the herbs I am growing, particularly GROWING STEVIA. Yes, I grow my own, dry it and voila – natural sweetener. More on this one coming soon!
We went shopping, stocked up on groceries and I checked out the new fabric store at Miller's Country store. And joy oh joy – they have quilting supplies, cross stitch kits, AND the ladies will do alterations to your clothes. Thank you ladies for opening a real old-fashioned sewing store!
And now I am off to church to sing with the choir at 10:30. Today is the church picnic and I may stop by. Sometimes I feel funny because everyone else is with family and it's just me, but I will play it by ear and just see how I feel….
…and later today, blanching more carrots, green beans, and baking CARROT MUFFINS. Recipe will go up when it turns out good; I downloaded this one from Cooks.com, and I want to try it before I recommend it.
Enjoy your day, everyone!
Jeanne Grunert is a certified Virginia Master Gardener and the author of several gardening books. Her garden articles, photographs, and interviews have been featured in The Herb Companion, Virginia Gardener, and Cultivate, the magazine of the National Farm Bureau. She is the founder of The Christian Herbalists group and a popular local lecturer on culinary herbs and herbs for health, raised bed gardening, and horticulture therapy.