The 400+ bulbs we planted in the fruit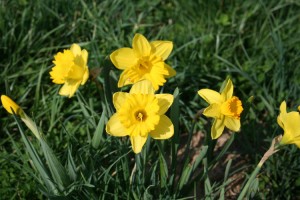 orchard are blooming. They are blooming in successive waves, rather than one gigantic "hurrah!" First came the yellow crocus around the fruit trees, then the purple and purple striped. Next the clusters of daffodils began to bloom, starting at the top of the hill – the western end of the orchard – with more blossoms unfurling daily, marching steadily eastward. Over the years, we hope the daffodils naturalize and spread, creating a golden carpet under showers of pink and white apple, peach, pear and plum blossoms.
Enjoy the photos, taken yesterday before last night's amazing and scary thunderstorms. The fruit trees are still small and caged in chicken wire to keep deer from nibbling.
Jeanne Grunert is a certified Virginia Master Gardener and the author of several gardening books. Her garden articles, photographs, and interviews have been featured in The Herb Companion, Virginia Gardener, and Cultivate, the magazine of the National Farm Bureau. She is the founder of The Christian Herbalists group and a popular local lecturer on culinary herbs and herbs for health, raised bed gardening, and horticulture therapy.