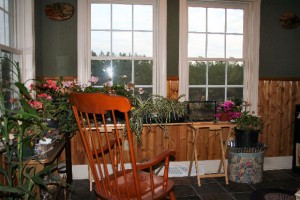 My plant room
Last year, you may recall my story of buying some sad, decrepit, left-outside-to-die-in-the-cold Christmas cactus at Lowe's. I'd always wanted Christmas cactus; my dad grew huge ones, and brought them into the living room to place them before the hearth when they were in full bloom each December.  I had no idea how to grow them. I just knew I wanted to try.
Those sad, shriveled up, halfway dead Christmas cacti not only made a comeback…they bloomed!  Here are pictures of my two beauties, a hot pink one and a peach tinted white that's just stunning.  They grace my plant room in the back of the house and I love nothing better than to sit in my comfortable chair, gazing at them with the woods and vegetable garden as the backdrop.
What a nice, garden-y way to start the Christmas season!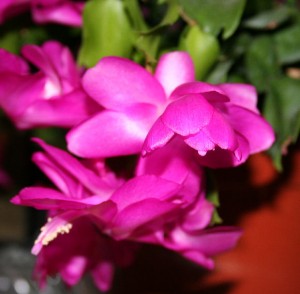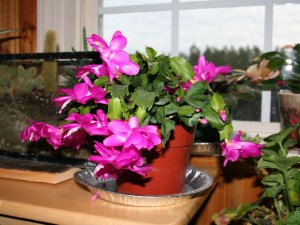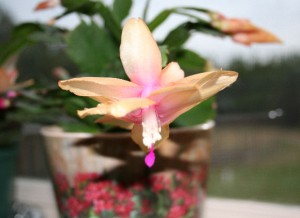 Jeanne Grunert is a certified Virginia Master Gardener and the author of several gardening books. Her garden articles, photographs, and interviews have been featured in The Herb Companion, Virginia Gardener, and Cultivate, the magazine of the National Farm Bureau. She is the founder of The Christian Herbalists group and a popular local lecturer on culinary herbs and herbs for health, raised bed gardening, and horticulture therapy.