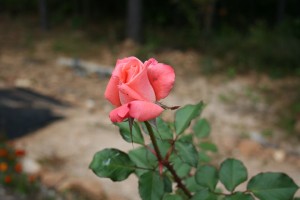 I picked up a great little book over Christmas called Tips from the Old Gardeners. I'll blog more about in the weeks to come since so many of the tips appeal to me – frugal uses for your kitchen scraps, wisdom for using the weather to guide planting, and all sorts of folklore. Some of it is really funny, like the tip to take off your pants and sit your naked butt on the ground in the spring to tell whether or not it is time to plant. No thanks. I'd probably get arrested and would certainly frighten anyone catching a glimpse of me. Yet many of the tips, including the one I explore below in my latest article for MainLine Gardening, are actually backed up by modern-day gardeners.
Here's the first tip: using banana peels as an organic fertilizer for roses. I am going to try this for sure since my family goes through more bananas than a cage of monkeys at the zoo!
Click below for the post –
Landscape, Landscaping and Gardening Advice For the Main Line
Jeanne Grunert is a certified Virginia Master Gardener and the author of several gardening books. Her garden articles, photographs, and interviews have been featured in The Herb Companion, Virginia Gardener, and Cultivate, the magazine of the National Farm Bureau. She is the founder of The Christian Herbalists group and a popular local lecturer on culinary herbs and herbs for health, raised bed gardening, and horticulture therapy.