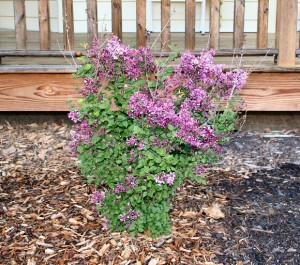 Ann's Bloomerang, Year 2
Two years ago, my sister Ann gave me a gift certificate to White Flower Farm for my birthday. Last year, I bought a Bloomerang Lilac with my gift certificate and a scented geranium that was supposed to smell like apples but in reality smells like some kind of floor cleaner.  I'm pleased to say, however, that the lilac smells like – lilacs! The Bloomerang is doing fantastic in the front garden. I wrote last year how my family home in Floral Park had a small bush near the front door that was a gift from my Aunt Betty to my parents, a housewarming present; Ann's Bloomerang Lilac serves much the same purpose, and I planted it to the right of my front steps as you face my home.
The Bloomerang
has lived up to its catalog hype. Not only does it bloom vigorously, it has doubled in size since planting it last year. That's saying something. Areas in front of the home or near the foundation of any home are notoriously difficult places for shrubs thanks to compacted soil and construction debris hidden under the earth. Our soil in front of the house is hard-packed clay with large chunks of gravel for drainage that strayed out from under the porch. The Bloomerang doesn't seem to care. It offers dark purple lilac flowers generously, and was among the first shrubs and the very first lilac here to bloom this year.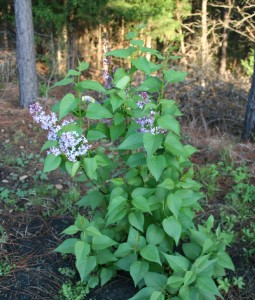 Three years later, the Arbor Day "twig" is this beautiful specimen
In 2009, we planted several 'twigs' purchased from the Arbor Day Society – lilacs, but they came like big sticks with one single lonely root, and we feared we'd lose them all.  We have five out of the six, with one growing into a vigorous shrub behind the house.  The smaller one in the flower garden produced its very first old-fashioned scented blossoms this year.  Yesterday we cemented more edging in the flower garden, and it's only when you're working for a while near the lilac that you notice its rich perfume.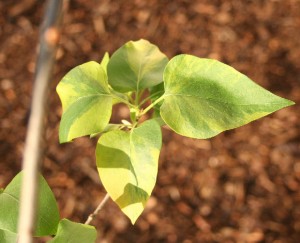 Variegated leaf colors on the lilac from Joan
Lastly, this lilac is a rescue from my neighbor and friend Joan's house.  Joan has an amazing garden and she gifted me with three new iris last year, all of which came back, as well as this gorgeous lilac bush.  It was nestled against the brick wall of her home near an air conditioning vent and I suspect it enjoyed the condensation dripping off of her air conditioner.  She has one huge lilac she planted 14 years ago and its offspring have made a small forest of lilacs along that side of her house.  This bush was the tallest, and we noticed something different about it; it has variegated leaves, but not all the leaves have the mottled green and yellow-green pattern on them.  Just a small cluster on one section of the plant has the unusual leaves. We didn't know if this was a fluke of light or something else at her house or an exciting genetic discovery.  The shrub returned with vigor and produced its first blooms at my house, and the leaves grew back in that one patch with the same variegated color.  I have no idea why they do that but they sure are pretty. I took a picture of the leaves along with the lilac for you to enjoy.
I'd always wanted lilacs. We had no room for them in Floral Park, but my next door neighbor, Mr. Hoffman, had a big hedge of them growing near the garage. He grew them for his wife and after she died he chopped them all down.  I was sad because we couldn't grow them and he used to give me big cuttings of lilac in the spring.  In Huntington where I lived later on, we had so much shade lilacs wouldn't grow.  They were one of the first shrubs I chose for the new gardens we put in here and although we have flowers this year, the shrubs are still so small that I am not cutting the flowers to bring into the house yet. I'll wait. In a year or two, I'm guessing I'll be able to cut big bouquets, but for now I will enjoy them in the garden.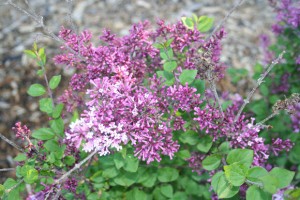 Bloomerang Flowers
Jeanne Grunert is a certified Virginia Master Gardener and the author of several gardening books. Her garden articles, photographs, and interviews have been featured in The Herb Companion, Virginia Gardener, and Cultivate, the magazine of the National Farm Bureau. She is the founder of The Christian Herbalists group and a popular local lecturer on culinary herbs and herbs for health, raised bed gardening, and horticulture therapy.