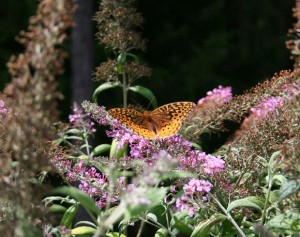 Butterfly Bush
A weekend spent moving buckets of rocks and slates for the paths gave me quite the workout. I also weeded and spent time noticing which among the flowers growing on the hot, sunny slope of the flowers beds thrived, and which struggled. Hands-down, the winners are always native perennials here in the garden at Seven Oaks.
What are native perennials, and why do they do so well? First, you have to understand that not all flowers are created equal (neither are trees, shrubs or vegetables, for that matter.)  Before people planted gardens, all sorts of plants flourished on their own. Time and natural selection ensured that the healthiest, hardiest plants survived in whatever conditions they lived. If you live in a northern climate, for example, anything growing in the wild can survive your coldest winters. If you live in the south, native plants thrive in the heat. And so on and so forth.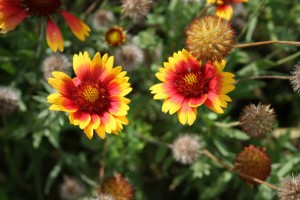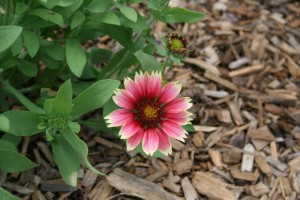 Gaillarida, "Punch Bowl" hybrid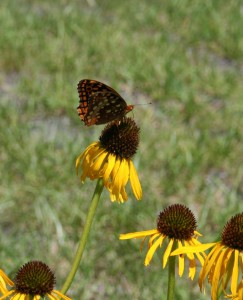 This is a very simple way of describing native plants, but it gives new gardeners a clue as to why native plants are so great for the garden. First, they're uniquely adapted to whatever the climate in your area throws their way – heat, drought, snow, rain, ice, whatever. In my part of the world here in south central Virginia, the climate varies from hot and dry to mild and rainy (or snowy).  Our town is at the foothills of the Blue Ridge Mountain and the climate can vary a lot from year to year.
I've noticed that the flowers that flourish in my garden are those that are native to the United States, and especially to the hot, dry plains regions of the USA.  My soil is different, but the heat and drought conditions are the same.
Native plants that love my southern garden include:
Gaillardia – I've talked about the hardiness of these beautiful flowers, but when you see seeds sprouting in hard-packed, blistering hot gravel driveways, you know the stuff is tough. It seeds freely and you can easily transplant the babies.  
Echinacea – Purple coneflower is the old standby, but bet you didn't know Echinacea comes in other colors? There are purple variations such as my Cherry Brandy Echinacea, with chocolatey-rich center and bright red-purple petals.  But there's White Swan, with white flowers, and a yellow one too. They all flourish in the garden here in southern Virginia. 
Buddleia or Butterfly Bush – there are species native to both the New World and the Old World.  These towering, fragrant and freely flowering shrubs attract bees, butterflies and hummingbirds, and provide such welcome color in the garden. They are also so hardy that they seed wherever and whenever they can. I pick seedlings out of the walkways, the driveways, and even a pile of rocks we had delivered.  I just keep moving offspring of my main butterfly bushes into other parts of the garden or pot them up and give them away.  They don't mind heat and drought once they're established, and they bloom throughout the summer.
There are many other fine native plants for southern gardens – too many to list in one spot, really.  These three are my favorites for the garden here at Seven Oaks. What are yours?
Jeanne Grunert is a certified Virginia Master Gardener and the author of several gardening books. Her garden articles, photographs, and interviews have been featured in The Herb Companion, Virginia Gardener, and Cultivate, the magazine of the National Farm Bureau. She is the founder of The Christian Herbalists group and a popular local lecturer on culinary herbs and herbs for health, raised bed gardening, and horticulture therapy.