These five great reasons to grow a vegetable garden will help motivate you to start your own garden. Big or small, growing your own vegetables is rewarding.

There are many great reasons to grow your own fruits and vegetables, but the following five reasons are perhaps the most important in today's world. With each passing day, the headlines alert consumers to the next food-borne illness and outbreak. While it may be impractical or impossible to grow everything you need to survive, you can supplement your supermarket purchases with fresh, home-grown organic produce. Here are my top five reasons why everyone should grow at least a little bit of their own food.
The Top Five Reasons to Grow a Vegetable Garden
Talk to a group of gardeners and you're likely to get more than five reasons to grow a vegetable garden. But to keep things simple, I've focused on my personal top five reasons why everyone should try to grow at least some fruits and vegetables.
Quality: You control the quality of the food. When you rely upon produce from the supermarket, you're never quite sure of the nutrient quality of the food. You're also never quite sure of how fresh it is. Many people are unaware that fresh fruits and vegetables are irradiated and gassed to kill insects and bacteria as well as extend the shelf life. Fresh is best!
Reduced Risk of Food Borne Illness: Growing your own food reduces the risk of food-borne illnesses. Recent outbreaks of listeria and e.Coli underscore the inherent problems in the journey of our fruits and vegetables from farm to table. Food growing in a huge agribusiness is picked, packed, and shipped to processing plants and warehouses. From there it may be transported great distances to yet another warehouse, where it is then shipped to the supermarket. Considering the many steps the average cantaloupe passes through from its humble origins in a field to your breakfast table, it's actually a miracle we don't have such outbreaks more often. If only one step in the chain of shipping breaks down and bacteria is present, it can infect an entire batch of fruit and vegetables.
Saves Money: I recently tallied up the expenses of my vegetable garden ($25 in seeds and starter plants) and the value of the vegetables I froze and canned at the end of the season (approximately $100, not counting vegetables we ate straight from the garden.) Growing your own food saves you money.
Taste: Have you ever bit into a ripe strawberry fresh from the garden? Compare it to the bland, almost tasteless giants found in the produce aisle of the supermarket. While homegrown strawberries may be smaller in size, they burst with flavor. The same for tomatoes; store-bought tomatoes are generally awful and taste like cardboard. Fresh fruits and vegetables just taste better.
Reduced Use of Fossil Fuels and Carbon Emissions: Depending on what you buy and where you live, that carton of strawberries may have traveled from California to New York. Apples are shipped from South America to North America. Why are we using so much energy and so many resources just to ship food around when we can grow our own? Growing your own (or at least shopping from local sources) reduces carbon emissions and fossil fuel use.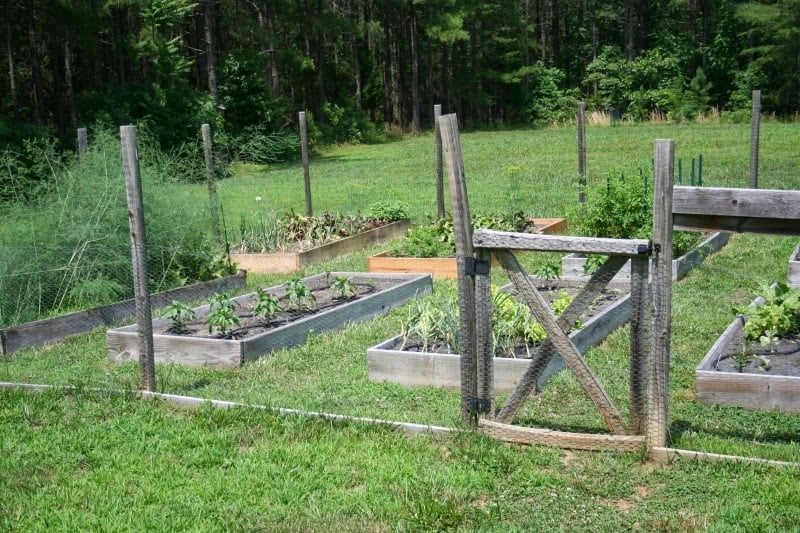 What If You Can't Grow Vegetables?
What if you can't grow vegetables? While most people can grow a few herbs or vegetables in a simple backyard garden, urban dwellers and people who live in apartments probably cannot grow their own food. If health concerns, taste, quality and other issues are important to you, consider taking the following steps:
Shop at local farmer's markets whenever possible. Many cities have farmer's markets where you can purchase fresh fruits and vegetables in-season from more local sources and small farms. Such purchases contribute to the overall good by supporting small-scale farming and local agriculture and reducing the environmental impact of massive agribusinesses. Another benefit is the variety; often, small local farms grow different items than you can find in the supermarket. Explore your local farmer's market today.
Join a CSA: CSA stands for Community Supported Agriculture. Members purchase monthly shares in a cooperative venture and receive a weekly box or basket of fresh fruits and vegetables grown on a local farm. Some require members to do a bit of service and work on the farm while others work through a pay-as-you-go method. Search online to find one near you. Such membership is good for adventurous cooks since each week brings whatever is in season to your table. You may also receive fruits and vegetables you've never tried before. It's fun and great for people who like to cook.
Purchase organic produce. If none of these ideas appeal to you, try to buy local, organic produce at the supermarket. Most advertising locally grown produce and even the largest big box stores these days offer organic vegetable and fruit options.
Fun with Vegetables Gardening
The most important reasons to grow fresh fruits and vegetables is that it is fun. Many people think that gardening takes a lot of time, but it really doesn't take all that much time. The most time you will spend tending your garden is in the spring when you prepare the garden beds and plant your starter plants or seeds. Some plants require mid-season care, such as staking tomatoes. But others just grow on their own. As long as they get plenty of sunshine and water, your vegetable and fruit plants may surprise you. Try to grow something – anything – no matter how simple, and have fun with your garden.
Jeanne Grunert is a certified Virginia Master Gardener and the author of several gardening books. Her garden articles, photographs, and interviews have been featured in The Herb Companion, Virginia Gardener, and Cultivate, the magazine of the National Farm Bureau. She is the founder of The Christian Herbalists group and a popular local lecturer on culinary herbs and herbs for health, raised bed gardening, and horticulture therapy.