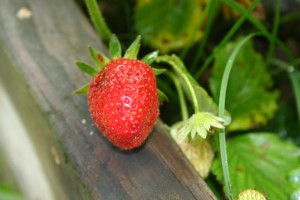 I can barely type because my hands are so tired, but it's a good kind of tired. This morning, my hubby and I drove to the town's YMCA and helped our fellow Master Gardeners build the first raised beds for our town's new community garden. I'm excited about the project, and hope it inspires more families to grow their own food. We built five raised beds, painted the wood with weather resistant stain, and added landscape fabric to prevent weeds from growing in the beds. When they were assembled, we had a nice, neat line of raised beds marching along the ground near the children's playground.
And that's where I am hopeful these new raised bed gardens will do the most good. We see it with our nephew when he comes to visit us each summer; children love to garden. Yet so many children are growing up without understanding where their food comes from, or how plants grow. They don't know the names of trees, flowers or birds. Yet once they get their hands dirty, and have some fun pulling weeds or picking green beans, they love it and want to learn how to garden.
I was really blessed to have parents who loved to garden. My parents kept house plants of all kinds, and my dad turned our tiny grassy yard into a raised bed garden for his prize-winning chrysanthemums and vegetables of all kinds. I even learned how to manage a basic greenhouse thanks to the lean-to greenhouse he built against the garage wall!  How many other kids grow up near Queens, New York, and know what shade cloth is for or that greenhouses must be vented? Not many!
We were encouraged to experiment with plants, and one of my sisters grew orchids under lights in a corner of our bedroom. My dad tried to grow ferns from spores (he failed, miserably.) I learned how to root African violets in water, and how to start seeds. All of this before I left elementary school.
If your family doesn't garden, you won't learn the basics. You can learn them later, of course. My family didn't know a Quarter Horse from a Thoroughbred, yet when I turned 16 I learned how to ride and eventually became a confident and competent horse person and equestrian.  There too, however, I had trainers and friends who took me under their wing, generously sharing what they knew and letting me borrow horses, tack and supplies until I had enough to acquire my own.
I hope that the new community garden flourishes, and by its proximity to the playground, inspires curiosity among children and families so that they too want to grow a tomato, a pepper plant, a cucumber or whatever their hearts desire. It makes me happy to think that in some small way, my help today passed along the generous time and talents given to me decades ago by my parents, neighbors and others who showed me how to stake a tomato plant or save seeds from a pansy.  It's paying it forward to the next generation, and I was glad to play a role in it today.
I have a new article online about community gardens if you are interested in learning how to start a community garden. 
Jeanne Grunert is a certified Virginia Master Gardener and the author of several gardening books. Her garden articles, photographs, and interviews have been featured in The Herb Companion, Virginia Gardener, and Cultivate, the magazine of the National Farm Bureau. She is the founder of The Christian Herbalists group and a popular local lecturer on culinary herbs and herbs for health, raised bed gardening, and horticulture therapy.