Growing amaryllis takes patience. One bulb takes many weeks to grow.

Growing Amaryllis
Amaryllis come along just when you think you can't stand winter another moment.  As the days grow shorter, and the nights longer, here comes the gigantic screaming red trumpets of the amaryllis flower as if to say, "Here I am! Sunshine! Warmth! Life! Stand back, winter."
I don't know how amaryllis became associated with the holidays, but you stumble over amaryllis displays in every big box store from coast to coast.  I love the amaryllis bulb kits – they're easy to use, they come with everything you need, and they're inexpensive. It's like just add water and get an instant houseplant.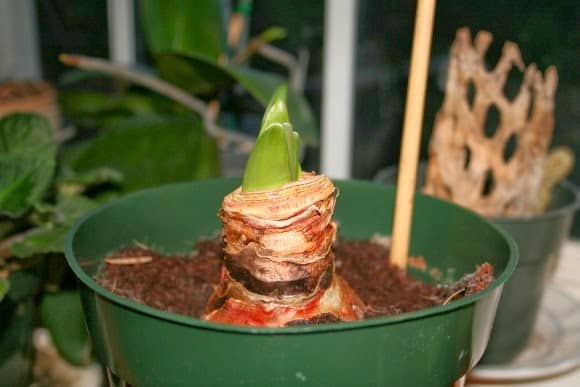 Tips for Growing Amaryllis
Having discovered through trial and error that amaryllis love bright warm rooms, I advise anyone interested in growing  amaryllis to:
Follow the package directions on the kit, especially when you're planting amaryllis.  The bulbs should be planted just to the soil line, meaning that the soil should cover the bulb and go just to the where the bulb's neck meets the rounded bulb portion. Look at the little picture that comes with your amaryllis kit to make sure you're doing it right.
Don't water the amaryllis bulb too much at the beginning.  You can and should water it more after the green stem and at least one set of leaves appear.
Once the leaves appear, the amaryllis will remind you of an alien plant. It grows fast – super fast – and you'll swear you blink and it's gained a few inches in height.
When the flowers appear, the stalk may not be strong enough to support them.  Since it's tough to find a plant stake at the garden center in the middle of the winter, I've used a dowel from Lowe's, spray painted green to hide it among the stalks, as plant support, and a green twist-tie from the bread to tie the amaryllis to its support.
How to Divide Amaryllis
After the first year, if your amaryllis is thriving, you'll find it starts to outgrow its pot. Then it is time to replant and divide amaryllis. I've written a how-to piece to help you.
You can also get an existing amaryllis to bloom again. It's not hard but it does require a bit of help.
Jeanne Grunert is a certified Virginia Master Gardener and the author of several gardening books. Her garden articles, photographs, and interviews have been featured in The Herb Companion, Virginia Gardener, and Cultivate, the magazine of the National Farm Bureau. She is the founder of The Christian Herbalists group and a popular local lecturer on culinary herbs and herbs for health, raised bed gardening, and horticulture therapy.