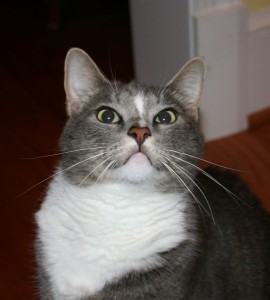 His royal highness, Pierre
Had a request from a Pierre fan for an animal update.  So I'm calling this one, "Pets- and then there were three."
An Update on Our Pets
We have been really careful to keep Raz and Pierre apart for the most part, with supervised visits. So far it has worked just fine.  The staff at the veterinary hospital advised us to make sure we keep the boy's water, food bowls and litter boxes separate due to the virus Raz carries, even though Pierre is vaccinated against the virus.  So Raz has his accouterments in one room of the house, Pierre's in another.  Raz sleeps in that room at night too, so we don't worry about the boys getting into a spat while we're trying to rest.
We've been gradually letting Raz out for longer and longer periods of time, and on Sunday, he stayed out of his room the entire morning.  Raz kept chasing Pierre on previous days, but finally the two cats settled into the living room. As long as Pierre is up high – perched on the back of a chair, or on the back of the couch, or even sitting on the coffee table while Raz is on the floor – he's fine with it.  Raz is an awful jumper.  He can't even jump up onto the bed. He seems content to box up on the floor the way cats do, folding his front paws in to make a neat little box of himself.  He sits there and trills a little song to Pierre, while Pierre glares at him down his regal nose.  Then the two just doze off and that's that.  No fights, no fuss, no muss.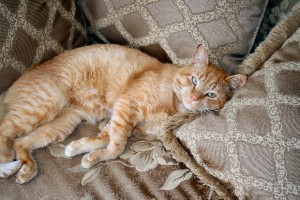 Raz discovered the couch…
Raz is an odd little cat.  He doesn't seem to know how to play.  I have a bunch of toys in his room – a stuffed opossum we call Opie for some strange reason, a stuffed chicken with feathers, a toy mouse, a ball.  He doesn't play when he's alone.  He liked to watch out his windows, and he seems to like to sleep on things I've knitted, which does wonders for my ego. I have a cat bed that I knitted for my old black cat. She hated it.  I then tried to entice Pierre into it when he was a kitten. We have one photo of him as a fluffy gray kitten, blue eyes matching the blue of the cat bed, staring up at us.  But the next night he refused to sleep in the cat bed.
Raz loves it. I made him a bed in the garage on his first night with us using a cardboard box, the knitted cat bed, and a flannel blanket I'd gotten from the Humane Society as a thank you for a donation made long ago.  I made him a nest, and moved the box upstairs to his bedroom. He prefers that box to the fluffy cat bed I bought him at the store.  Pierre already snagged the cat bed, but it doesn't matter. Raz prefers his cardboard box and homemade hand-me-downs.
He has a good appetite, he drinks and does all the natural things a cat is supposed to do, but he doesn't seem to know how to play.  When he's with me in the office, he does bat around a green toy mouse.  But only when he has some company.
He purrs, he enjoys being petted, and he loves Shadow. Shadow is like his big furry mama.  She licks him and when he meows inside his room in the morning to let us know he's ready to come out for the day and sun himself on the couch, she lays down outside of his room and watches with worried eyes until she can sniff him and reassure herself he is okay.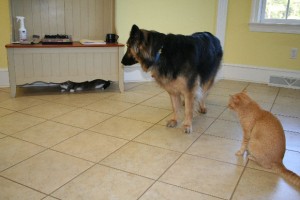 And then there were three…
Shadow is really an amazing dog. She already knows the names of the cats – and she herds them.  Shepherds them, I guess, since she is a German shepherd.  If Pierre is doing something bad, like trying to jump up on to of the television set, I yell, "Shadow. Get Pierre!" And she's off and running, herding him out of the living room and into the dining room away from trouble. If Raz starts sharpening his claws on the couch, we just have to yell, "Raz, NO!" and Shadow bounds into the room.  She's gentler with Raz, but she herds him away from the object being destroyed, pushing him with her nose and biting him gently on the back when he disobeys.
Raz returns to the vet hospital this week and I hope he is showing more improvement. In the meantime, I have to rummage through the box of old Christmas stockings in the basement and find one to remake over for the new guy.  Santa has to leave him toys, too!
Jeanne Grunert is a certified Virginia Master Gardener and the author of several gardening books. Her garden articles, photographs, and interviews have been featured in The Herb Companion, Virginia Gardener, and Cultivate, the magazine of the National Farm Bureau. She is the founder of The Christian Herbalists group and a popular local lecturer on culinary herbs and herbs for health, raised bed gardening, and horticulture therapy.