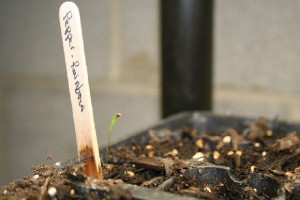 One is the loneliest number when it comes to seeds germinating!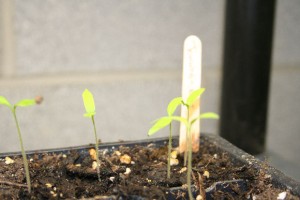 Tomatoes grown for the Heart of Virginia Master Gardener sale!
Seed starting problems aren't anything new, but this year – massive fail! I hate it when I don't follow my own advice.  You see, given that I wrote a piece about germination tests for open seed packets, you'd think I'd be smart enough to follow my own advice and run a few germination tests on the open vegetable seed packets stored from last year.  Nope. I just planted them, trusting to my usual good luck, and waited. And waited. And waited.
Three cells out of the four cells planted with tomato "Mortgage Lifter", which I planted in anticipation of donating to the Heart of Virginia Master Gardener's plant sale this may, came up – which is great.
Only 1 pepper out of the remaining "Rainbow" bell peppers came up.  What a lonely little seedling!
One cherry tomato came up.
None of the eggplant "Black Beauty" seeds came up.
Sigh. Epic fail. Luckily, I had replenished my seeds while shopping this past weekend and had some fresh seed packets to use.  I don't have any more of my favorite rainbow shades of bell peppers, but I planted "California Wonder" bell peppers again and they usually do great in my garden.  I only planted the Sweet 100 cherry tomatoes and Early Girl tomatoes last weekend, so they still have time to germinate.
You really can't do anything about things like this. Once seed packages are opened, you have a limited amount of time to use them.  They lose their vitality over time, some more so than others. While it's true that seeds hidden under the Russian permafrost for 30,000 years can survive, and scientists have been able to germinate cotton, grain and other plant seeds stored in the pharaohs' tombs of ancient Egypt, it seems as if a $1 package of pepper seeds doesn't last quite as long!
Jeanne Grunert is a certified Virginia Master Gardener and the author of several gardening books. Her garden articles, photographs, and interviews have been featured in The Herb Companion, Virginia Gardener, and Cultivate, the magazine of the National Farm Bureau. She is the founder of The Christian Herbalists group and a popular local lecturer on culinary herbs and herbs for health, raised bed gardening, and horticulture therapy.