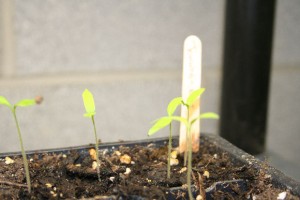 Tomato "Mortgage Lifter" – robust seedlings
I thought you might enjoy my latest article for MainLine Gardening on light conditions needed for seed starting.  I offer some suggestions for easy seed starting using natural sunlight as well as ideas for using florescent lighting.
After my last post on my seed starting epic fail – which hasn't turned out all that bad, just slower germination than usual – Liz, my mentor in the Master Gardener trainee program, gave me a good handout from Virginia Cooperative Extension on seed starting.  Here is a link to the PDF Seed for the Garden which covers all your seed starting basics.  Enjoy!
My seedlings are actually doing a little better. No more peppers have germinated, but there were more cherry tomato seeds germinating today, and now the Early Girl tomatoes are showing up for the party. The Mortgage Lifter giant beefsteak tomatoes are already burly seedlings. Even the plants on these guys are big!
A few folks at my Master Gardener class commented on how early I'd started my seedlings, but with our raised beds and the dark, compost-rich soil we have, I can typically plant my vegetables a few weeks earlier than others.  The dark soil and the raised beds tend to create a micro climate a few degrees warmer than the ground-level soil.
Jeanne Grunert is a certified Virginia Master Gardener and the author of several gardening books. Her garden articles, photographs, and interviews have been featured in The Herb Companion, Virginia Gardener, and Cultivate, the magazine of the National Farm Bureau. She is the founder of The Christian Herbalists group and a popular local lecturer on culinary herbs and herbs for health, raised bed gardening, and horticulture therapy.