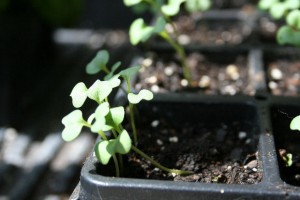 Broccoli seeds last fall.
I've written about being a 'frugal gardener', which basically means I'm cheap! I love to garden but I don't want to spend a fortune on my pursuits. So I do things like make plant labels out of old Venetian blind slats and cake frosting containers, and use old tobacco stakes as plant stakes, and save the twine from my trips to Lowe's to use it to stake up the gladiolus…you get the picture.
So it's natural that I hate to throw away open seed packages. Except that last year, I learned from unfortunate experience that it is better to throw away an open 99 cent package of carrot seeds than to try to save them and reuse them.
I had Detroit Dark Red beet seeds, Nantes carrots, and a few miscellaneous packages of lettuce and spinach seeds left in the coffee can I use to house my seed collection. Instead of buying new packages, which may have cost me about $5, I 'cheaped out' as we say in our household, and I planted the seeds from the open packages. I thought the packages were only from the springtime. Wrong. They were at least two years old.
Weeks passed. A few tangled, limp-looking beets emerged. A carrot here and there. No lettuce, no spinach.
My spouse scowled at me and muttered darkly about the Master Gardener…!
Then he asked, "Were these new seeds?'
Um…nope.
So, folks, learn from my mistake. Just toss those open seed packages or at least know what you are getting into if you decide, like me, to try to plant seeds from packages that have been open for several months or longer.  Seeds lose viability the older they get. There are tests you can do to assess viability and I have written an article on HubPages – "Testing Seed Viability" – which may be helpful to you. The tests really work. I just forget to do them!
I plan to spend some time this evening going through my seed collection and tossing any open packages.  I also have created a garden plan on my computer for the vegetable garden area. Two beds are permanently planted with asparagus and strawberries, but the others need a plan to rotate crops and to ensure maximum use of the space.  With lettuce in one bed, for example, I know that by May it will be too warm here in zone 7 to keep harvesting lettuce, so that bed will then be planted with green beans or some other crop.  Printing a blank plan with boxes for my raised beds allows me to experiment, doodle, and basically dream on paper before I start thinking about ordering or buying my vegetable garden seeds this year.
Cleaning out your seeds? Do it now when the winter evenings offer peace and solitude. Soon enough spring will be here with its myriad garden chores, and you'll be in a rush, and end up planting two year old seeds like I did.  Great dirt harvest, bad carrot harvest…
Jeanne Grunert is a certified Virginia Master Gardener and the author of several gardening books. Her garden articles, photographs, and interviews have been featured in The Herb Companion, Virginia Gardener, and Cultivate, the magazine of the National Farm Bureau. She is the founder of The Christian Herbalists group and a popular local lecturer on culinary herbs and herbs for health, raised bed gardening, and horticulture therapy.