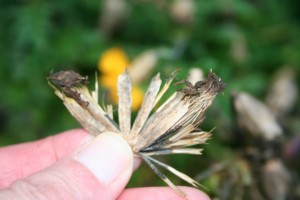 Marigold seeds
Sometimes I think there are two types of people in this world: those who read seed packets, and those who don't. Maybe those folks who read seed packets are the same folks who read the backs of cereal boxes and the warnings on the plastic bags.  For those who DO read the backs (and fronts) of seed packets, I'm sure it can seem as if you need a Rosetta Stone to translate some of the instructions.
Today's blog post was inspired by two ladies I overhead in the garden center aisle at Wal-Mart over the weekend as I shopped for seeds.
Lady 1, holding up a package of petunia seeds: "Pelleted? What's pelleted seed?"
Lady 2: "I think they put fertilizer in with it."
They moved off before I could give them the correct answer…
"Pelleted seeds are seeds coated with an inert material so that they are easier to plant."
And there you have it! So okay, why would anyone coat a seed for easier planting? It's because seeds come in such a variety of sizes. Some seeds are so tiny you can't even see them easily without a magnifying glass. They're like dust particles, and if you tried to plant them, you'd end up with a big clump of seedlings in one corner of the pot or one hole in the ground and not much else. And that would certainly be very unhealthy for your seedlings, since they'd either have to grow together the way they germinated, or you'd have to untangle their roots, which is about as stressful to a plant as disentangling conjoined twins joined at the brain. Not good.
By coating certain seeds, the seed company makes it easy for the consumer to pick up a seed and plant it smack dab in the middle of the pot, cell, or hole in the ground. It's easier to count them out, so if you want to plant 10 petunias, you can easily count 10 petunia seeds. It's also helpful if you feel a sneeze coming on during planting time; you won't sneeze them into the floorboards, but instead can simply close your hand around the seeds while the other politely covers your nose and mouth.
Gesundheit!
So now you know what pelleted seeds are. What is a seed tape?
Same concept, more ingenious inventions. Seed tape is like a roll of paper tape with the seeds pre-glued onto it at the correct intervals. I've seen seed tapes most frequently with lettuces and similar seeds. Just unroll the length of tape you need and follow the instructions on how to plant it. Some seeds, such as lettuces, need light to germinate (sprout) so you shouldn't cover them with soil. Others need special care in order to germinate, such as periods of cold, light or darkness.
And that brings me back full circle. Read the seed packages. Front, back and anything else that comes with them. It's truly the only way to know exactly how to plant those particular seeds!
Jeanne Grunert is a certified Virginia Master Gardener and the author of several gardening books. Her garden articles, photographs, and interviews have been featured in The Herb Companion, Virginia Gardener, and Cultivate, the magazine of the National Farm Bureau. She is the founder of The Christian Herbalists group and a popular local lecturer on culinary herbs and herbs for health, raised bed gardening, and horticulture therapy.