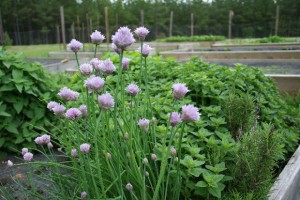 My herb and vegetable garden in warmer days….
Learning seed starting basics isn't hard, but it can be confusing for many novice gardeners. If you'd like to start a garden this year, you may already be eyeing the colorful racks of seed packages in the local garden center. Some seeds are started inside until the plant is large enough to be safely moved, or transplanted, into the ground outside. Other seeds must be planted or sown directly into the soil after it is warm enough for them to survive. The dates for these activities vary according to the types of seeds you're growing and where you live, which can be very confusing for people new to gardening.
One recommendation that I will share with you is to attend a workshop held by your local Master Gardener group. This ensures two things. One, you're getting local information. Details about when, where and what to plant will vary according to where you live. Someone in southern California is going to plant tomato seeds at a very different time than someone living in northern Maine. If you attend a workshop in your local community, the information shared with you will be geared to your local gardening and growing conditions. While you can certainly look online for such information, receiving it from local gardening experts gives you the assurance you need that the information is accurate for your area, also called a growing zone or gardening zone.
The second reason that I recommend attending an event run by your local Master Gardener group is access to experts. I'm new to quilting and sewing, and I can tell you, I have a lot of questions! Fortunately, I have friends and family members who are expert seamstresses, and I can ask plenty of questions. Whenever you are new to a hobby, chances are good that you will have a lot of questions. And that's great! Questions demonstrate curiosity, and curiosity leads to learning.
Books are wonderful, and so are websites and blogs…but nothing beats having an expert who can articulate complicated answers clearly and succinctly. Master Gardeners are primarily educators. When you attend a live even in your community, you can ask plenty of questions and not feel dumb about them at all.
To find a local Master Gardener group, this link will take you to the
American Horticulture Society
, which has an interactive map of the United States. Click on the state where you live, and it will take you to the state level association. From there you can drill down to your local community website.
So have I started my seeds yet? Nope. Soon…very soon. I purchased my vegetable garden seeds including tomatoes, peppers and many others a few weeks ago. I am not starting many flower seeds indoors. I plan to grow a few flats of flowers for the May Master Gardener plant sale in Farmville, but for my own garden, I will most likely purchase a few perennials to fill in some spots and grow the rest of my flowers from seeds directly sown into the garden soil.  Marigolds and zinnias love my garden and attract butterflies; they are also resistant to the southern Virginia heat and drought, and so I will plant many of them. The same goes for sunflowers. I purchased sunflower seeds: giant Russian sunflowers, mixtures of yellow flowers, and red sunflowers.  I'll plant them along the southern side of the house, the way my father in law did, and I plan to add some dwarf sunflowers to the flower garden area where I hang my hummingbird feeder each year.
But all of these flower and most of the vegetable seeds, with the exception of the tomato and pepper seeds, will be sown outside. For the tomatoes and peppers, I'll probably start them in about two weeks.
For more about seed starting, try these articles: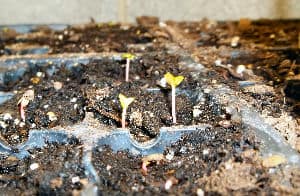 Seed starting last year.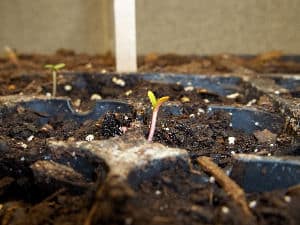 Jeanne Grunert is a certified Virginia Master Gardener and the author of several gardening books. Her garden articles, photographs, and interviews have been featured in The Herb Companion, Virginia Gardener, and Cultivate, the magazine of the National Farm Bureau. She is the founder of The Christian Herbalists group and a popular local lecturer on culinary herbs and herbs for health, raised bed gardening, and horticulture therapy.