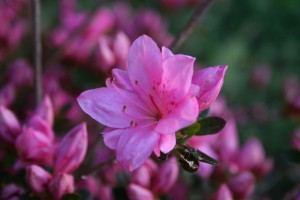 Azalea photo by Jeanne Grunert
Azaleas are one of my favorite spring flowers. In the town where I grew up on Long Island, nearly every home had at least one or two azaleas in the front yard, if not more. Here in Virginia, I've added azaleas to the landscape, planting them near the house as well as in the garden. And in the woods, wild azaleas bloom freely amid the understory trees, providing pink blossoms for a short time before fading back into the dappled sunlight under the canopy.
Azaleas are fairly easy to grow, with one caveat. Deer. Yes, deer. They are like deer candy in Virginia. I heard a story a few months ago from a local person who lives in Farmville. She said a neighbor had her entire yard stripped of azaleas in one evening thanks to the voracious deer. I've had a few nibbled by deer, but we have a large area planted with clover in the yard, and I think deer prefer closer over azaleas. It's either that or I am just lucky.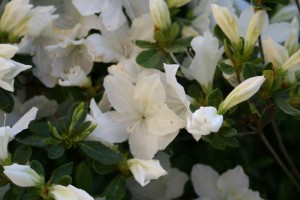 White azalea photo by Jeanne Grunert
Choosing Azaleas

To be completely honest with you, I think the best way to choose azaleas for your home and garden is to visit your local nursery and garden center and select plants from their stock. Why? They've already done the hard work of selecting varieties that will do well in your gardening zone.
Azaleas do well in zones 7 to 9, but there are some varieties that are cold tolerant and can be grown as far north as zone 4.  That said, planting an azalea that needs warm weather year-round or cannot tolerate hard frosts in an area that routinely gets very cold winters is a recipe for disaster.
Nursery and garden centers want you to be successful. Most offer a one year guarantee on their plants. It's in their best interest to select plants that will thrive in your area. If you're new to gardening or to azaleas, start there. If you just fall in love with the plant, visit the Azalea Society of America or purchase some books on azaleas to brush up on varieties for your plant collection.
Planting Azaleas

Azaleas like rich, well-drained and acidic soil. If you have heavy clay soil in your garden like we do here in Virginia, dig the hole twice as wide and as deep as the container in which the azalea plant is sold. Put the soil on a tarp on the ground. Mix well-rotted manure or compost into the soil you've removed from the hole so that the ratio of soil to compost is about 50-50.  Now, tip the pot on its side and tap the sides until the plant is loosened. Remove, place it in the hole, and fill with the 50-50 soil to compost mixture.  Tamp the soil down with your foot around the plant and water it well. I like to add mulch around my newly planted flowers and shrubs. Not only does it help keep moisture in the soil, it decomposes and fertilizes the plant. It also keeps weeds at bay.
The site you choose for your azaleas is important. Keep in mind that they are understory trees. They like some dappled sunlight and shade, especially during the hottest times of the afternoon. The site you choose for your azaleas should receive 4 to 6 hours of sunshine each day.
Fertilizing Azaleas
Azaleas prefer acidic soil. Many commercial fertilizers for azaleas claim they will acidify the soil. But here's a question for you: how do you know if your soil needs it? Get a professional soil test before dousing your plant with fertilizer.  Soil tests are performed at your local County Cooperative Extension office for a small fee. It's worth it, because the results come with recommendations, and you can then be sure you are giving your azalea what it needs.
One sign that azaleas may need fertilizer is called chlorosis of the leaves. This means that the leaves are yellowed. Don't confuse chlorosis with deciduous azaleas. Deciduous azaleas drop their leaves in the autumn like trees. There are evergreen and deciduous azaleas. Evergreens keep their leaves throughout the fall and winter.  If you suspect chlorosis, take a sample branch to your local nursery and garden center or to your Cooperative Extension office for diagnosis and recommendations.

Pruning Azaleas
The Azalea Society of America recommends pruning azaleas during the winter months. But there's a catch; you'll end up pruning off this year's blossoms. The next best time is pruning the plants during flowering. I like to wait until the blooms are nearly finished, then I prune. Pruning azaleas sometimes decreases or stops flowering for the next year, so don't panic if your azalea bushes don't flower during the following year.
Here's a tip: Azaleas look nicer when left to grow into natural shapes.  I mentioned that where I grew up on Long Island, azaleas were common. However, many people pruned them to death. They shaped them like topiary trees. Pompom balls, square hedges with edges so sharp you could cut yourself…I always thought such tightly pruned azaleas looked silly.  Like crepe myrtle, which tends to look artificial when pruned too much, azaleas can look odd if they're pruned into geometric shapes. Let them grow into their beautiful, natural shapes.


What the Heck Is an Encore (R) Azalea?

Encore (R) Azaleas are the latest addition to the world of azaleas. They were introduced about 15 years ago and there are 29 varieties. They are more sun tolerant than other types, and are said to bloom repeatedly throughout the season. They also are said to be more insect and disease resistant. I have one Encore azalea in my yard and it performs adequately, although as far as I can tell, not any better or worse than the others. It does bloom repeatedly which is a nice addition to the landscape.
Azaleas are blooming from zones 6 to 9 throughout the spring.  Enjoy them while they last, for they provide a beautiful show. It's nature at her finest.
Jeanne Grunert is a certified Virginia Master Gardener and the author of several gardening books. Her garden articles, photographs, and interviews have been featured in The Herb Companion, Virginia Gardener, and Cultivate, the magazine of the National Farm Bureau. She is the founder of The Christian Herbalists group and a popular local lecturer on culinary herbs and herbs for health, raised bed gardening, and horticulture therapy.