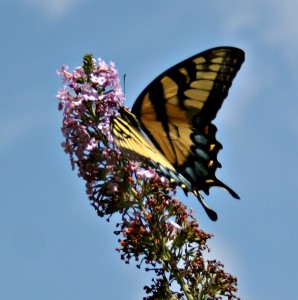 When I shared pictures of the butterfly garden yesterday, I didn't realize that other people were also seeing more butterflies in the garden this year. Someone said they heard on the local news that the abundant rainfall this year encouraged more butterflies to hatch, or have more babies or something, but I searched before writing this post and I couldn't find anything in the news related to the butterflies.  But they're there, all right.
It seems as if the Eastern tiger swallow tail is the most plentiful in my garden, but that's probably because of the butterfly bushes. The tiger swallow tail loves them!
The male Eastern tiger swallow tails are always yellow, but the females can be one of three colors: yellow like the males, black with brown markings, or black with blue markings.  If the female is yellow, she tends to have more blue markings than the males.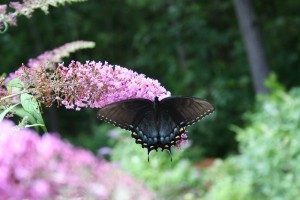 Female Eastern Tiger Swallow Tail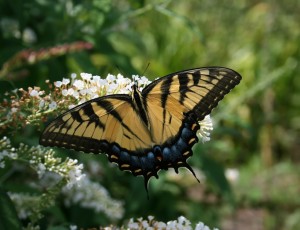 Male or female? My guess, given the blue…female.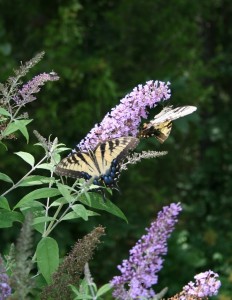 Best guess — female on left, male on right
The males congregate on mud puddles, and this puddling action, as it is called, supposedly provides them with minerals they need to make specific pheromones. Pheromones are scent chemicals, and in the case of the males, it's how they attract the ladies.  This past weekend, we hiked in Holliday Lake State Park and encountered dozens of yellow Eastern tiger swallow tails perches on a mud puddle the size of a dinner plate on the trail; they were puddling. They took off in a flurry of yellow and black, rising into the green tree canopy into a golden shower of butterflies.
The host trees for the Eastern tiger swallow tail are deciduous trees such as hornbeam, black cherry, black willow, yellow popar and sassafrass. I've also found the caterpillars on my dill plants; they seem to eat quite a bit of dill, which is fine by me since it seeds prolifically in the garden.
These butterflies will be active until September.  If you don't have a butterfly bush in the garden, try planting one to
attract Eastern tiger swallow tails
. They also love native perennials like Echinacea (purple coneflower), day lilies, and annuals like petunias and geraniums.
Are there more this year?  I've counted dozens on one butterfly bush. I'm no butterfly expert, but I do think there are more in the garden this year.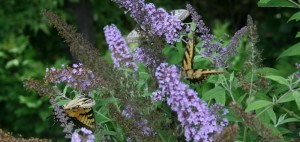 All pictures were taken by me, Jeanne Grunert, in my garden, July 2013.
Jeanne Grunert is a certified Virginia Master Gardener and the author of several gardening books. Her garden articles, photographs, and interviews have been featured in The Herb Companion, Virginia Gardener, and Cultivate, the magazine of the National Farm Bureau. She is the founder of The Christian Herbalists group and a popular local lecturer on culinary herbs and herbs for health, raised bed gardening, and horticulture therapy.